Alfred Albert Cumberlidge Engine Room Artificer Royal Navy. He served during WW1 and was awarded the 1914-15 Star, British War and Victory Medals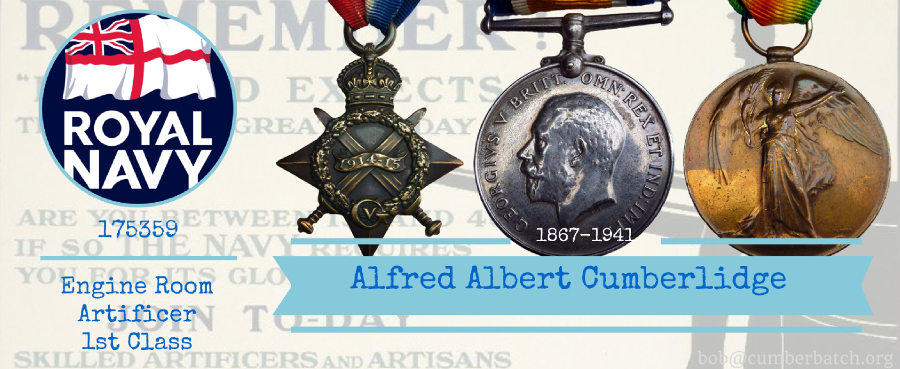 Alfred Albert Cumberlidge 1867-1941 Engine Room Artificer 1st Class 173359 Royal Navy
Alfred Albert Cumberlidge was born on 24 March 1867 in Chalk Farm, London, England. He was the youngest son of William Cumberlidge and his wife Elizabeth nee Duke. Alfred became an Engine Fitter in the Royal Navy. At the onset of World War One he was an Engine Room Fitter 1st Class 175359 in the Royal Navy. He was awarded the 1914-15 Star, British War and Victory Medals.
Albert married Constance Amelia Bebbington in Woolwich in 1891. They had three children together:
Florence Maud Cumberlidge, born 1894
Mabel Cumberlidge, born 1899
William Bryars Cumberlidge, born 1903.
Albert's wife Constance died in 1905 and he married Rose Ellen Symonds in 1908. Albert died in 1941 and Rose died in 1957.
Medal Roll
ROYAL NAVY WW1 MEDAL ROLL
14
Roll: R.N. [Royal Navy]
Name

Rank or Rating

No.

Medals, &c, earned

How Issued or disposed of

Remarks

CUMBERLIDGE, Alfred A.

Engine Room Artificer 1

175359

1914-15 Star

Victory

British War

Self
ADM 171/100
Source: Admiralty, and Ministry of Defence, Navy Department: Medal Rolls. The National Archives microfilm publication ADM 171, 202 rolls. The National Archives of the UK, Kew, Surrey, England.
Note:
http://www.nationalarchives.gov.uk/documents/records/abbreviations-in-world-war-one-medal-index-cards-rank.pdf
http://www.nationalarchives.gov.uk/help-with-your-research/research-guides/british-military-campaign-and-service-medals/#9-appendix-2-abbreviations-found-in-adm-171