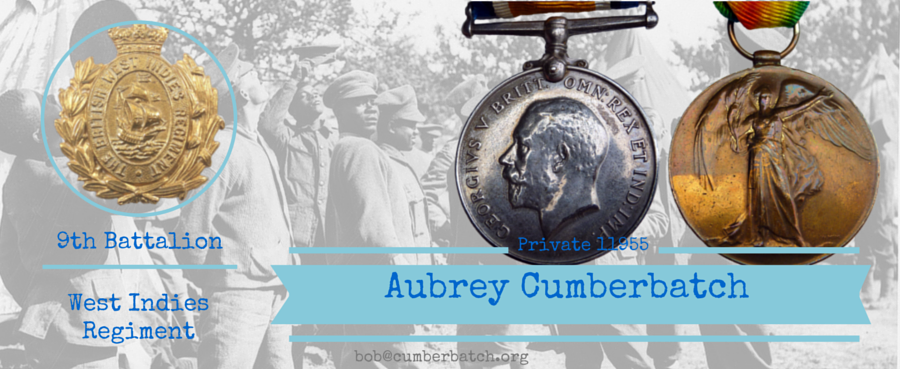 Aubrey Cumberbatch, Lance Corporal British West Indies Regiment
Aubrey Cumberbatch was born in Port of Spain, Trinidad about 1889 and was the son of Miss C Payne. Aged 28 this carpenter signed up for the army at the Swallowfield Camp, Jamaica on June 22, 1917. He is passed medically fit and is described as:
Height: 5 feet 11 inches
Chest: 40.5 inches expanded with 2.5 inches of expansion
Complexion: dark
Eyes: Dark
Hair: Dark
Trade: Carpenter
Pulse rate: 88
3 vaccination marks from vaccinations received 22 June 1917
No marks from previous illness
Slight defects: Bad teeth, Flatfoot
Aubrey joined the 9th Battalion British West Indies Regiment as Private 11955. Aubrey was promoted to Lance Corporal on 5th July 1917 and departed from Jamaica, West Indies on 20 July 1917 and arrived in England on 12 Aug 1917. After an overnight stay he arrived in France on 13 Aug 1917. Early during his campaign with the B.E.F. he was admitted to the 3 Anzac Field Ambulance on 8 October 1917 with Trench Foot on his right foot. He is transferred to the 22 General Hospital at Camiers with 'mild' trench foot and received treatment.
Whilst in the 22nd General Hospital at Camiers, France a spot began on his face about 16th December 1917. Aubrey was diagnosed with Leprosy and Paratyphoid B and is transferred into quarantine at the 25 General Hospital also at Dammes-Camiers. He began his journey to Jamaica and he was transferred to the 14 Stationary Hospital at Wimereux with severe leprosy on 9 January 1918 and again transferred to the 25 Stationary Hospital at Rouen on 28 April 1918. He is shipped to Jamaica on the Hospital Ship Fermosa on 20 May 1918 when he was stripped of his rank and reverted to a Private.
When Aubrey was medically reviewed between 7-8 August 1918 his condition had worsened. The doctor reported that the:
"granulomatous condition extends all over the forehead to nose. Spot on cheek. Non-sensitive to touch & pain, ulna nerves enlarged. No B Leprae found in nasal scrapings. Recommendation: discharge as permanently unfit".
The doctor reviewing Aubrey reported the extent of the current illness was that the
"Granuloma [swelling] left side of face & forehead. No acid fast bacilli in nasal swab. Lost to feelings of pain & touch over affected area."
The doctor concluded that Aubrey's condition was aggravated by his service in the war, caused total disablement and that he should be discharged as permanently unfit for service. He recommended discharge to the Leper Home, Spanish Town, Jamaica. Aubrey was discharged to the Leper Home in Jamaica on 24 Aug 1918 as physically unfit. He was granted a pension of 17/6 for 52 weeks, as the Leprosy illness was aggravated by war service and resulted in total disablement. His pension expired on 16 Dec 1919.
Aubrey Cumberbatch was awarded the British War and Victory medals. He served with the British Expeditionary Force (B.E.F.) in France between 18 Aug 1917 to 20 May 1918 in total.
Epilogue
Sadly I do not know what happened to Aubrey. However, the World Health Organisation has almost eradicated this most ancient illness of leprosy which dates back to 600BC.
Elimination of leprosy as a public health problem
In 1991 the World Health Organisation's governing body, the World Health Assembly (WHA) passed a resolution to eliminate leprosy by the year 2000. Elimination of leprosy is defined as a prevalence rate of less than 1 case per 10 000 persons. The target was achieved on time and the widespread use of MDT reduced the disease burden dramatically.
Over the past 20 years, more than 14 million leprosy patients have been cured, about 4 million since 2000.
The prevalence rate of the disease has dropped by 90% – from 21.1 per 10,000 inhabitants to less than 1 per 10,000 inhabitants in 2000.
Leprosy has been eliminated from 119 countries out of 122 countries where the disease was considered as a public health problem in 1985.
http://www.who.int/mediacentre/factsheets/fs101/en/
We have come so far from the treatment suggested in 1863:
I take the liberty to suggest that wherever it is possible, lepers in the West Indies should be confined in some of the smaller islands near the large ones; which inlets might be set apart for their exclusive residence, under surveillance – and guarded by severe quarantine laws: that all marriages should be forbidden among lepers, and that as much as can be managed the sexes should be separated … and that all Negro lepers should without exception be sent to these isolated hospitals or Lazarettos, there to live, – and (let us look the fearful danger of the loathsome and hopeless pestilence in the face!) there to die.… that direful and desperate distemper ought to be regarded as a species of social crime, for which no ticket of leave is ever admissible: – half measures do no good to the leper, and won't succeed in diminishing their numbers: – and when communication and contact bring with them the probable chance of such a horrible disease being continued and spread amongst a population peculiarly liable to catch it – from whom also white inhabitants may easily acquire the fatal infection, every means of obviating and completely preventing such contact should be adopted and preserved."

(A Graham Dunlop, Consul 10 Jan 1863)
http://www.leprosyhistory.org/cgi-bin/showdetails.pl?ID=107&type=Archive
Lazaretto – Hospital for contagious diseases. Originates from the Italian Venetian blend of lazzaro meaning leper and Santa Maria di Nazareto, in a venetian dialect; Lazarus is the patron saint of leprosy sufferers. Lazaretto was once the leper hospital in Barbados and is the current home of the Barbados Archives. This possibly explains why it resembles more of a prison than a hospital.
Quarantine: The word originates from 14th century Venice where ships were kept isolated for fourty days (quarantina giorni) to ensure that potential illness, like the plague, were kept isolated; and from Latin quadraginta meaning forty. The Magna Carta granted a Widow's Quarantine of 40 days to reside in their deceased spouses home. Quarantine later lost its time based dimension and now simply means to keep in isolation.