Barbados Second Contingent – Bomber Command Memorial. Barbados Second Contingent included 12 young men, six of whom gave their lives, all will be commemorated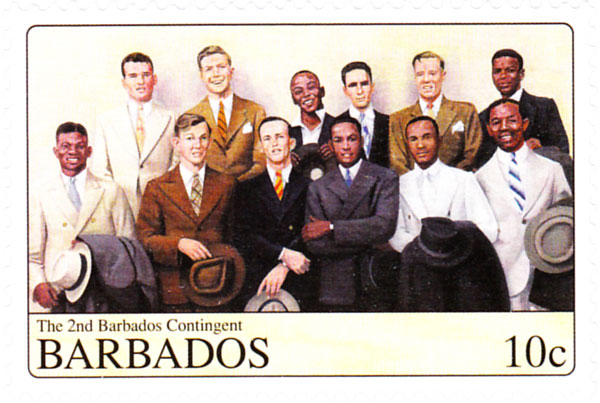 Barbados Second Contingent
The Barbados Second Contingent included 12 young men, six of whom gave their lives, all of whom will be commemorated when The Queen unveils the Bomber Command Memorial on Thursday 28th June 2012 in London, England.
The Barbados Second Contingent were recruited for the RAF and departed Barbados in November 1940 aboard the S.S. Maaskerk. It comprised: C.P. King, J.S. Partridge, A.A. Walrond, J.L.L. Yearwood, M.R. Cuke, E. W. Barrow, G.D. Cumberbatch, A.P.C. Dunlop, H.E.S. Worme, G.A. Barrow, A.O. Weekes, B.F.H. Miller.
They arrived at Liverpool, England on 27th December 1940 and were attested into the RAF on 31st December 1940. The 12 men selected included Errol W. Barrow, who would survive the war, enter politics and eventually become Barbados' first Prime Minister (1966 – 1976).
Subsequently killed were: Sgt. Charles Parnell King, Sgt. Arthur Adolphus Walrond, Pilot Mark Radford Cuke, Sgt Grey Doyle Cumberbatch, Flying Officer Andrew P.C. Dunlop, Pilot Officer Bruce F.H. Miller.
Bomber Command Memorial: http://www.bombercommand.com/
Bomber Command Memorial photography: www.bombercommandmemorial.co.uk