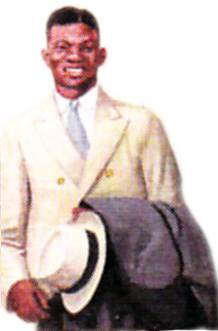 Bomber Command Memorial
Sgt Greystone Doyle Cumberbatch, 1383404, is one of the 55,573 young men who gave their lives and will be commemorated when The Queen unveils the Bomber Command Memorial on Thursday 28th June 2012 in London, England.
Grey was born 2nd June 1921 in Grapehall, St Lucy, Barbados. He was the only son of Charles Wilkinson Cumberbatch and Octavia Cecily Clementina née Leacock. He was baptised 3rd July 1921 at the Selah Wesleyan Church, St Lucy, Barbados. His father was a school teacher and became the headmaster of the St Giles School, St Michael, Barbados. Grey was educated at the prestigious Harrison College in Barbados. He volunteered to join the RAF and became one of the "Second Barbados Contingent" who joined the RAF on New Year's Eve 1940.
Grey was the bomb aimer on a 100 Squadron Lancaster Mk III that crashed whilst attempting to land at Langar airfield in poor visibility on 5th March 1943. All but one of the crew was killed. Three of the crew were from overseas and were buried in the "War Graves" at Long Bennington, Lincolnshire, England.
A memorial to the crew of this Lancaster is to be unveiled on Saturday 22 September 2012 near to where the plane crashed in Plungar.
More information:
Bomber Command Memorial: http://www.bombercommand.com/
Bomber Command Memorial photography: www.bombercommandmemorial.co.uk