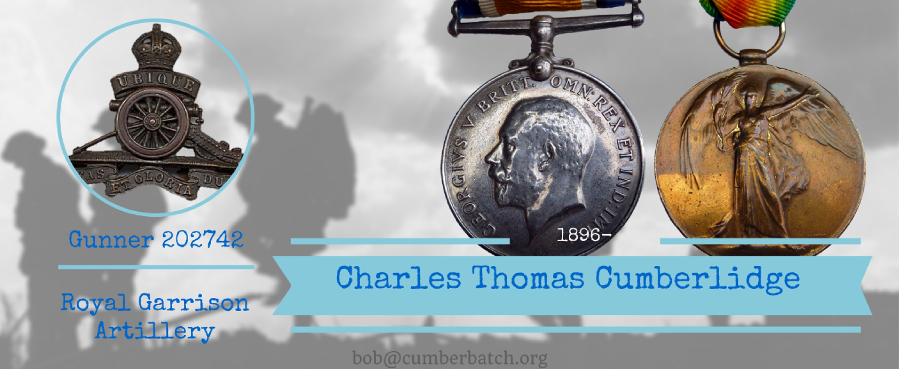 Charles Thomas Cumberlidge 1896-
Gunner 202742 Royal Garrison Artillery
Charles Thomas Cumberlidge was born on 22 December 1896 in Liverpool, Lancashire, England. He was the son of John Cumberlidge and his wife Jane Maria nee Carter.
During WW1 he joined the Royal Field Artillery as Driver 79912 but transferred into the Royal Garrison Artillery s Gunner 202741.
Charles married Dorothy G K Thompson in 1924 and they had a son Malcolm C Cumberlidge born 1931 in Liverpool.
Medal Roll
ROYAL GARRISON ARTILLERY REGIMENT OR CORPS
B 12335
ROLL of INDIVIDUALS entitled to the Victory Medal and British War Medal granted under Army Orders 266 & 301 of 1919.
| | | | | |
| --- | --- | --- | --- | --- |
| Regtl. No. | Rank | Name | Unit | Remarks |
| 202742 | Gunner | CUMBERLIDGE, Charles Thomas | Base Dtls Royal Field Artillery 79912 Driver | |
Dover, 28 Jan 1920
Medal Index Card
Name.

Corps.

Rank.

Regtl. No.

CUMBERLIDGE

Royal Field Artillery

Driver

79912

Royal Garrison Artillery

202742

Charles T

Medal.

Roll.

Page.

Remarks.

VICTORY

RGA/223B

12335

BRITISH

Do

Do

STAR

Theatre of War first served in

Date of entry therein

K1380