Claudia Vera Jones nee Cumberbatch
Claudia Vera Jones Mother of the Notting Hill Carnival provides an insight into her life. She was originally Claudia Vera Cumberbatch and born in Trinidad.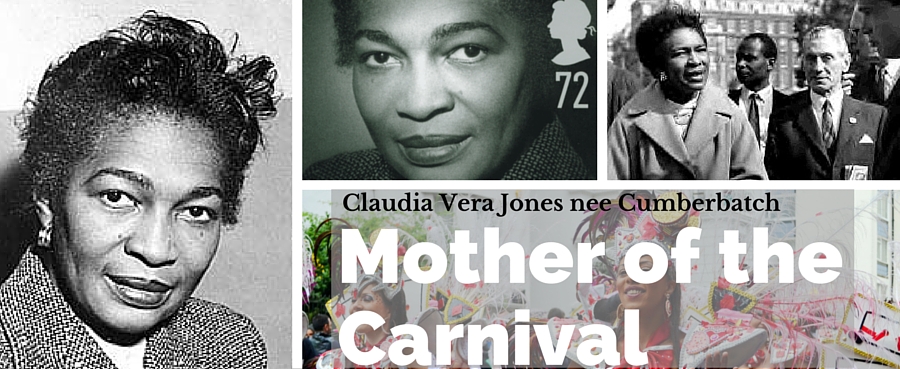 "Mother of the Notting Hill Carnival"
Claudia Vera Jones, Mother of the Notting Hill Carnival was a black civil rights activist and feminist who died penniless on 24th December 1964 in London, England and was almost forgotten by history.
She introduced the Notting Hill Carnival to England. Each year over a million people celebrate the Notting Hill Carnival and very few are aware of Claudia's part in its history.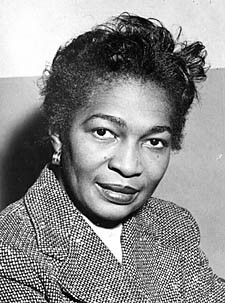 Claudia was born in Trinidad and lived in America. Claudia was born 21st February 1915 at 6 Cazabon Lane, Port of Spain, Trinidad. She was the daughter of Charles Bertrand Cumberbatch and his wife Sybil (aka Minnie Magdelene) nee Logan. Claudia was named "Claude" by her parents when they registered her birth in Trinidad. In search of a better future, she arrived at Ellis Island, New York, USA on 9 February 1924 with her sisters Sylvia, Meta, Irene and Lindsay. She travelled to the US on the SS Voltaire with her final destination as Harlem in New York. Between 1930-1935 she attended Wadleigh High School, but in 1933 her mother died of spinal meningitis aged 37 years and two years before Claudia graduated.
As a child of eight I came to the United States from Port of Spain, Trinidad, British West Indies. My mother and father had come to this country two years earlier, in 1922, when their economic status… had been worsened as a result of the drop in cocoa trade from the West Indies which had impoverished the West Indies and the entire Caribbean. Like thousands of West Indian immigrants, they hoped to find their fortunes in America where "gold was to be found on the streets" and they dreamed of rearing their children in a "free America." This dream was soon disabused. Together with my three sisters, our family suffered not only the impoverished lot of working-class native families, and its multi-national populace, but early learned the special scourge of indignity stemming from Jim Crow national oppression."

Unpublished autobiographical notes, December 6, 1955. Claudia Jones Memorial Collection, Schomburg Library, New York and quoted in "Left of Karl Marx"
1934
Claudia was committed to Sea View Sanatorium for almost a year after having been diagnosed with tuberculosis.
1935
Graduates from high school and begins working in a laundry, factory, millinery and sales.
1935-1936
Involved in Scottsboro Boys organizing, which the film "Mississippi Burning" is based upon. Writes "Claudia's Comments" for a black newspaper; becomes editor of a youth paper, organ of Youth Clubs of Harlem and attends Harlem rallies.
During this period I worked on a Negro Nationalist newspaper where I wrote a column (circulation about 4-5,000 copies) and had a weekly column called "Claudia's Comments." My job consisted there also of writing precis of the main editorial comments on Ethiopia from general commercial press, Negro workers trade union press etc. During the next ten years from 1936-1946/7, I was active in the YCL [Youth Communist League] and the youth movement. Served as organiser of the YCL in Harlem for a year. 1937 was sent to a six month National Training School of the CP [Communist Party]. On my return was elected to National Council YCL and became associate editor of the Weekly Review… Later I became editor of the Weekly Review (138-40). During 1943-45, became editor of Spotlight national publication of American Youth for Democracy… Worked from 1945-46 as editor of Negro Affairs Daily Worker… Elected full member National Committee 1945 Convention CP [Communist Party]… Arrested June 29, 1951 with 17 working class Communist leaders, including Elizabeth Gurley Flynn, under the infamous Smith Act for writing and article which described the forward movement of Negro and white women in opposition to the fascist bent world domination US foreign policy.

Claudia Jones Memorial Collection (Schomburg Center for Research in Black Culture, New York, USA and quoted in "Left of Karl Marx"
1938
Becomes New York State Chair and National Council Member of the Young Communist League. Attends National Council of Negro Youth, Southern Negro Congress, National Negro Congress. Visits American Congress. Files preliminary papers for U.S. citizenship.
1941
Becomes Educational Director of Young Communist League.
1942
Surveillance by Federal Bureau of Investigation (FBI) begins.
1946-46
Becomes Editor, Negro Affairs, Daily Worker. Elected full member of the National Committee of Communist Party USA at its annual convention.
1947-1952
Active in US national women's movements.
1948
Arrested for the first time on 19 January 1948 and imprisoned on Ellis Island under the 1918 Immigration Act. Released on $1000 bail on 20 January and threatened with deportation to Trinidad on 26 January. She would later this year go on to tour 43 US states. Her deportation hearing is postponed as people will not testify against her.
1950
16 February 1950 her deportation hearing resumes. She gives a speech in March on "International Women's Day and the Struggle for Peace", which is later cited as an "overt act" in her subsequent arrest 23 October 1950. She is held at Ellis Island under the McCarran Act and detained at New York City Women's Prison on 17 November. She is released on bail 21 December and her deportation order was served.
1951
She speaks in Harlem whilst on bail and is arrested for the third time on 29 June 1951 under the Smith Act, along with 16 other communists including Elizabeth Gurley Flynn. She is released on $20,000 bail on 23 July 1951.
1953
Convicted under Smith Act on 21 January 1953 and sentenced to one year and a day plus $200 fine. She suffers heart failure and is hospitalised for 21 days at the end of her trial. She is diagnosed with hypertensive cardiovascular disease.
It was in an American junior school where I first learned of the great traditions of popular liberty of American history, for which I then received the Theodore Roosevelt Award for good citizenship. That I have learned to interpret that history and to work to influence its change for the betterment of the people with the indispensable weapon of Marxist-Leninist ideas, that is the real crime against me.

Of all other charges I am innocent.

It was here on this soil (and not as Mr. Lane would depict to this Court, as a young child of eight years of age waving revolutionary slogans), that I had early experiences which are shared by millions of native born Negroes – the bitter indignity and humiliation of second-class citizenship, the special status which makes a mockery of our Government's prated claims of a "free America" in a "free world" for 15 million Negro Americans.

It was out of my Jim Crow experiences as a young Negro woman, experiences likewise born of working-class poverty that led me in my search of why these things had to be that led me to join the Young Communist League and to choose at the age of 18 the philosophy of my life, the science of Marxism-Leninism – that philosophy that not only rejects racist ideas, but is the antitheses of them.

Statement before being sentenced, 21 January 1953. Cited in "Claudia Jones. Beyond Containment" p.9 by Carole Boyce Davies
1955
Imprisoned in Women's Penitentiary, Alderson, West Virginia 11 January 1955. Released 23 October after numerous petitions for health reasons and her sentence is commuted for "good behaviour". She stays with her father. She is hospitalised at Mount Sinai Hospital following a heart attack attributed to the conditions of her imprisonment. 5 December her deportation is ordered. 22 December she arrived in London, England.
1956-1957
Becomes affiliated with Caribbean members of the Communist Party of Great Britain and joins the West Indian Forum and Committee on Racism and International Affairs. Works for Caribbean Labour Congress and helped edit the Caribbean News.
1956
Hospitalised in London.
I sought on the second day after arriving in England to secure a passport since I wanted to evade the rigours of the English winter in my health's interest, suffering as I do from a chronic heart ailment. My passport was not granted to me at that time, with no reason given me by the Passport Office. Later, in February of last year, 1956, I again applied while hospitalised with a heart attack at which time I received a communication from the Passport Office that they saw no reason why they should grant me a passport although they stressed they would happily give me a travel document to return to Trinidad. Besides carrying a strong hint of the "colonial go home" approach, they suggested that insofar as my health needs were concerned the Caura Sanatorium in Trinidad might be the place to cater to my health… Now, the Passport Office has broadly indicated that the fly in the ointment is not here – but in Trinidad, since being a subject of Trinidad, permission must be granted there. Besides being questionable, this seems to be a case of discrimination against me personally and as a citizen of Trinidad and the UK. If my assumptions are invalid as regards discrimination, then now that my qualification of residency has been met, and I have secured a prominent recommender, my own physician, certainly there should be no difficulty in what ought to be a routine matter. If it is a question of political views, this would not apply if I were of English birth since such people of all political persuasions, including Marxists, are not denied the right to travel out of England, because of their political views. Am I then to conclude that this special discrimination holds against me solely as a West Indian woman?

Claudia Jones Memorial Collection, Schomburg Research Center and quoted in "Left of Karl Marx". Claudia's last passport is dated 1962
I was victim of the McCarthyite hysteria against independent political ideas in the USA, a hysteria which penalizes anyone who holds ideas contrary to the official pro-war, pre-reactionary, pro-fascist line of white ruling class of that country.

I was deported from the USA because as a Negro woman Communist of West Indian descent, I was a thorn in their side in my opposition to Jim Crow['s] racist discrimination against 16 million Negro Americans in the United States.

[I was deported for] my work for redress of those grievances, for unity of Negro and white workers, for women's rights and my general political activity urging American people to help by their struggles to change the present foreign and domestic policy of the United States.

I was deported and refused an opportunity to complete my American citizenship because I fought for peace, against the huge arms budget which funds should be directed to improving the social needs of the people.

I was deported because I urged the prosecution of lynchers rather than prosecution of Communists and other democratic Americans who oppose the lynchers and big financiers and warmongers, the real advocates of force and violence in the USA.

Interview with George Bowrin in Caribbean News, June 1956, quoted in Johnson "I think of my Mother" and in "Left of Karl Marx"
1958
Founded West Indian Gazette.
1959
First London Caribbean Carnival was held at St Pancras Hall, London on 30 January. This was to heal the wounds following the murder of Kelso Cochrane, an Antiguan man, by a white gang. Kelso has moved to London in 1954 and settled in Notting Hill working as a carpenter whilst saving for a legal career. After returning from Paddington General Hospital Accident and Emergency, following treatment for a broken thumb, he was attacked. He was stabbed through the heart and died in hospital. More than 1,200 people attended his funeral. No one was prosecuted for his murder.
1962
Visits Soviet Union as guest of Soviet Women. Tours Leningrad and Sevastpool.
1964
Works with African National Congress to organise hunger strikes against apartheid and for freedom for Nelson Mandela. Meets Martin Luther King in London on his way to collect his Nobel Peace Prize. Travels to China as a guest of the China Peace Committee and meets Chairman Mao. Dies of heart failure on Christmas Eve. Death index: Name: JONES, Claudia V; Registration District: Hampstead; County: London; Year of Registration: 1964 Dec Quarter; Age at death: 49; Volume: 5C, Page No: 889.
1965
Her funeral draws recognition from Governments around the world. 9 January cremated at Golders Green Crematorium, London. Memorial meeting held in Peking, China by Committee of British and American Friends of Claudia Jones on 21 February. Interment of Jones' ashes in plot to the left of the grave of Karl Marx in Highgate Cemetery, London on 27 February.
1984
Headstone erected; inscription reads: "Claudia Vera Jones, Born Trinidad 1915, Died London 25.12.1964, Valiant Fighter against racism and imperialism who dedicated her life to the progress of socialism and the liberation of her own black people".
2008
July: Two plaques are placed in her honour in Tavistock Road/Portobello Road, London and at the Carnival Village, Powis Square, London. October: Claudia is commemorated on the 72p stamp as part of the Women of Distinction series.
Further reading
Claudia Jones A Life in Exile by Marika Sherwood, Left of Karl Marx by Carole Boyce Davis and Claudia Jones. Beyond Containment by Carole Boyce Davis. The above chronology was mainly sourced from Left of Karl Marx.

Hi Bob, What a great project! See also "Claudia Jones. Beyond Containment" [also by Carole Boyce Davies] which has now published all her essays. It is available in England from Ayebia Publishing, Banbury. It also includes a copy of her birth certificate. You have my permission to use it [extracts from the book] as long as you assign source as I noted you did. Please do let me know when it is complete and up and running.

Carole Boyce Davies 20 August 2011 [Author of "Left of Karl Marx" and "Claudia Jones. Beyond Containment"