Cleland Bulstrode Cumberlege Major 2nd Bedforshire Regiment was awarded the Distinguished Service Order (DSO), OBE in 1915 for "distinguished service in the field".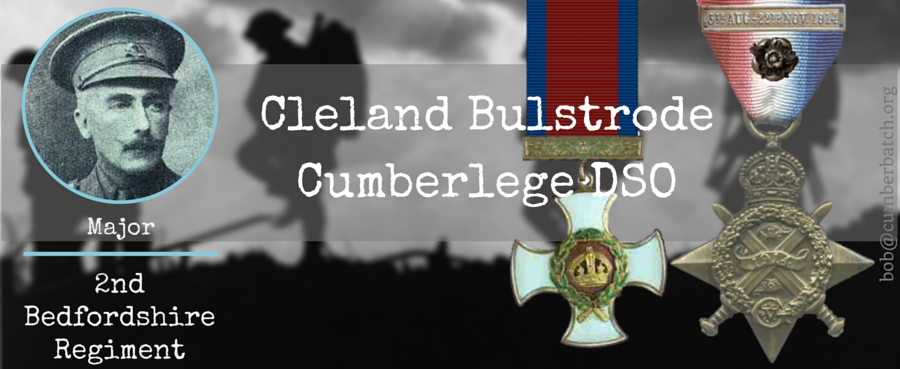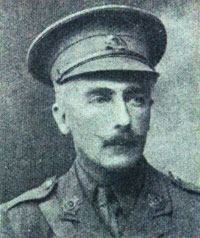 Cleland Bulstrode Cumberlege, Capt., was born 5 June, 1875, at Nagpore, India, son of Colonel A.B. [Alexander Bulstrode] Cumberlege (Indian Army) and of E.F. Broadwood. He was educated at Eastbourne College, and joined the Imperial Yeomanry in Nov. 1899, for service in the South African War, 1900-1902. He served as Trooper in the Imperial Yeomanry, employed with Mounted Infantry; took part in the operations in the Transvaal, west of Pretoria, July to 29 Nov. 1900, including action at Elands River (4 to 16 Aug.); in Cape Colony, north of Orange River, including action at Fabers Put; in the Transvaal 30 Nov. 1900, to June, 1901; also in Orange River Colony, Sept. 1901, to May, 1902, (Queen's Medal with three clasps, and King's Medal with two clasps). He was given a commission in the Bedfordshire Regt. 27 July, 1901; became Lieutenant 23 March, 1904; Captain 1 April, 1910; was Adjutant, Militia, 22 Nov. 1911, to 30 Oct. 1914. He served in the European War, and was promoted Major 12 Nov. 1915; was Temporary Lieutenant Colonel 5 Nov. 1916, to 13 July, 1917. He was recommended for good work at the Battle of Neuve Chapelle in March, 1915, when he was severely wounded. He was mentioned in Despatches, and created a Companion of the Distinguished Service Order [London Gazette, 23 June, 1915]: "Cleland Bulstrode Cumberlege, Capt., The Bedfordshire Regmt. For distinguished service in the field." During the years 1895-99, and again in 1903-5, Major Cumberlege was an amateur steeplechase rider in the south of England and at military meetings. Major Cumberlege married, 19 Dec. 1905, at Wimbledon, Leila Macdonald, daughter of the late Simon Martin, Bengal Civil Service, East India Company, and they have a son, Cleland Cumberlege, born 14 Sept. 1906.
[Source: The Distinguished Service Order 1886 – 1915, Volume One, p.399]
War Office,
23rd June, 1915.
His Majesty the KING has been graciously pleased to approve of the undermentioned Honours and Rewards for distinguished service in the Field, with effect from 3rd June, 1915, inclusive:

The Bedfordshire Regiment.
To be a Companion of the Distinguished Service Order.
Captain C. B. Cumberlege

The London Gazette
Publication date:22 June 1915 Supplement:29202 Page:6122
https://www.thegazette.co.uk/London/issue/29202/supplement/6122
CENTRAL CHANCERY OF THE ORDERS OF KNIGHTHOOD.
St. James's Palace, S.W.,
3rd June, 1919.
The KING has been graciously pleased, on the occasion of His Majesty's Birthday, to give orders for the following promotions in, and appointments to, the Most Excellent Order of the British Empire, for valuable services rendered in connection with the War: —
To be Officers of the Military Division of the said Most Excellent Order.
Cumberlege, Maj. (T./Lt.-Col.) Cleland Bulstrode, D.S.O., Bedf. R.

The Edinburgh Gazette
Publication date:5 June 1919 Issue:13457 Page:2002
https://www.thegazette.co.uk/Edinburgh/issue/13457/page/2002
Cleland Bulstrode Cumberlege of Meadway Kingston Lane Southwick Essex (sic) [Sussex] died 20 March 1946 at Southlands Hospital Shoreham-by-sea Sussex Probate was granted at London on 30 August 1946 to Messrs HOLT and Company Trustees and Leila MacDonald CUMBELREGE widow. Effects £12,919 4s 3d.
Medals
BEDFORDSHIRE REGIMENT
OFFICERS/164 pages 1 to 4
ROLL of INDIVIDUALS entitled to the Decoration granted under Army Order of [1914 Star]
| | | | |
| --- | --- | --- | --- |
| Rank | Name | Date of Disembarkation | Remarks |
| Captain | CUMBERLEGE C.B. | Embarked 2 Nov 1914 | WS/3/955 IV 1100/m 22 May 1919 |
Cleland Bulstrode Cumberlege's 1914 Star Medal Roll
War Office, AG10, 23 September 1918
BEDFORD REGIMENT
OFF/60
ROLL of INDIVIDUALS entitled to the Victory Medal and British War Medal granted under Army Orders 38 of 19
Rank
Name
Record of disposal of decorations
Remarks
Captain
CUMBERLEGE C.B.
WS/3/955
BW & VM IVX/8997 15 Sep 1921

Emblems IVX/8997 15 Sep 1921
Cleland Bulstrode Cumberlege's Victory & British War Medal Roll
Medal Card
Campaign: B.E.F. [British Expeditionary Force] 1914
(A) Where decoration was earned
(B) Present situation
Name
Corps
Rank
Reg. No.
Roll on which included (if any)
(A) Cumberlege
2nd Bedfordshire Regt
Captain*
Off:/164/1 Bedford Regt
(B) Cleland Bulstrode
Major
Action taken
1914 Star issued I.V. 1100/m 19 WS/3/955
Clasp & Roses IV. 1125/c d/- 31 Oct 1921 WS/3/955
Bedford R* Medal Roll Page
Victory: OFF/60 38 – IVX/8997 d/- 15 Sep 1921, WS/3/955
British War: – ditto –

Disembarkation
Returns
Emblems
30 Oct 1914 WS/80 WS/3/955
Ext from EF/9/4400
IVX/8997 d/- 15 Sep 1921 WS/3/955
Qualifying Date
Correspondence
G.O.C. i/c Eastern Command forwards application for 1914 Star
Address: H.A. Eastern Command
O/C No. 2 Inf Records Warley ^forwards^ roll of officers of 2nd Bn Bedford Regt eligible for 1914 Star 22.11.17
EF9 Retd 15/7/21
Appl for clasp, Unit eligible
The O.C. Depot Bedford & Hertford Regt Bedford fwds from Roll of Officers entitled to the 1914 & 15 Stars & Medals d/ 14 Sep. 21
Address: Warley The Barracks, Kempston, Bedford
WW1 Medal Card of Major Cleland Bulstrode Cumberlege