Cumberbatch Trophy for outstanding flight safety improvement. The coveted Cumberbatch Trophy is awarded every year for outstanding contributions to flight safety.
The coveted Cumberbatch Trophy is awarded annually for outstanding contributions to flight safety.
Qantas, the Australian Airline, is the only airline ever to have won this prize twice. The trophy was created by Alice Martha Beatrice Cumberbatch and is now awarded by the Honourable Company of Air Pilots formerly The Guild of Air Pilots and Air Navigators (GAPAN) and is considered to be one of its most precious possessions.
I was wrought in utmost faith and hope by command of Alice Beatrice Martha Cumberbatch in the year of Our Lord 1931 for the promotion of reliability in Civil Aviation – to the memory of those who have gone before and encouragement to those to come.

Omar Ramsden
The racing monoplanes depicted on the trophy may well be Desoutter's, which were commonly flown at the Hanworth airfield.
The Desoutter I monoplane was built by Desoutter Aircraft at Croydon. It was based on the Dutch designed Koolhoven FK41. Forty-one British built Desoutters were produced between 1929 and 1931. They were used mainly as air taxis or ambulances. Nineteen were acquired by National Flying Services at Hanworth for use on instructional, taxi and pleasure flying work. Imperial Airways operated one Desoutter for charter work. The Desoutter was improved with the Desoutter Mk II, which had a different engine, brakes, modified tailplane and other detail differences. GAPAN Guild News July 1997
On the Trail of Miss Alice Cumberbatch
Originally by Alison Hodgkinson
The Cumberbatch Trophy is historically, probably one of the Guild's most precious possessions. Described by Richard Skinner of Bond Street's Skinner and Co as "quite unique", the balloon-shaped trophy depicting small planes in a turbulent sky with a triumphant lion crowning it, was designed by silversmith, Omar Ramsden in the 1930's. My interest in this trophy developed during the last AGM when Janet Perry, the outgoing Master's wife, had invited Mr Skinner, who recently conserved several Guild trophies, to speak to the non-aviators. His late father, Squadron Leader Lional Skinner (of World War I Royal Flying Corps, then RAF) had designed and made the Master's Badge which has since 1936, the same year that the Cumberatch Trophy was first awarded by the Guild. I began wondering about "Miss Alice Cumberbatch": why had she commissioned such a beautiful trophy especially for the Guild? Was her father or her brother a pilot, I mused. Little did I realise that my search would tread between the Guild office, the Worshipful Company of Goldsmiths, the Guildhall Library and further afield…having finally discovered that this magnificent piece of silverwork had been "adopted" by the Guild from another source. I made an appointment with the librarian of the Goldsmiths to enquire about the exotic sounding silversmith, Omar Ramsden. No, he was not Arab-English as somebody had suggested. He was actually born in Sheffield in 1873 and his birth certificate gave his name as "Omar" (a suggested derivation of Homer). Apart from severaly childhood years in the States Ramsden was apprenticed to a firm of Silversmiths in Sheffield by 1887 and his creativity as a designer probably began with night-classes at the Sheffield School of Art. The Cumberbatch Trophy was executed in London when "Ramsden may have had up to twenty assistants working for him…and never worked on a single pience himself"…(despite 'OMAR RAMSDEN ME FECIT' proudly engraved into his commissions).
An article in Art and Antiques quotes, "Not often does a working gold-smith or silversmith attain such a classic reputation and experience as to give his work the standing of an antique in the worker's lifetime… but Carl Faberge, the Russian, and Omar Ramsden, the Englishman managed to do just that in addition to founding a "school" of workers to cope with the masses of commissions they received." Viscount Rothermere's gift of a gold multi-coloured collar and jewels to the Worshipful Company of Master Mariners was described as being "certainly the most magnificent of secular pieces" and the article continues that only "four other City Livery Companies took care to possess Ramsden's solver in his lifetime: the Goldsmiths… the Skinners, Ironmongers and Carpenters." And what about the Guild of Air Pilots and Air Navigators, I thought: GAPAN first presented this trophy in 1936, yet Ramsden died in 1939?
Two art hisorians, cataloguing the works of Omar Ramsden, appeared by the desk where I was carefully leafing through Ramsden's precious torn and worn original workbooks. Could they see a photo of the Guild Trophy please? The only evidence they had unearthed was a letter from Miss Cumberbatch dated December 11, 1936, giving the names of the first Guild recipients of the prize along with a pencil drawing or (sic) [of] the scrolled engraving. On this small piece of blue writing paper, I discovered that Miss Alice Cumberbatch had lived at 79 Madeley Road, West Ealing. She had a Perivale phone number and Ramsden's Order No. for her commission was 6860 (sadly missing from its workbook).
At the Guildhall Library, WHO WAS WHO in 1931 listed two CUMBERBATCH entries: diplomat Henry Alfred Cumberbatch who was decorated "for services rendered in Asia Minor" …and eminent St. Barts physician, Elkin Percy Cumberbatch, and authority on "Electrotherapeutics". Neither immediately stepped off the page as aviators but the latter did have an Ealing phone number as well as a Harley St address. When I traced his Funeral notice, his daughter was 'Eileen'… No Alice yet.
On October 13, 1936 The Times ran leader articles and columns devoted to the Guild of Air Pilots and Air Navigators of The British Empire. "The Duke of Kent accepted yesterday the permanent Grand Mastership of the Guild of Air Pilots… The Guild deserves the Royal recognition… because it helps to fulfill what must be the first requirement of successful aviation – namely safety." At the Mansion House reception, the Duke of Kent has presented "its new Reliability Trophy, recently presented by Miss A.B.M. Cumberbatch." From the claims of 50 pilots, including test pilots and instructors, "it was decided to award it to Squadron Leader Brackley, Air Superintendent of Imperial Airways" and also on behalf of eight other senior captains who had served since the company's inception in 1924.
That year, Jean Batten had been awarded the Johnston Memorial Trophy " for the best feat of navigation in any one year for her flight from Lympne to Port Natal – including the South Atlantic Crossing – on Nov 10 – 13 1935." At the time of the ceremony, she was completing her solo flight to New Zealand. I thought my search for Miss Cumberbatch might end quickly when the clerk invited me to scour the early Minute Books in the Guild Office. There was no mention of Cumberbatch until a Court Meeting of 24 March 1936 where Warden N.W.G Blackburn "had agreed to interview the present holders of the trophy with a view to their relinquishing it unconditionally.." A May 1936 meeting noted, "Letters from the London Air Syndicate Ltd. and Miss Cumberbatch had been received notifying us that both parties were willing to relinquish all legal claims to the Trophy." Thus, who originally owned the trophy?
The June 1936 GAPAN Journal solved that mystery. Beneath a photo of headline, GUILD TROPHY FOR RELIABILITY PRESENTED By MISS CUMBERBATCH, "Many people will remember that some years ago Miss Alice Cumberbatch presented to the Hanworth Club a trophy for presentation in competition. It was not, however, found possible to make any award…" I returned to the 'Report of Master of the Guild 1934 – 35' in Minute Book One… Captain Guest had written, "Members of staff have visited the following aerodromes for the purpose of discussing members problems: Heston, Hanworth, Hamble, Brooklands, Croydon Renfrew." When senior pilots from the Guild had visited Hanworth, perhaps they had discovered this magnificent trophy awaiting a recipient? The Guild deliberated, and created an award "amongst 'B' licence pilots in respect of any act tending to increase reliability of our air routes."
The week I discovered the Hanworth connection, the historians at the Goldsmiths also made a discovery. They found the original order with cost as finished on December 8th, 1931. Silversmiths write their orders in code and Omar Ramsden had used Arabic which needed transcribing. Order No. 4077 was for "The Cumberbatch Hanworth Cup". It showed a preliminary drawing, named the various silversmiths, measurements, materials… with a probable asking price of £250.00, a considerable sum in 1931. The former Hanworth Air Park is about to become a multiplex leisure center. The name, Cumberbatch, does not yet ring a bell with the Hanworth History Society, soon to publish their story of Hanworth Aerodrome, a home for The National Flying Service during the early Thirties.
Although the Hanworth Club no longer exists, the Guild of Air Pilots and Air Navigators continues to thrive and I am sure that Miss Alice Cumberbatch would have been thrilled to know that her gift is still highly prestigious within the aviation profession. Every year it is much admired at the Trophies and Awards Banquet in the City of London and of course cherished and honoured by its recipients.
Bibliography
'Omar Ramsden – Silversmith and Salesman Extraordinary', C.G.L. Du Cann Art and Antiques, July 19, 1975
'Omar Ramsden – Centenary Exhibition', Birmingham City Museum and Art gallery 1973 Introduction by Dr Peter Cannon-Brookes
GAPAN Journal, June 1936
GAPAN Minutes, Book One
The Times, 13 October, 1936; 30 March 1939
Source: The Guild News, Journal of The Guild of Air Pilots and Air Navigators. Issue No 103, July 1997, reproduced with the kind permission of Alison Hodgkinson and GAPAN.
Extract from 1993 Sotheby's valuation
A massive beaten aviation cup and cover, Omar Ramsden, London 1931, of hexagonal galleried foot and six lobed button feet, relieved with six panels of racing monoplanes with spirally engraved trails of flight at the waist beneath a repousse frieze of stylised clouds and lightning; the dome tapering to an upraised knop of clouds surmounted by a winged lion and set in enamel roundels with the conjoined initials A.P. and A.N., on a stepped oak base with winners plates, 24 1/2ins. excluding base, (cover screwed down), the base with an inscription, the underside also inscribed "Omar Ramsden me fecit". The rectangular sloping beaten desk note pad container, Omar Ramsden, London 1936, with shaped edges and pen shelf, the hinged cover with an inscription "From Alice B.M. Cumberbatch to H.G. BRACKLEY, O.P. Jones, L.A. Walters, W. Rogers, A.S. Wilcockson, F. Dismore, F.J. Bailey, H.S. Horsey, A.B.H. Youell Air Superintendent and Captains of Imperial Airways to whom was awarded the Cumberbatch Trophy for Reliability in 1936" in a scroll tablet reserve, 8 1/2ins. (later pen by another maker), inscribed "Omar Ramsden me fecit".
Newspaper Cuttings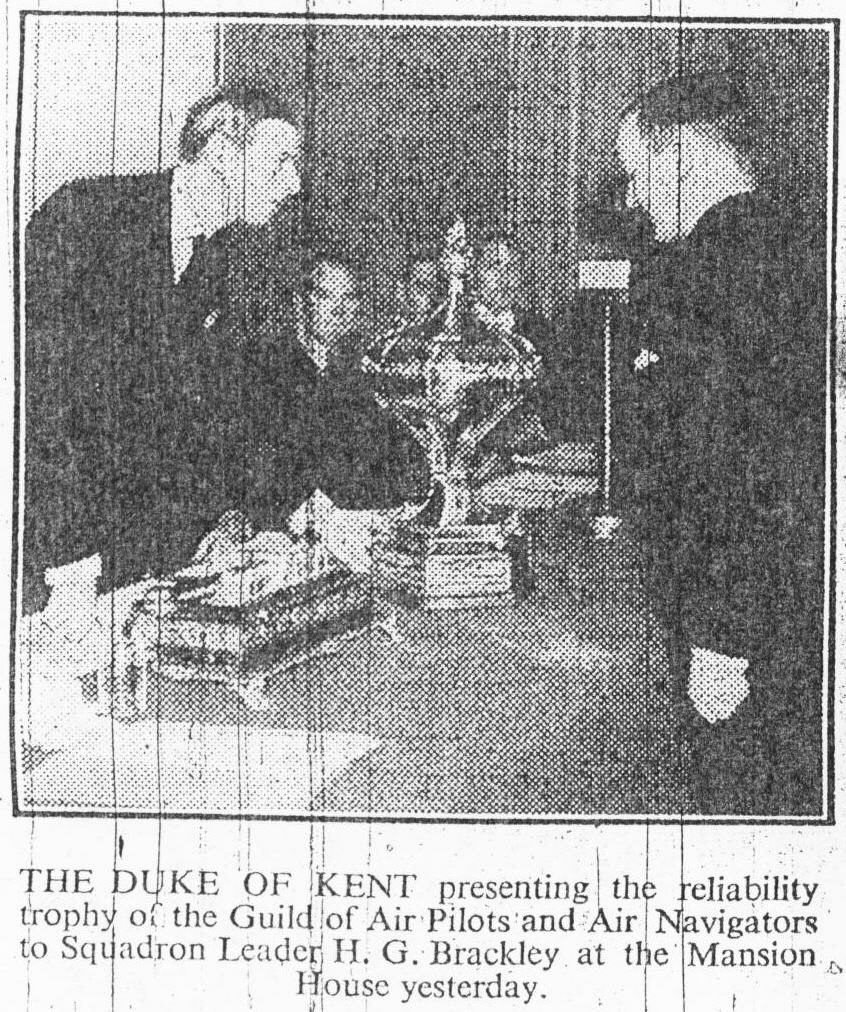 1936 Oct-Dec The Times Index: Guild of Air Pilots and Air Navigators of the British Empire – Grand Master, permanent, Oct 13, 18b:- Leading article, Oct 13, 17c: -Reception, Oct 13, 18b, 19b: -Trophies and awards, Oct. 3, 14e; [Oct] 13, 18b; (photo), [Oct] 13, 20 The Times 13th October 1936 pp. 18-19 – Air Pilots – Progress of the Guild – The Duke of Kent as Grand Master…
Veteran Pilots – The Guild also awarded its new Reliability Trophy, recently presented by Miss A.B.M. Cumberbatch. The Court of the Guild devoted much time to deciding on the first recipient of this trophy, and the claims of over 50 pilots, including test pilots and instructors, were examined. It was decided to award it to Squadron Leader Brackley, Air Superintendent of Imperial Airways since the company's inception in 1924, who himself holds a current "B" licence and continually acts as pilot. Squadron Leader Brackley will hold the trophy for the year on behalf of himself and also of eight of the most senior captains of Imperial Airways' service, whose names are:- O.P. Jones, L.A. Walters, W. Rogers, A.S. Wilcockson, F. Dismore, F.J. Bailey, H.S. Horsley, and A.B.H. Youell. The Times 13th October 1936 p. 20 – Photo [right]:- "The Duke of Kent presenting the reliability trophy of the Guild of Air Pilots and Air Navigators to Squadron Leader H.G. Brackley at the Mansion House yesterday".
Alice's cousin Hugh Charles Cumberbatch bequeathed £300,000 to Trinity College, Oxford in 1956. This money was used to build the Cumberbatch Buildings.
Winners of The Cumberbatch Trophy
1936-37
Sqn Ldr H G Brackley DSO DSC, F J Bailey Esq, W Rodgers Esq AFM, F Dismore Esq, LA Walters Esq, H J Horsey Esq, O P Jones Esq, A S Wilcockson Esq, A B H Youell Esq (Imperial Airways)
1937-38
Captain G P Olley MM, T W Morton Esq, C W H Bebb Esq, F R Midgley Esq, R D Morrison Esq, J Dendy Esq G E B Stoney Esq, J E B Scott Esq (Olley Air Service)
1938-39
J W Duggan Esq/ F Brent Esq, P C Fair Esq/ G G Stead Esq (Wrightways Ltd)
1947 Onward
1947-48 Air Commander H G Brackley CBE DSO DSC British Overseas Airways Corporation
1948-49 Aer Lingus
1949-50 No. 3 Line B.O.A.C.
1950-51 Tasman Empire Airways Limited
1952 E S Calvert Esq BSc ARSc
1953 British West Indian Airways
1954 Silver City Airways Ltd
1955-56 Captain W B Calldwell, Captain E W Jorden and Flying Staff, British European Airways, Channel Islands Services
1957 Malayan Airways Limited
1958 Trans-Australian Airlines
1959 James Martin Esq CBE
1960 Royal Air Force, Institute of Aviation Medicine
1961 Aden Airways Limited
1962 D P Davies Esq
1963 Blind Landing Experimental Unit of the Royal Aircraft Establishment
1964 J W Gibbs Esq
1965 Britannia 102 + 312 Flights BOAC
1966 E S Calvert Esq OBE and J W Sparks Esq
1967 W E B Griffiths Esq
1968 J A Karran Esq OBE
1969 Captain E N Jennings MBE DFC
1970 Qantas Airways Limited
1971 Captain F Ormonroyd DFM MA and Captain E L R Poole
1972 J W Wilson Esq
1973 J F M Moyle Esq
1974 J H Grant Esq
1975 S G Corps Esq
1976 Joint Airmiss Working Group
1977 Not Awarded
1978 Captain F H Hawkins
1979 Captain P Brentall
1980 M Ramsden Esq
1981 VC10 Flight of British Airways – Accepted by Captain J D'Arcy
1982 Captain T L J Lakin W H Grice Esq Captain P J Hunt (British Airways 'All Weather' Team)
1983 – 88 Not Awarded
1989 Qantas Airways Limited, for the second time see 1970
1990-91 Not Awarded
1992 R Ashford Esq
1993 Dr K M Carpenter PhD
1994 W Reynard Esq
1995 British Airways Safety Information System
1996 Don Bateman Esq
1997 Not Awarded
1999 John Thorpe
2000 Curtis Graeber
2001 Eric Clark
2002 Not Awarded
2003 Alan Jacobsen
2004 Stuart Mathews
2005 Dr Kathy Abbott
2006/07 Not Awarded
2007/08 Not Awarded
2008/09 Not Awarded
2009/10 Not Awarded
2010/11 Dr James Ray Klinect
2011/12 Harbour Air Seaplanes
2013 – 2014 Not Awarded
2014/15 Hugh Browning
2016 not awarded
2017 Cdr Ian S Fitter RN
2018 Michael O'Donoghue CBE
2019 WOI Peter R Balcomb AAC
2020 Master Air Engineer Stephen Hammond
2021- Tim Tucker a well-known instructor of Robinson Helicopter Company's Pilot Safety Course
Tim Tucker has probably done more for helicopter safety than any man alive. He has mentored with compassion every junior pilot he has ever met.

Executive Chairman of a major helicopter training and maintenance organisation
See: The Honourable Company of Air Pilots formerly GAPAN