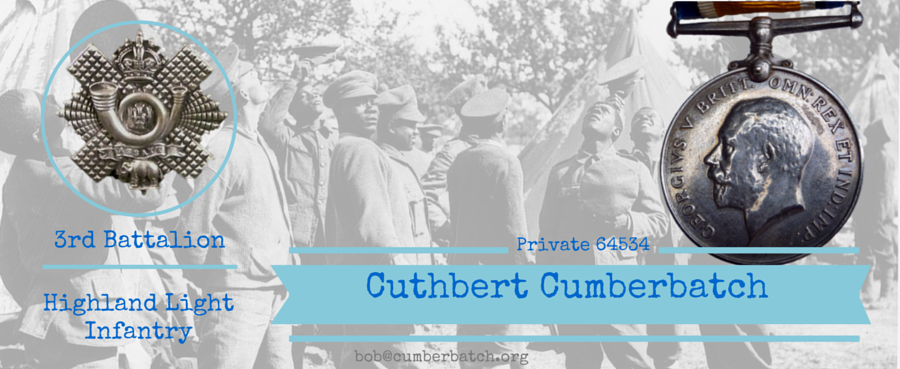 Cuthbert Cumberbatch
Private 64534 Highland Light Infantry and US World War 1 Draft
Cuthbert was born 16 Septermber 1891 in St Peter, Barbados. He was the son of Mrs Augusta Thornhill of Moore Hill, St Peter, Barbados. On 19 Apr 1915 he emmigrated from Barbados to Brooklyn, New York, USA aboard the SS Denis.
He was drafted by the US Army on 5th June 1917 from his job as a Bell Boy at the Mohawk Hotel, 337 Washington Ave, Brooklyn, New York, USA. His US draft registration card has had it's corner torn to highlight the fact that Cuthbert was of Black (African) origin; see the gallery below. For an insteresting article on the background of Black US WW1 draftees see http://www.militaryhistoryonline.com/wwi/articles/fightingforrespect.aspx
He was 25 when he was registered with the US Government for service in World War 1. He was living at 948 Fulton Street, Brooklyn, New York at the time. He was described as:
Height: 5 ft 4"
Build: medium
Colour of eyes: Black
Colour of hair: Black
Bald?: No
Lost limbs?: No
He entered WW1 service with the British Army. He joined the 3rd Battalion of the Highland Light Infantry as Private 65434 but did not see any action. I suspect that the British Army's colour bar prevented Cuthbert and any colleagues of Black ancestry from going into battle.
After the war Cuthbert requested his free passage back to the USA. I have included below the names of the other soldiers seeking free repatriation from the 3rd Battalion Highland Light Infantry as their service numbers are very close and these soldiers may also be of Black African origin. Cutherbert became a cook in a hotel in New York by 1920.
Cuthbert married Altina Boyce on 28 Dec 1929 in New York. Cuthbert died in January 1941 and was buried in Westbury Cemetery, St Michael, Barbados on 24 January 1941. His wife died in July 1981 in New York.
NOMINAL Roll of Officers and SOLDIERS of the 3rd Highland Light Infantry who claim that they [are] entitled to a Free Passage to an Overseas British Possession or Foreign Country
| | | |
| --- | --- | --- |
| Regimental Number and Rank | Names | Country from which applicant came |
| 64539 Private | MAYHEW, Arnold | United States |
| 64529 Private | JACKSON, Alfred | United States |
| 64530 Private | KING, Ethelbert | United States |
| 64533 Private | BRADSHAW, Thomas | United States |
| 64534 Private | CUMBERBATCH, Cuthbert | United States |
| 64531 Private | LEWIS, John | United States |
Source: WO 363 [The National Archives] on FindMyPast
Medal Card
Name.

Corps.

Rank.

Regtl No.

CUMBERBATCH

Highland Light Infantry

Private

64534

ditto

ditto

ditto

Cuthbert

Medal.

Roll.

Page.

Remarks.

VICTORY

BRITISH

D/104A

39

15 STAR

Theatre of War first served in

Date of entry therein

K1380

Correspondence

Address
Medal Roll
Highland Light Infantry
ROLL of INDIVIDUALS entitled to the British War Medal under Army Orders 266 of 1919
| | | | | |
| --- | --- | --- | --- | --- |
| Regimental No. | Rank | Name | Unit | Remarks |
| 64534 | Private | Cumberbatch, Cuthbert | 3rd Highland Light Infantry, 64534. Private | |
Gallery