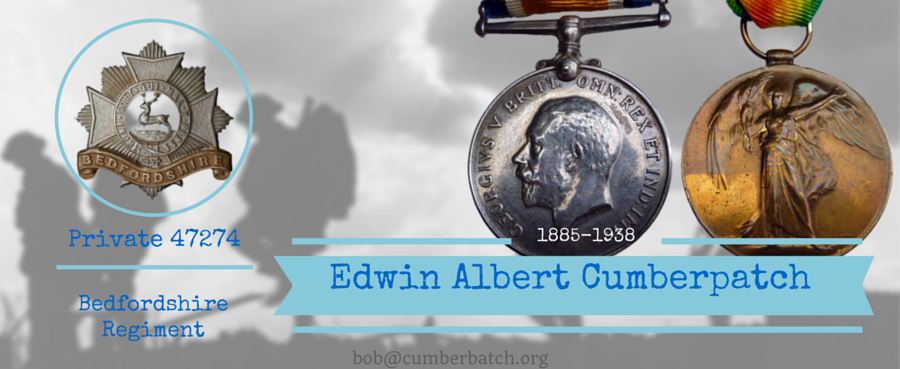 Edwin Albert Cumberpatch
Private 47274 Bedfordshire Regiment
Edwin Albert Cumberpatch was born in Duston, Northampton, Northamptonshire, England in 1885. He was baptised at St James' Church, Dallington on 6 December 1885. He was a shoe laster in 1901. By 1911 he was operating shoe making machinery in a shoe manufacturer. He joined the army during World War 1 and became Private 47274 Bedfordshire Regiment. Edwin died unmarried in Northampton in 1938.
Medal Roll
BEDFORDSHIRE & HERTFORDSHIRE REGIMENT
1054
ROLL of INDIVIDUALS entitled to the Victory Medal and British War Medal under Army Orders 301 & 266 of 1919.
| | | | | |
| --- | --- | --- | --- | --- |
| Regimental No. | Rank | Name | Unit | Remarks |
| 47274 | Private | Cumberpatch, Edwin Albert | Bedfordshire Regiment 47274 Private | |
Warley, 5 Nov 1920
Medal Card
Name.

Corps.

Rank.

Regtl No.

CUMBERPATCH

Bedfordshire Regiment

Private

47274

Edwin Albert

Medal.

Roll.

Page.

Remarks.

VICTORY

K/2/104B15

1054

BRITISH

Ditto

Ditto

Theatre of War first served in

Date of entry therein

K1380

Correspondence

Address