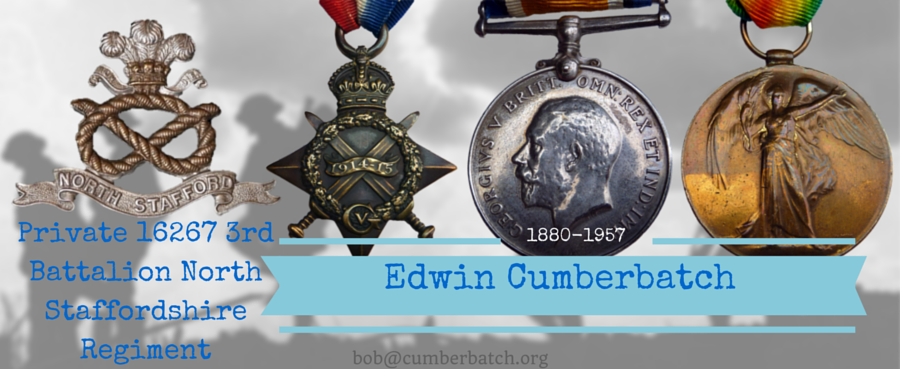 Edwin Alfred Cumberbatch
Private 3rd Battalion North Staffordshire Regiment
Edwin was born in December of 1880 in Woodstock, Staffordshire, England. He was the eldest son of Edwin Cumberbatch and his wife Tamar nee Higginson and brothre of Frank Cumberbatch.
Edwin was initially employed as a loader in coal mine. He married Edith Travis in 1908 and they had two children:
Arthur Cumberbatch born 31 March 1909
Edith Cumberbatch born 1920.
Edwin enlisted in the 3rd Battalion of the North Staffordshire Regiment as Private 16267 on 4th January 1915. He arrived in France on 28 July 1915. Edwin's brother Frank Cumberbatch
Edwin was discharged from the army as being physically unfit for duty on 7th August 1918. He was aged 37 years and 8 months when he was discharged. He was awarded the Silver War Badge number 433897.
For his military service he was awarded the British War, Victory and 1914-15 Star medals.
Edwin died in 1957 and his wife died in 1963.
Medal Index Card
Name.

Corps.

Rank.

Regtl No.

CUMBERBATCH

North Staffordshire Regiment

Private

16267

ditto

ditto

ditto

Edwin

Medal.

Roll.

Page.

Remarks.

VICTORY

F/104 B/6

652

Discharged (392) 7 Aug 1918

BRITISH

ditto

ditto

15 STAR

F/5/B1

82

Silver War Badge List FA/468

Theatre of War first served in

(1) France

Date of entry therein

28 Jul 1915

K1380

Correspondence

Address
Medal Rolls
North Staffordshire Regiment
ROLL of INDIVIDUALS entitled to the Victory Medal and British War Medal under Army Orders 266 and 301 of 1919 No. 652.B
| | | | | |
| --- | --- | --- | --- | --- |
| Regimental No. | Rank | Name | Unit | Remarks |
| 16267 | Private | CUMBERBATCH, Edwin | 16267 9th Battalion North Staffordshire Regiment Private | |
Lichfield, 5 May 1920
ROLL of INDIVIDUALS entitled to the Decoration granted under Army Order 20 of 1919 No. 82
| | | | | |
| --- | --- | --- | --- | --- |
| Regimental No. | Rank | Name | Date of Disembarkation | Remarks |
| 16267 | Private | CUMBERBATCH, E | 28 Jul 1915 (1) | Discharged para 392 (xvi) K.R. 7 Aug 1918 |
Lichfield, 14 Oct 1919
Silver War Badge
ROLL of INDIVIDUALS entitled to the "WAR BADGE" No. F/A/468
Regtl No.

Rank

Name

Unit Discharged from

No. of Badge

Date of Enlistment

Date of Discharge

Cause of Discharge

Age on Dischrage

Whether served overseas

16267

Private

Cumberbatch, Edwin

3rd Battalion North Staffordshire

433897

4 Jan 1915

7 Aug 1918

Para of A.O.2 of 18 Aug 1917

2(b)(1)392(xvi)

37yrs 8 mnths

Yes
Lichfield, 29 July 1918