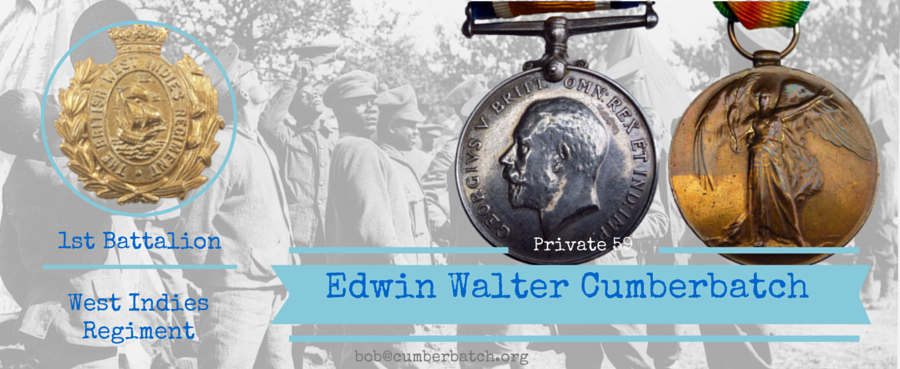 Edwin Walter Cumberbatch
Private 59 1st Service Battalion West Indies Regiment
Edwin Walter Cumberbatch was the grandson of S Parks who lived at 55 Hadfield Street, Demerara, British Guiana. He was a compositor by trade living in Demerara, British Guiana. Aged 21 he enlisted in the British West Indies Regiment and became Private 59 on 4th September 1915 in British Guiana. He enlisted for the duration of the first world war. He began his voyage to Seaford, Sussex, England from British Guiana on the 16th September and the voyage took 18 days. He remained in England until 20th January 1916.
He departed Devonport, England on 21st January 1916 and arrived at Alexandria, Egypt on 5th February 1916. Whilst on drill in Alexandria, Egypt, Edwin Walter Cumberbatch broke his right leg in multiple places above his ankle on 24th March 1916. His foot went down a hole. Edwin was invalided to the Colonies aboard the Hospital Ship Magdalena. He departed Alexandria, Egypt on 24 August 1916. Edwin was discharged from military service as being physically unfit for duty as a result of his disability on 19th September 1916 at Jamaica. His military character was reported as having been 'very good.' He had served for 1 year and 16 days in the army.
Edwin's medical condition was reviewed in George Town, British Guiana on 8th October 1917. He weighed 130lbs. His medical report states:
'Caught his foot in a hole whilst on drill and he states both bones (tibia & fibula) were fractured above ankle also states he suffered from Rheumatism in right shoulder both in Egypt and at Camp in Sussex (Seaford). Still complains of pain in leg (no medical history sheet of as late)'.
His fibular had thickened at the lower end of his ankle. The doctor recommended that he was permanently unfit for duty.
The Right Worshipful Brother Edwin Walter Cumberbatch was District Grand Master, District Grand Lodge of Guyana (G. L. Scotland) for some time.
Medal Index Card
Name.

Corps.

Rank.

Regtl No.

CUMBERBATCH

British West Indies Regiment

Private

59

ditto

ditto

ditto

Edwin

Medal.

Roll.

Page.

Remarks.

VICTORY

Col/112B5

163

BRITISH

d[itt]o

d[itt]o

15 STAR

Theatre of War first served in

Date of entry therein

K1380

Correspondence

Address
Medal Rolls
British West Indies Regiment
ROLL of INDIVIDUALS entitled to the Victory Medal and British War Medal under Army Orders 301 and 266 of 1919
| | | | | |
| --- | --- | --- | --- | --- |
| Regimental No. | Rank | Name | Unit | Remarks |
| 59 | Private | Cumberbatch, Edwin W | 1/British West Indies Regiment | |
Jamaica, 1 Feb 1922
ROLL of Ex-soldiers of the British West Indies Regiment who were Discharged or Demobilised, (or the next of Kin who reside) in British Guiana
| | | | | | |
| --- | --- | --- | --- | --- | --- |
| Medal Roll No. | Regimental No. | Rank | Name | Address | Medals |
| 163B | 59 | Private | Cumberbatch, Edwin W | Demerara, British Guiana | British War & Victory |
| 164B | 1369 | Private | Cumberbatch, Joseph | George Town | British War & Victory |
Jamaica, 31 Jul 1922
Edwin Walter Cumberbatch in Who's Who in British Guiana 1945-1948
CUMBERBATCH, EDWIN WALTER

Assistant Superintendent of Prisons

Resides 248 South Road, Georgetown

Born 16th April 1894 at Georgetown to Alfred A Cumberbatch, Bookmaker, and his wife Margaret Matilda, nee Williams

Educated at Wortmanville Scots School and privately.

Was a compositor at Argosy Co. Ltd

1917 – Assistant Prison Warder

1925 – Second Class Warder

1934 – First Class Warder

1935 Clerk and Storekeeper. At New Amsterdam Prison

1939 – Acting Chief Prison Officer, New Amsterdam Prison.

1940 – Chief Prison Officer, New Amsterdam Prison

1944 – Present Appointment

Served with No. 2 Company, British Guiana Militia during mobilization 1914 and subsequently with 1st Battalion, British West Indies Regiment in Egypt.

Holds General Service and Victory Medals of 1914-18 War

Married 7th December 1918 Catherine Eloise Arthur.

Has five sons.

Recreation – Tennis and swimming

Club – Prison Officers' Recreation Club

Hobbies – Reading and Gardening

Source: Who is Who in British Guiana – 1945 – 1948 p.115

By Erwin Brewster Google Books