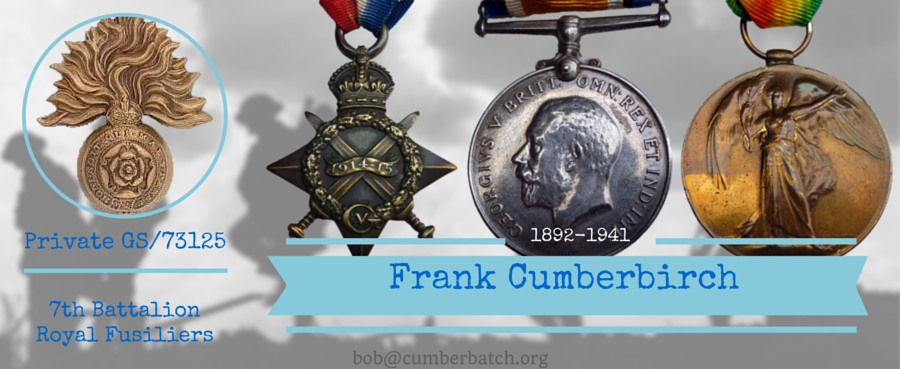 Frank Cumberbirch
Private GS/73125 7th Battalion Royal Fusiliers
Frank Cumberbirch was born Q3 1892 in Rochdale, Lancashire, England. He was the eldest son of William Cumberbirch and his wife Mary nee Hamer. Frank Cumberbirch served as Private PS4726 20th Battalion Royal Fusiliers landed in France 14 November 1915. He served there 14 November 1915 and 22 November 1916.
Frank Cumberbirch married Jessie Suter in Q2 1917 in Blackpool, Lancashire, England. Together they had:
William Allan Cumberbirch, born 29 May 1921 in Rochdale, Lancashire
Mary Cumberbirch, born in Q3 1928 in Rochdale, Lancashire
Frank returned to France as Private GS/73125 in the 7th Battalion Royal Fusiliers between 12 April 1918 to 7 February 1919. He was discharged as being medically unfit for service under Kings Regulation para 392 XVI on 30 May 1918.
Probate of the estate of Frank Cumberbirch of 495 Bury-road Rochdale who died 14 March 1941 was granted at Llandudno on 22 May 1941 to Jessie CUMBERBIRCH widow. His effects totalled £3,948 8s 4d. His wife Jessie Cumberbirch died in 1975.
Medals
ROYAL FUSILIERS REGIMENT
Supplementary Roll 'C' 128
ROLL of INDIVIDUALS entitled to the Decoration granted under Army Order 20 of 1919 [1914-15 Star].
On date of Disembarkation

Name

Date of Disembarkation

Remarks

Regtl. No.

Rank

20th Royal Fusiliers

PS 4726

Private

CUMBERBIRCH Frank

14 Nov 1915 (1) [France]

GS 73125 Royal Fusiliers Discharged 392 XVI KR 30 May 1918

Verified Authorised issue TP/75c5
Hounslow 30 Dec 1921
ROYAL FUSILIERS REGIMENT
B Roll Sheet 3359
ROLL of INDIVIDUALS entitled to the Victory Medal and British War Medal under Army Orders 301 and 266 of 1919.
Regimental No.

Rank

Name

Unit (in order)

Theatres of war in which served

GS/73125

Private

CUMNERBIRCH Frank

20/R. Fus. Pte. PS/4726

7/R. Fus. Pte. GS/73125

1(a) 14 Nov 1915 to 22 Nov 1916

1(a) 12 Apr 1918 to 7 Feb 1919
London, 16 Apr 1921
Medal Cards
See CUMNERBIRCH

Name.

Corps.

Rank.

Regtl No.

CUMBERBIRCH

Royal Fusiliers

Private

PS 4726

Ditto

GS 73125

FRANK

Medal.

Roll.

Page.

Remarks.

VICTORY

TP/104B/24

3359

Issued No action

Correct surname Cumberbirch see x @ 6E

BRITISH

Ditto

Ditto

15 Star

TP/75 C5

128

Theatre of War first served in

1. France

Date of entry therein

26 Jan 1915

K1380

Correspondence

Address
See CUMBERBIRCH

Name.

Corps.

Rank.

Regtl No.

CUMNERBIRCH

Royal Fusiliers

Private

PS 4726

Ditto

GS 73125

FRANK

Medal.

Roll.

Page.

Remarks.

VICTORY

TP/104B/24

3359

BRITISH

Ditto

Ditto

Theatre of War first served in

Date of entry therein

K1380

Correspondence

Address