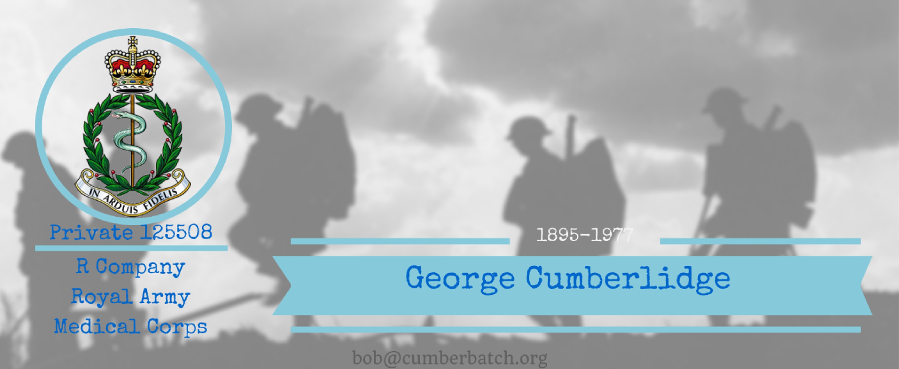 George Albert Cumberlidge 1902-1973
Private 203485 Manchester Regiment & Private 570416 Labour Corps
George Albert Cumberlidge was born on 11 March 1902 in Facit, Manchester, Lancashire, England. He was the son of John Cumberlidge and Annie nee Woodhead.
George Cumberlidge joined the Manchester Regiment as Private 203485 and later transferred to the Labour Corps as Private 570416. We was awarded the British War and Victory Medals.
After World War One, George Albert married Ada Clegg in 1923 and they have two children:
George A Cumberlidge born 1925
Allan Cumberlidge born 1928
George Albert Cumberlidge died in 1973 in Wales and his wife Ada died in 1981 in Wales.
Medal Roll
LABOUR CORPS Regiment or Corps
ROLL of INDIVIDUALS entitled to the Victory Medal and British War Medal granted under Army Orders 266 and 301 of 1919 21688
| | | | | |
| --- | --- | --- | --- | --- |
| Regtl. No. | Rank | Name | Unit | Remarks |
| 570416 | Private | CUMBERLIDGE, George | 203485 Private Manchester Regiment | |
Nottingham, 5 Jan 1921
Medal Index Card
Name.

Corps.

Rank.

Regtl No.

CUMBERLIDGE

Manchester Regiment

Private

203485

Labour Corp

570416

George

Medal.

Roll.

Page.

Remarks.

VICTORY

LC/101/B213

21688

BRITISH

-do-

-do-

Star

Theatre of War first served in

Date of entry therein

K1380