Graham Trent Cumberbatch Beyond a Boundary Barbados cricket clubs were exclusively for whites until Graham Trent Cumberbatch changed the face of cricket in 1893.
A Cricketing Cumberbatch Family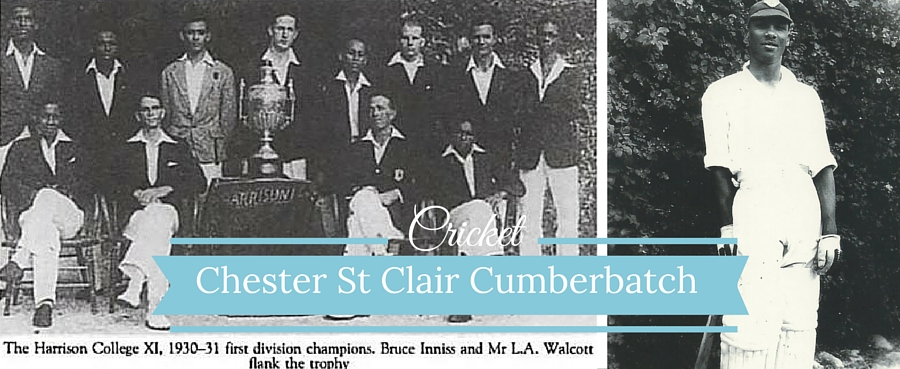 Graham Trent Cumberbatch Beyond a Boundary Barbados cricket clubs were exclusively for whites until Graham Trent Cumberbatch changed the face of cricket in 1893.
Beyond a Boundary – Barbados cricket clubs were exclusively for whites until Graham Trent Cumberbatch changed the face of cricket by helping to establish the Spartan Cricket Club in 1893. The three Cs paved the way for the cricketing greats to come including one of the three Ws.
I have nothing to write except that I perpetually wonder that a little scrap of West Indian territory has produced Garfield Sobers and you.[1]
The Establishment of Spartan
Spartan was the first cricket club to consider the interests of middle-class blacks in Barbados. It came into being in 1893, thanks to the initiative of such remarkable coloured men as Sir Conrad Reeves – Chief Justice of Barbados, J Challenor Lynch, and the Brownes, Clairmonts, Pilgrims, Rudders and Stroudes. Men like Graham Trent Cumberbatch, who was assistant inspector of schools in the 1890s, helped to establish Spartan because there was no possibility of their entry into Pickwick.
…In [Clifford Goodmans'] own team he also included two blacks, Stephen Rudder and Graham Trent Cumberbatch from Spartan.
A prominent founding player, captain and club power was, Graham Trent Cumberbatch, son of a successful boot maker. He took a degree through Codrington College and became Assistant Inspector of Schools but, like others in his social position, found progress difficult. When in 1901 he applied for the position of Inspector of Schools in the Leeward Islands, the Governor thought it necessary to inform the Colonial Office that "he was a man of colour", and by implication, inappropriate for the post[2]. Two general reactions to such discrimination emerged in Spartan. On the one hand, men like Cumberbatch and Cummins became ardent enthusiasts of the cricket ideology, attempting to share the cultural values of the whites with whom they competed both in cricket and in society. On the other hand, they developed a strong desire to win, to beat the representatives of those who displayed the prejudice. The essential paradox in this dual position is clear. While trying to emulate the ruling cricket and social values, Spartan members had also to deal with the inequalities contained in those ruling values. On the whole, Spartan men resolved to accept the inequalities, an excellent demonstration of Gramsci's theory of hegemony.
During the 1890s, when Cox and Somers Cocks were dominant, good cricket was also being played by such pupils [of Harrison College school] as Hallam Cole and Julian St C Cumberbatch[3], who eventually achieved first-class status. Not surprisingly, the school ran a very close second to Pickwick during the 1893-1894 season… [Julian St Clair] Cumberbatch was a promising wicketkeeper/batsman in his youth, but gained only one selection for Barbados, even though like Rudder, he was one of the main bulwarks of the Spartan Cricket Club during its fledgling state. He made a contribution of another sort by producing a fine cricketing son, Chester St Clair Cumberbatch, who also achieved first-class status.
At Harrison [College] where [Leslie Arthur 'Bessie' Walcott] taught from 1921 to 1931, [Walcott] exerted a profound influence upon such pupils as Lawson Bartlett, Lionel Birkett, Chester Cumberbatch, J.R. 'Bunny' Edwards, Stanton Gittens, the Inniss Brothers (Bruce and Clifford) and Lionel Stuart.
When Harrison [College] won the championship in 1930-31, Walcott was ably assisted by Chester Cumberbatch (Julian's son)…Cumberbatch captained Harrison [College] after Bruce Inniss' departure in 1931 when he began the season in truly rare form, scoring 219 not out against the Lodge, 94 against Police and 102 vs. Pickwick. His double century was then a Harrison [College] record, eclipsing the mark of 215 previously established by Eric Collymore. Cumberbatch went on to play regularly for Spartan and represented Barbados on five occasions, scoring 170 runs (av: 21.25) and taking 3 catches.
The Spartan Club had its own conflicts however; whether Spartan was about maintaining a middle-class elite status or furthering black cricket? This question split the membership on two occasions when gifted black players from poor backgrounds were admitted. A similar split occurred during the period of slavery when coloured and black freedmen were divided over the "Belgrave Address" of 1823. Crafted by Jacob Belgrave junior, a wealthy coloured plantation owner, the "Loyal Address" recommended continuing with the status quo whilst some freedmen wanted more. The 1823 Counter Address, or "Humble Address", was more forceful in demanding rights for the free men of colour. Similarly, the complicit approach, in cricket, may have led to the "Calypso Cricketers" who were truly gifted individual artisans but who were destined to fail as a team, until something changed. The hunger to win married with a sense of teamwork and unbridled aggression with, of course, raw talent are just some of the factors that led to the West Indies dominating cricket for almost 20 years.
What started in clubs like Spartan culminated in the emancipation of West Indies cricket. Freedom brings choice for individuals, nations and teams. What is next for West Indies cricket? Independent national sides? Another period of "Calypso Cricketers"?
Sources: Cricket Nurseries of Colonial Barbados: The Elite Schools, 1865-1966 by Keith A P Sandiford and "Liberation cricket: West Indies cricket culture" By Hilary Beckles, Brian Stoddart
Notes:
1 Cyril Lionel Robert James to Frank Worrell, another of the Three Ws, in 1963; The "little scrap" being Barbados
2 Governor to Secretary of State, 3 February 1900, No. 32, COL 2/1/44, BA "Liberation cricket: West Indies cricket culture" By Hilary Beckles, Brian Stoddart.
3 Julian St Clair Cumberbatch was Graham Trent Cumberbatch's brother
Further Reading
'Beyond a Boundary' is the title of a book by Cyril Lionel Robert James. C L R James, one of the foremost thinkers of the twentieth century, was devoted to the game of cricket. In this classic summation of half a lifetime spent playing, watching and writing about the sport, he recounts the story of his overriding passion and tells us of the players whom he knew and loved, exploring the game's psychology and aesthetics, and the issues of class, race and politics that surround it. Part memoir of a West Indian boyhood, part passionate celebration and defence of cricket as an art form, part indictment of colonialism, Beyond a Boundary addresses not just a sport but a whole culture and asks the question:
What do they know of cricket who only cricket know?
"The Three Ws of West Indian Cricket: A Comparative Batting Analysis" by Keith A P Sandiford. The Three Ws: Sir Frank Worrell, Sir Clyde Walcott, who played for Spartan and Sir Everton Weekes, all from the island of Barbados. The "Three Ws" of West Indian Cricket who were born within seventeen months and a mile from each other near the Kensington Oval Cricket Ground in Bridgetown, Barbados. They were destined to become three of the greatest cricketers in the world who would eventually be knighted for their sparkling batting records and meritorious service to cricket and the society in general. The study traces their humble beginnings in colonial Barbados, their ascendancy in the Barbados and West Indian Cricket teams in an era of struggle for justice, democracy, equality, and majority rule in the British West Indies. Most of all the study focuses on the endless debate, which goes on in the cricket world as to who was the greatest among the three. This book is filled with facts, figures and statistics not easily found elsewhere.
"The Unappropriated People – Freedmen in the Slave Society" by Jerome S Handler 1974. In the "Unappropriated People" Handler argues that the freedmen neither challenged the notion of a class based society nor attempted to deny the upper class their privileges but rather wanted recognition of their status and position in the hierarchy by cementing their civil rights in law. The "unappropriated people" were neither slave nor entirely free.
"Fire in Babylon – They brought the world to its knees and a nation to its feet" a 2010 documentary film about the record-breaking West Indies cricket team of the 1970s and 1980s. This is not just a cricket success story but also about the motivations and social conditions of the Caribbean people and countries that drove the team to break free and to achieve success. One people, one nation, one destiny. Colin Cumberbatch, photographer, appears a few times.