History of Comberbach a village in Cheshire England. A small village in north Cheshire, England that gave us the surnames Comberbach, Cumberbatch & Cumberpatch.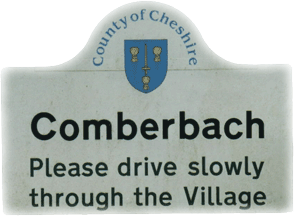 History of Comberbach
COMBERBACH, a township in that part of the parish of Great Budworth which is in the hundred of Bucklow, county palatine of Chester, 3 miles (N. by W.) from Northwich, containing 226 inhabitants.

A Topographical Dictionary of England by S. Lewis – 1st Ed.: 1831
COMBERBACH township parish Great Budworth Ches[hire] pop 295 Wesl[yan] Meth[odist]

A Genealogical Gazetteer of England by Frank Smith: 1831
Comberbach in Early Cheshire Charters
I have not found Comberbach recorded in the Domesday Book of 1086.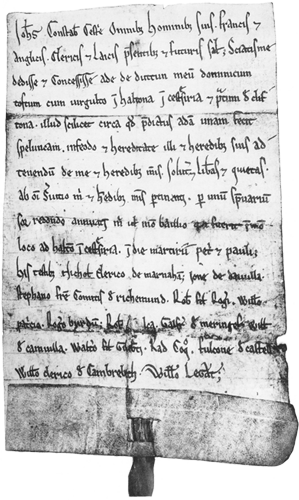 Charter of John, Constable of Chester
Charter of John, constable of Chester Granting to Adam Dutton his demesne toft with a virgate in Halton and the meadow of Clifton, which Adam had enclosed with a ditch, quit of all service except the render of one sparrowhawk a year to John or to his bailiff at Halton.(1172-1181)
Arley Charters (John Rylands Library, Manchester) I. 81.
Iohannes constabularies Cestrie omnibus hominibus suis, Francis et Anglicis, clericis et laicis, presentibus et futuris, salutem. Sciatis me dedisse et concessisse Ade de Duttun meum dominicum toftum cum virgulto in Haltona in Cestresiria et pratum de Cliftona, Mud scilicet circa quod predictus Adam unam fecit speluncam, in feodo et hereditate illi et heredibus suis ad tenendum de me et heredibus meis solutas et liberas et quietas ab omni servitio mihi et heredibus meis pertinenti, per unum sprevarium1 sor reddendo annuatim mihi vel meo baillio, qui fuerit in meo loco ad Halton in Cestresiria, in die martirii Petri et Pauli. His testibus: Nicholao clerico de Marnaham, lone de Daivilla, Stephano fratre comitis de Richemund, Roberto filio Rogeri, Willelmo Patricio, Rogero Burdun, Roberto de …Ica2, Galfrido de Meringes, Willelmo de Camvilla, Waltero filio Gileberti, RaduIfo Coquo, Fulcone de Castello, Willelmo clerico de Cambrebech, Willelmo Legat.
1 sic orig. for spervarium. 2 Blurred in original.
SEAL: on cords, uncoloured wax, imperfect and badly worn. A griffin passant to sinister. Legend: defaced.
COUNTERSEAL: vesica-shaped, worn. A lion rampant to sinister. Legend: fragmentary and defaced.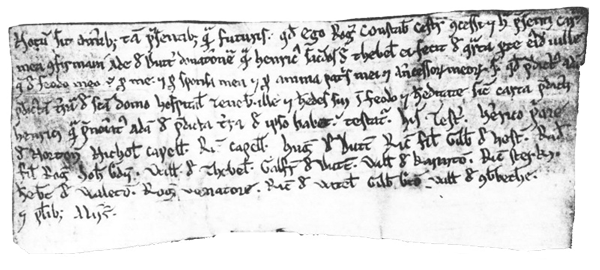 Charter of Roger, Constable of Chester
Charter of Roger, Constable of Chester, confirming the gift of Henry, the priest of Tables, to Adam of Dutton of a fourth part of the vill of Tabley, to be held of the hospital of St. John of Jerusalem. (1191-1194)
Notum sit omnibus tam presentibus quam futuris, quod ego Rogerus constabul­arius Cestrie concessi et hac presenti carta mea confirmavi Ade de Duttona donat­ionem, quam Henricus sacerdos de Thebeleia ei fecit de quarta parte eiusdem ville, que de feodo meo est, pro me et pro sponsa mea et pro anima patris mei et antecessorum meorum, scilicet quod predictus Adam predictam terram de sancta domo hospitalis tenebit, ille et heredes sui in feodo et hereditate, sicut carta predicti Henrici, quam prenomtnatus Adam de predicta terra de ipso habet, testatur. His testibus: Henrico priore de Nortona, Nicholao capellano, Ricardo capellano, Hugone de Duttona, Ricardo filio Gilbertt de Hestona, Radulfo filio Rogeri, lohanne Burdun, Willelmo de Thebeleia, Galfrido de Duttona, Willelmo de Karinton, Ricardo Sterki, Herebert de Waleton, Rogero venatore, Ricardo de Witeleia, Gilberto Britone, Willelmo de Comberbeche, et pluribus aliis.
SEAL: on tag, missing.
[Source: Facsimiles of Early Cheshire Charters by Geoffrey Barraclough 1957]
Other Early Occurrences
Comberbach – Historic Occurrences and Meaning
'Valley or stream of the Britons', v. Cumbre (gen. pl. Cumbra), bece1, bæce1, but Dictionary of English Place Names (DEPN) observes that the first element could be the OE [Old English] pers.n. Cumbra ('Welshman'). The village stands in a hollow beside a small brook running into Budworth Mere.

The Place Names of Cheshire Part II p.111 by J McN Dodgson, English Place Name Society XLV 1967-8, Cambridge University Press: 1970
Cambrebech 1172-81 Facs, -bek 1178 Whall
Combrebeche 1190 ArlB (p), -bache 1357 BPR, Comberbach(e) c.1230 FRC 841 (p). 1257 CoLegh (p) et freq with variant spellings -bur-, batch
Conberbeche or Conbrebeche 1191-4 Facs 8 (transcription Facs p.17 reads Comberbeche)
Cumberbach c.1200 (1654) Sheaf, e13 Tab, -e 1304 Chamb et freq with variant spellings -bir-, -bur-, -bre-, -bage, -back
Abbreviations for above:
ArlB: Forms from Arl ex. inf. Dr. Barnes and quoted in Barnes'. Arl = Warburton Deeds, property of Viscountess Ashbrook of Arley, in John Rylands Library Manchester.
BPR: The Register of Edward the Black Prince (PRO), London 1930-3
Chamb: R Stewart Brown, The Accounts of the Chamberlains and Other Officers of the County of Chester (LCRS 59), 1910.
ChetOS: Publications of the Chetham Society of Lancashire and Cheshire Original Series
CoLegh: MSS. of C L S Cornwall-Legh Esq. (Legh of High-Legh), preserved in John Rylands Library Manchester.
DEPN: E Ekwall, The Concise Oxford Dictionary of English Place-Names, 4th ed., Oxford 1960
Facs: G. Barraclough, Facimilies of Early Cheshire Charters, Oxford for LCRS 1957 [Publications of the Record Society of Lancashire and Cheshire]
JRC: Charters etc., preserved in the John Rylands Library Manchester.
OE: Old English
pers.n.: Personal-name
Sheaf: The Cheshire Sheaf; Sheaf1 indicates the First Series (1878-85); Sheaf2 the New Series (1895, I vol); Sheaf3 the Third Series (1903 and in progress); published at Chester at the office of The Cheshire Observer and formerly at the office of The Cheshire Courant; referred to by Series, volume and page, e.g. Sheaf3 6, 20 or by Series, volume and entry number, e.g. Sheaf3 6 (1290).
Whall: The Coucher Book of Whalley Abbey, ed. W.A. Hulton (ChetOS 10,11,16,20) 1847-9; a fourteenth century MS. [manuscript]; the ed. [edition] contains an inventory of the Lands…of Whalley Abbey at is Dissolution, dated 1553-4 (ChetOS 20).
COMBERBACH by Leycester

ROGER, constable of Cheshire and baron of Halton, about the reign of Richard the First [1183-1199], granted Deo et Beatæ Mariæ, et fratribus servientibus beatis pauperibus Sancti Hospitalis de Jerusalem, totam medietatem de Comberbeche; illam scilicèt quam Willielmus de Comberbeche de me tenuit [etc.]: unà cùm salina in Norwich [Northwich] quæ pertinet ad Estonam juxtà Buddewrethe -in puram et perpetuam elemosynam-Et si Ricardus Fitton, vel hæredes sui prædictum feodum super me vel supèr hæredes suos recuperaverit, ego et hæredes mei praedictam donationem prædictis hospitalariis warrantizabimus; et Willielmo Comberbeche et hæredibus suis: tenendum de prædictis hospitalariis in feodo et hæreditate : reddendo eis annuatìm sex denarios pro omni­bus quæ ad domum et ad fratres ejusdem domus per­tinent. Hiis testibus, Henrico priore de Nortona, Ricardo Capellano, Ricardo fratre constabularii, Hugone de Bosdele, Radulfo filio Symonis, Thomâ dispensatore, Hugone de Duttona, Adâ de Dutton, Radulfo filio Rogeri, Alexandro filio Radulfi, Liulfo vice-comite, Bertramo Camcrario, Johanne Burdon, Hugone de Eccleston, Ricardo filio Henrici, Roberto de Pulle, Johanne filio Aluredi, Gilberto de Lymme, Willielmo de Gamul, Alano de Waley, Willielmo filio Matthæi, Ricardo filio Jo­hannis, Ricardo filio Gilberti Aytrop, Ricardo Starkey, Ricardo de Witeleth, Willielmo de Tabbleth [Tabley], [Willo] de Toft, Johanne de Comberbach, Henrico fratre suo, et toto hundredo de Haltonshire, [Hethehetto – sa.] Lib. C. fol. 274. num. i. Out of the book of Legh of Swine­yard's deeds, num. i, now in his possession.
Latin Translation
ROGER, constable of Cheshire and baron of Halton, about the reign of Richard the First, granted To God and the Blessed Mary, and to the brothers serving with the blessed paupers of the Holy Hospital of Jerusalem.
All the moiety of Comberbeche; that is to say, which William de Comberbeche held of me [etc], together with the salt-works in Northwich [Norwich] which belonged to Aston near Budworth [Buddewrethe], in pure and perpetual alms.
And if Richard Fittun, or his heirs, should recover [ie recover seisin of] the aforesaid fee upon me or upon my heirs, I and my heirs will warrant the aforesaid gift to the aforesaid hospital, and to William Comberbeche and his heirs, to hold of the aforesaid Hospitallers in fee and heredity, yielding annually to them six pence for all the things which appertain to the house and to the brothers of the same house.
These being witnesses, Henry the Prior of Norton, Richard the Chaplain, Richard the brother of the Constable, Hugh de Bosdcle, Ralph the son of Simon, Thomas the Bursar, Hugh de Dutton, Adam de Dutton, Ralph the son of Roger, Alexander the son of Ralph. Liulf the Sheriff, Bertram the Chamberlain, John Burdon, Hugh de Eccleston, Richard the son of Henry, Robert de Pulle, John the son of Alured. Gilbert de Lymme, William de Gamul, Alan de Waley, William the son of Matthew, Richard the son of John, Richard the son of Gilbert Aytrop, Richard Starkey, Richard de Witeleth, William de Tabbleth, [William] de Toft, John de Combirbech, Henry his brother, and all the hundred [or hundred court] of Haltonshire. [Hethehetto – sa.] Lib. C. fol. 274. num. i. Out of the book of Legh of Swine­yard's deeds, num. i, now in his possession.
[This book, or chartulary, is now in the possession of George Cornwall Legh, esq. The charter above men­tioned refers to the paramount lordship; but, as will be seen, the manor early gave name to a family who, at the least, held a moiety as mesne lords. The following interesting charter is transcribed from the book referred to :
Pateat, etc. qđ ego Joħes filius Henr' filij Hugonis de Comberbeche concess' Adē filio Willi de Litelegh et Robto fratro suo omis terras meus etc. cū dominis etc. in villa et in teritorio de Comburbach cū Capteli mancone mea et cū alijs mesuag' meis et cum redditibz Willi de Wyrall iijs ijd, Xpiane ux Ran ijs. vjd., Joħis Starkey sex s. vjđ., Marg' uxis Henr' ijs. vjđ., Ric' Brown, Willi Piscater iiijs., Ric' Bercar, Ricħ de Hurredun xviijs. viijđ, Hug' de Merbur' iiijs, Ric ffabri ijs. ixđ., Johis fił Ađ, Alex Piscor', Robti Piscor', Ran fił Joħis, Joħis fił Hug' Knobot, Thom de Sowreby, Ran fił Robti, et Hen fił Willi etc. Hab de me (sic) et heđibz meis etc., salvis domibz religiosis et, capitābus dnis, usqz ad terminum sex annor' px seqūtū termino v° incipient' ad fm Sēi Martini in heme Anno dni Mo. CCC t'cesimo tertio, Ređđo etc. unam rosam etc. Test. Gilberto del Cups tune ballivo de Halton, Symoē del Hurst, Rico Starkey, Hug' de Merbury, Johnē de Mrbur' etc.]
Latin Translation
May it appear, etc. that I, John the son of Henry the son of Hugh de Comberbeche, have granted to Adam the son of William de Litelegh, and to Robert his brother, all my lands etc, with the demesnes etc, in the vill and territory of Comberburbach, with my capital mansion, and with all other my messuages,
And with the rents of William de Wyrall of 3s 2d, Christine the wife of Ran[dolf?] 2s 6d, John Starkey 6s 6d, Margaret the wife of Henry 2s 6d, Richard Brown, William Fisher [or the fisherman] 4s, Richard Shepherd [or the shepherd.], Richard de Herredun 18s 8d. Hugh de Merbury 4s, Richard Smith [or the smith] 2s 9d, John the son of Adam, Alexander Baker [or the baker], Robert Baker [or the baker], Ran[dolf?] the son of John, John the son of Hugh Knobot, Thomas de Sowreby, Randolf the son of Robert, and Henry the son of William etc. To have of me and my heirs etc, excepting religious houses, and [to hold] of the chief Lords [of that fee], for the term of six years next following, beginning the term indeed at the feast of Saint Martin in Winter in the 1333rd year of our Lord, Yielding etc, one rose etc. Witnesses, Gilbert del Cups, then bailiff of Halton, Simon del Hurst, Richard Starkey, Hugh de Merbury, John de Merbury etc.
John, son of Henry de Comberbach, gave to Adam, son of William de Litley [Little Leigh] in Aston juxta Budworth, all his lands in Comberbach,-unà cùm reversione dotis Elenæ matris prædicti Johannis-et piscariâ suâ in lacu de Budworth, etc. [Latin translation – together with the reversion of the dower of Ellen, mother of the aforesaid John, and its fishery in the lake of Budworth etc]. Entailing these lands, first on the said Adam, and the heirs of his body; and in default of such, then on Robert, brother of the said Adam.
Dated at Comberbach, die Lunæ, Sancti Petri ad Vincula (which is the first day of August) anno Domini 1335, 9 Edw. III. Ibidèm, num. 28.
The moyety of Comberbach is now (1666) in posses­sion of­ –
1. Richard Legh of Swineyard hath two tenements.
2. Mrs. Ashton of Cogshull, two small cottages.
3. Mr. Warburton of the Grange, nigh Weverham, three little tenements.
1-3 above, Their tenants do at this day pay the chief rent of sixpence at TattonVurt.
4. John Gleyve of High Legh, one little tenement, which Thomas Gleyve of High Legh purchased from Thomas Sonkey of Little Sonkey in Lancashire, 37 Hen. VIII. 1545, Lib. C. fol. 269, num. 2.
5. Robert Venables of Anterbus [Antrobus] in Over 'Whitley, one cottage, about two acres.
6. Sir George Warburton of Arley, five small cot­tages, not two acres in all.
The other moiety of Comberbach was granted to the priory of Norton.
After the dissolution of abbies by Henry the Eighth, the King sold all those lands which belonged to the priory of Norton, unto John Grimsdich of London, gen­tleman, 36 Hen. VIII. 1544, then in possession of : Robert Merbury, George Hulme, Randle Worral, Agnes Walker, Randle Low, Lawrence Persivall, Roger Grymshaw, and George Eaton; out of which, 7s. 7d. ob. chief rent, is reserved to the King: and these were sold by Grimsdich to Robert Eaton ; and lastly, bought by George Low of Hartford, from John Eaton of Over­Whitley, about fourteen or sixteen years ago. Other two tenements, then in possession of Homfrey Shakeshaft and Thomas Highfield, out of which the yearly rent of 2s. 1d. was reserved to the King, were bought by Mr. Merbury of Merbury, and are lately sold to Edward Piggot of Cogshull, who is now owner of the same (1666).
Additions
The manor of Comberbach is an appendage to the manor of Aston juxta Budworth ; to the court of which it owes suit and service, and having descended by the same title, is now vested in [R. L. Egerton-Warburton, esq.], the trustees of the will of the late sir Peter Warburton, bart. [having held it during Mr. Egerton Warburton's minority.] The township is situated about two miles north of Northwich, at the western extremity of Marbury Mere. [source: Dr. George Ormerod's The History of The County Palatine and the City of Chester vol 1: pp.614-614]
Population of Comberbach 1801-1971
1801: 142
1811: 163
1821: 226
1831: 295
1841: 303
1851: 295
1861: 266
1871: 281
1881: 310
1891: 392
1901: 411
1911: 380
1921: 395
1931: 388
1951: 624
1961: 546
1971: 620
Source: The Victoria History of the County of Chester Vol II, Oxford University Press 1979