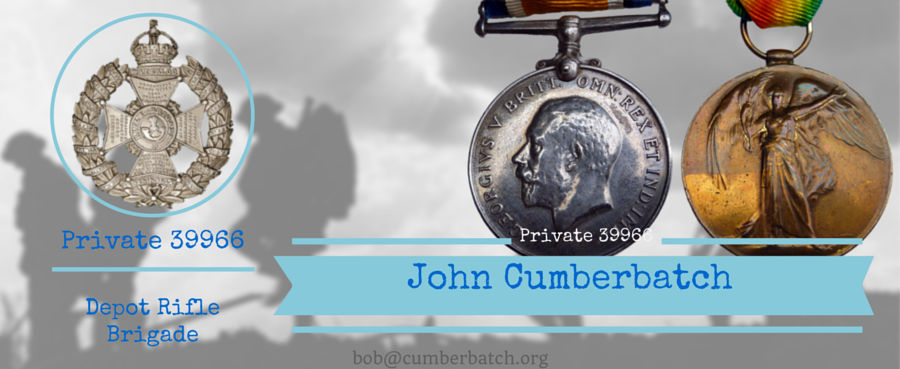 John Cumberbatch
Private 39966 Depot Rifle Brigade and formerly Private 52379 1st Battalion Manchester Regiment
John was born in 1887 in Waterloo, Lancashire. He was the son of Joseph Cumberbatch and his wife Elizabeth Ellen nee Hanvey. He was a spinner in the cotton trade before he enlisted in the 1st Battalion of the Manchester Regiment as Private 52379. He transferred to the Depot Rifle Brigade as Private 39966.
He married Hannah Horsfield in 1915 and they had four children together:
Stanley Cottam Cumberbatch 1917-1975
Joan Cumberbatch 1920
Jean Cumberbatch 1922
Kenneth Cumberbatch 1927
John died in 1961 and his wife Hannah died in 1964.
Medal Roll
B.3759
THE RIFLE BRIGADE (The Prince Consort's Own) Regiment
ROLL of INDIVIDUALS entitled to the Victory Medal and British War Medal under Army Orders 266 and 301 of 1919
Regimental No.

Rank

Name

Unit in Sequence

Remarks

39966

Private

Cumberbatch, John

1st Manchester Regiment R.52379 Private

Depot Rifle Brigade 39966
Rifles Record Office 15 May 1920, Winchester
Medal Card
Name.

Corps.

Rank.

Regtl No.

CUMBERBATCH

Manchester Regiment

Private

52379

Rifle Brigade

39966

John

Medal.

Roll.

Page.

Remarks.

VICTORY

M/102 B29

3759

BRITISH

d[itt]o

d[itt]o

15 STAR

Theatre of War first served in

Date of entry therein

K1380

Correspondence

Address