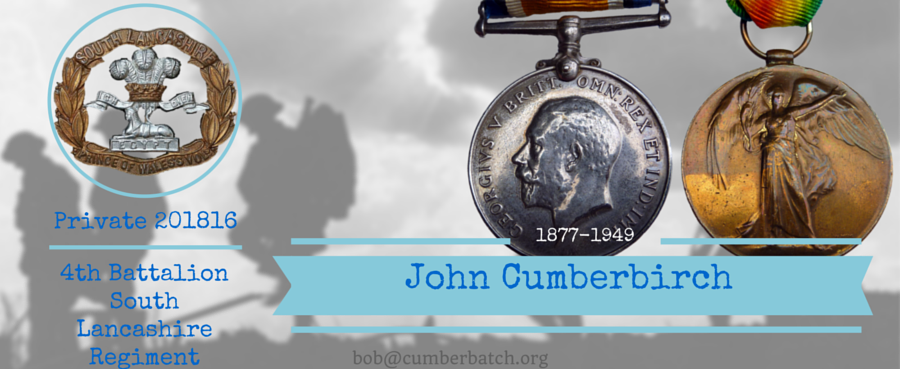 John Cumberbirch 1877-1949
Private 201816 4th Battalion South Lancashire Regiment attached Royal Engineers
John Cumberbirch was born in Manchester, Lancashire, England in Q2 of 1877. He was the son of John James Cumberbirch and his wife Ellen nee Wootton. Hi father died when John was 8 years old. He was a printer in 1891, a wagon repairer in 1901 and a store keeper – Textile Machinist by 1911.John married Annie Pollard in Q2 1908 in Chorlton Registration District, Lancashire, England. Together they had:
John Norman Cumberbirch, born Q3 1912 in Prestwich Registration District, Lancashire, England.
John joined the army during World War one. He became Private 201816 in the 4th Battalion of the South Lancashire Regiment attached Royal Engineers . He was awarded the British War and Victory medals but these were returned.
John died in Manchester in Q3 1949 aged 72.
Medal Roll
SOUTH LANCASHIRE REGIMENT
3381 B.
ROLL of INDIVIDUALS entitled to the Victory Medal and British War Medal granted under Army Orders 301 & 266 of 1919.
| | | | | |
| --- | --- | --- | --- | --- |
| Regimental No. | Rank | Name | Unit (in order) | Theatres of war in which served |
| 201816 | Private | CUMBERBIRCH John | 1/4th South Lancashire Regiment 201816 Private attached Royal Engineers 201816 | Returned 1743 (12) K.R. CRV 432/B d/ 17 Dec 1923 8149/Adt |
Fulwood Barracks, Preston 1 Apr 1921
Medal Card
Name.

Corps.

Rank.

Regtl. No.

CUMBERBIRCH

South Lancashire Regiment

Private

201816

John

Medal.

Roll.

Page.

Remarks.

VICTORY

J/1/103B17

3381

Returned (1743 K.R. 1912) 8149/Adt

8149/Adt

BRITISH

Ditto

Ditto

Theatre of War first served in

Date of entry therein

K1380

Correspondence

Address