John Henry Cumberpatch
Lance Corporal 9821 1st Battalion Lincolnshire Regiment
John Henry Cumberpatch was born in Wellingborough, Northamptonshire in 1894. John Henry Cumberpatch enlisted in the arm on 6 August 1914 as Private 9821 in the 1st Battalion of the Lincolnshire Regiment. He arrived in France on 17 February 1915 and so qualified for the 1914-15 Star.
He was awarded the Military Medal on 14 December 1916 for bravery:
The London Gazette, Tuesday 12th December 1916,
THURSDAY, 14 DECEMBER, 1916.
War Office, 14th December, 1916.
His Majesty the KING has been graciously pleased to award the Military Medal for bravery in the Field to the undermentioned Non-commissioned Officers and Men:-
9821 L./C. J. H. Cumberpatch, Linc. R.
London Gazette, Issue: 29864 Page:12220
He was Lance Corporal 9821 when he was discharged due to sickness on 28 Aug 1918.
John Henry married Edith Elizabeth Airey at Boston in Lincolnshire on 28 Mar 1918. Together they had Una Levenia Cumberpatch born 25 July 1920 at Boston, Lincolnshire. However, they were divorced by 1922.
John Henry Cumberpatch
Shocking Outrage at Rushden
The Condition of the Victim To-day
Prisoner said to have been Shell-Shocked
Saw his Father and Brother Killed in France

John Henry Cumberpatch, of 95, Cromwell-road, Rushden, who was brought forward on remand this morning at Wellingborough Police Court, charged with the revolting outrage on Mrs. J. Jones, of Shirley-road, Rushden, yesterday week, is said to have suffered from shell-shock. He had been in the Army some years before the war, and, after the outbreak of hostilities saw much hard fighting in France. On one occasion we understand that he was in an explosion and was hurled several feet into the air, Since then he had never entirely regained his normal condition. He saw his father and brother killed in France. He served in Ireland, but was not wounded there.

After his discharge from the Army he worked for a time at Rushden Gas Works as stoker. About three months ago he re-enlisted in the Northants Regt., and was stationed at Northampton Barracks. Since he was a baby he was the adopted son of Mr. and Mrs. W. Johnson, with whom also lived Cumberpatch's grandmother.
The outrage on Mrs. Jones had not been committed many minutes when the next door neighbour (Mrs. Albon) called in, as she was used to doing occasionally, and found Mrs. Jones in a terrible condition. Information was at once given to the Police, and members of the Force were dispatched in various directions. A Police Sergeant went to 95, Cromwell-road, and Cumberpatch was arrested in High-street on the charge, by Police Constables Pywell and Earl.

On inquiry this (Friday) morning we were informed that Mrs. Jones is making gratifying progress. There is a great improvement since last Friday, but Mrs. Jones will not be able to get about for a considerable time yet.

No evidence was offered when Cumberpatch was brought before the Wellingborough Bench this morning. He was in the Court only a few moments, and was formally remanded until Mrs. Jones is able to give evidence in Court.

Rushden Echo, 10th December 1920, transcribed by Kay Collins

The Recent Rushden Outrage
Special Court to be Held – Public Prosecution.

The charges against the Rushden soldier, John Hy. Cumberpatch, of attempting to murder Catherine Jones, also of committing an outrage upon her, and further of robbery, are to be heard at a Special Court to be held at Wellingborough on Thursday, January 13, when a representative of the Public Prosecutor will be present.
Mrs. Jones is making progress, and it is hoped may be able to attend and give evidence, but should she not be fit to do so, her deposition has been taken in the presence of the accused man, who was conveyed to Rushden for that purpose on Tuesday.
Rushden Echo, 7th January 1921, transcribed by Kay Collins
http://www.rushdenheritage.co.uk/crime/Cumberpatch1920.html
John's wife, Edith Elizabeth Cumberpatch nee Airey, divorced him between 1921-1922 as her husband John Henry Cumberpatch had raped Catherine Jones in Rushden, Northamptonshire on 2 December 1920.
Divorce Court File: 7005. Appellant: Edith Elizabeth Cumberpatch. Respondent: John Henry Cumberpatch. Type: Wife's petition …
Court for Divorce and Matrimonial Causes, later Supreme Court of Judicature: Divorce and Matrimonial Causes Files. 1920-1922 Series. Divorce Court File: 7005. Appellant: Edith Elizabeth Cumberpatch. Respondent: John Henry Cumberpatch. Type: Wife's petition for divorce.
Collection: Records of the Supreme Court of Judicature and related courts
Date range:1921
Reference: J 77/1827/7005 [The National Archives]
Subjects: Marriage and divorce
John Henry was stripped of his medals in 1921 but they were restored on 31 July 1939.
John Henry married Elsie M Franklin in Wellingborough in 1932. John Henry re-offended and was returned to prison.
SHOPBREAKING CHARGE

John Henry Cumberpatch (38), greengrocer, of Rushden, pleaded guilty to shopbreaking and attempted burglary at Rushden.
Superintendent Jones stated that Cumberpatch was a convict on licence. In 1921 he was sentenced to 15 years' penal servitude for wounding with intent to do grievous bodily harm and rape. He had three years 244 days of that sentence still to serve.
The judge said it was indeed deplorable that a man who had been let out and who had only to abstain from crime to remain a free man should commit these offences with such disastrous consequences to himself. Taking into consideration the fact that he had lost his licence and would have to serve the remainder of his sentence when the present sentence expired, Cumberpatch would have to go to prison for nine moths' hard labour.
Publication: Derby Daily Telegraph
Publication date: Monday 27 February 1933
John Henry died on 9th April 1966. He is buried at Rushden Cemetery, Northamptonshire. His grave reads: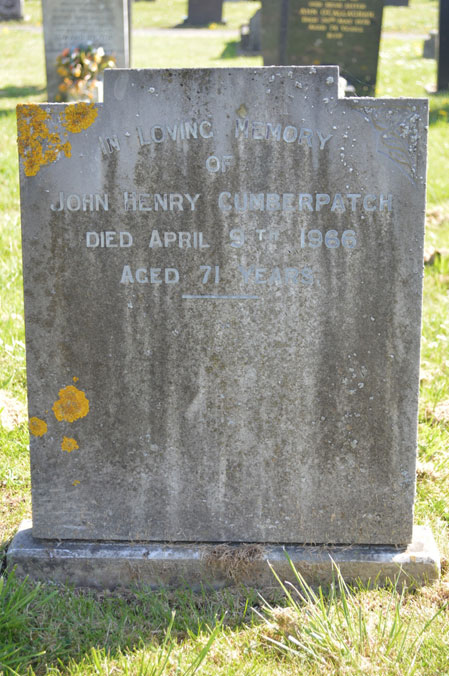 In Loving Memory of John Henry Cumberpatch Died April 9th 1966 Aged 71 Years [Rushden Cemetery, Northamptonshire, England Plot: H181]
Medal Rolls
LINCOLNSHIRE REGIMENT
B116
ROLL of INDIVIDUALS entitled to the Decoration granted under Army Order 20 of 1919 [1914-15 Star]
| | | | | |
| --- | --- | --- | --- | --- |
| Regtl. No. | Rank | Name | Date of Disembarkation | Remarks |
| 14411 | L/C [Lance Corporal] | CUMBERBIRCH A. | 25 May 1915 (1) [France] | Died of Wounds 5 Aug 1915 |
| 9821 | Private | CUMBERPATCH J. H. [John Henry] | 17 Feb 1915 (1) France | Discharged 25 Jan 1918 |
Lichfield, 4 Oct 1919
LINCOLNSHIRE REGIMENT
705
ROLL of INDIVIDUALS entitled to the Victory Medal and British War Medal under Army Orders 301 and 266 of 1919
Regimental No.

Rank

Name

Unit (in order)

Remarks

9821

Lance Corporal

Cumberpatch, John Henry

9821 1/Lincolnshire Regiment Private

Restoration Approved British War & Victory Medals ISSD IVB 3593 31 Jul 1939 NW/1/43787

British War & Victory Medals Forfeited Discharge para 392 (X) King's Regulation 9 Mar 1921 Auth 6456/Adt
Lichfield, 15 Jun 1920
Silver War Badge
ROLL OF INDIVIDUALS entitled to the "WAR BADGE"
F/A/490
14 Aug 1918, Lichfield
| | | | | | | | | |
| --- | --- | --- | --- | --- | --- | --- | --- | --- |
| Regtl. No. | Rank | Name | Unit | No. of Badge | Enlistment | Discharge | Cause of Discharge | Whether served Overseas |
| 9821 | Lance Corporal | CUMBERPATCH John Henry | Lincoln Regiment | 441,614 | 6 Aug 1914 | 28 Aug 1918 | Sickness 2.a.1 (392 xvi) Age: 23 | Yes |
Medal Card
Campaign: 1914-15

(A) Where decoration was earned.

(B) Present situation.

Name

Corps

Rank

Reg. No.

Roll on which included (if any)

(A) CUMBERPATCH

Lincolnshire Regiment

Private

9821

Medal

Roll

Page

(B) John H. [Henry]

"

"

"

Victory

2/105 B/5

705

British

do

Do

14 Star

F/4B

116

Action taken

Discharged

Military Medal forfeited Restored

British War & Victory Medal returned forfeited CRV882/B 9 Mar 1922 6456/Adt

British War & Victory Medal Restoration Approved ISSD IVB 3593 31 Jul 1939

Silver War Badge List F/A/490

Theatre of War

France NW/1/43787 Weeded NW/9/2195

Qualifying Date.

17 Feb 1915 6456/Adt

(6 34 46) W234-HP5590 500,000 4/19 HWV(P240) K60S

(Over.

Correspondence

O i/c Infantry Record Office Warley forwards list of forfeitures of medals 1 Apr 1921

1914-15 Star – British War, Victory and Military Medals restored M.S.3. decided not to publish restoration of the Military Medal in London Gazette

Address:

9 Jan 1942 95 Cromwell Road, Rushden, Northamptonshire