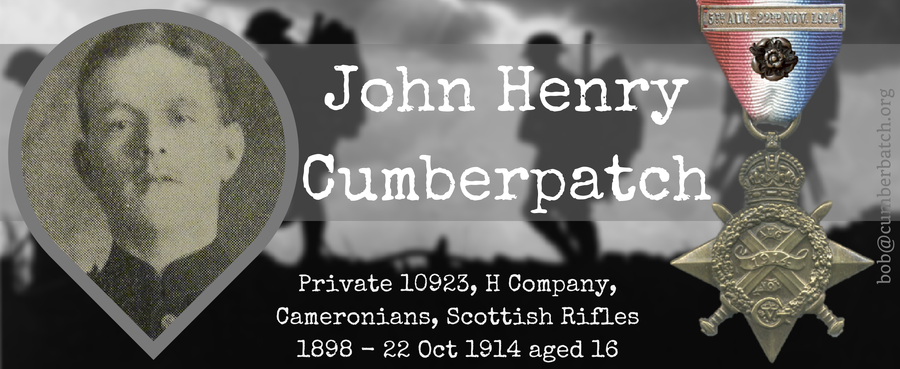 John Henry Cumberpatch 1914 Star with Clasp and Rose died 22 October 1914 aged 16
John Henry Cumberpatch
Private 10923 1st Battalion The Cameronians (Scottish Rifles)
John Henry CUMBERPATCH, son of Henry James CUMBERPATCH (1876-1953) and Mary Ann nee ADAMS (1876?-1932), was born Q1 1898 in Northampton, Northamptonshire, England. On 31 March 1901 he was resident in 6 St James Square, Dallington, Northampton, Northamptonshire, England aged 3. He was baptised on 15 September 1903 at St James Church in Dallington, Northamptonshire, England.
On 2 April 1911 he was resident at 13 Doddridge Street in Northampton aged 13. On 2 April 1911 he was a Shoe Finisher in Northampton.
John was a Private 10923 "H" Company, 1st Battalion Cameronians (Scottish Rifles). He arrived in France on 15 Aug 1914. He died on 22 October 1914 in Belgium aged 16. He was buried in Ploegsteert Memorial, Comines-Warneton, Hainaut, Belgium.
War Diary of the 19th Infantry Brigade,
1st Battalion Scottish Rifles
(Cameronians) OCTOBER 1914
FROMELLES
21st Oct [1914]
5am Stood to arms
7.5am Marched to BAS MAISNIL
LE MAISNIL occupied by A & S High[landers] with Middlesex R. on left. R. Welsh Fus. In FROMELLES & Cameronians in Reserve (Bde)
4pm B Coy (Capt H.H. Lie) sent to support Middlesex
6pm A & S High[landers] got badly shelled & they & Middlesex had to retire
9pm The Bde fell back to LA BOUTILLERIE & took up a new position there. The Cameronians being on both flanks. Casualties were 1 killed – 13 wounded, 1 missing, all B Company.
22nd Oct [1914]
A position was reconnoitred by Brigadier & Cos & the Brigade entrenched at 5.30am.
½ C Company under Capt Rose & ½ D Company under Capt Macallan went out as working party. The working party became engaged at once, the Germans allowing them to get to close range then opening fire on them from a flank with machine guns & rifles. They fell back a little then held in most splendidly. All ranks did very well & the trenches were dug & occupied in spite of the enemys rifle & shrapnel. Our losses were heavy in the working party being:
Capt R.W. H. Rose Killed [his body was found on 24th October and also Private Hay who was alive]
Capt A. R. Macallan Missing
2 Lt A. H. Graham Wounded
2 Lt W. D. Dubin Wounded
O[ther] Ranks:

14 killed, 35 wounded, 8 wounded & missing, 11 missing
Lt Hobkirk's revolver was smashed by shrapnel & trenches were heavily shelled all day.
Enemy attacked but easily repulsed.
End of Month
NOTE The Infantry in the trenches do not think they have been supported quite adequately by the artillery. If all artillery officers would spend a little time in the trenches, they would realise this too!

Local Heroes who have Fallen.

News has been received of the death of Pte. J. Cumberpatch, of "H" Co. of the Cameronians, who was killed in action on Oct. 22nd [1914]. He was formerly employed by Messrs. C. and E. Lewis, where he was very popular among his fellow workmen. His father Pte. Henry James Cumberpatch, of 13, Doddridge St., has joined Kitchener's Army, and hopes to go to the front to revenge the death of his son.
The Northampton Independent Vol. 10, No. 482 Saturday, November, 21st, 1914 p.9.
The Rushden Echo Friday 19 February 1915, transcibed by Nicky Bates


Rushden Brothers In the Same Company

We have previously reported that Lance-Corpl Albert Lawman, son of Mrs Lawman, of Orchard-place, Rushden, has been twice wounded, and he has now written to his mother to say he is resting. Mrs Lawman now has two sons at the front, as Private J Lawman, who joined Kitchener's Army and was put in the 3rd Battalion Northamptonshires, has been sent to the front and transferred to the 1st Battalion, so that he is now with his brother and they frequently meet. In letters recently written to his mother Pte J Lawman says:-

"Albert and I are all right and in the best of health. I see Albert everyday – he is Lance-Corporal in our company, so he is getting on all right. I am sorry to hear that young Cumberpatch* has been killed."

Writing under date Feb. 9th Lance-Corporal A E Lawman writes: "I suppose you know that John is in the same company as myself, and he is getting on all right. There are several Rushden chaps out here and I hear that Billy Green will soon be out here. We are now resting, and they think it will be a long rest. We are having a bit better weather now, and I am very pleased we are. I hope it will keep like it."
Commonwealth War Graves Commission
Index No. M.R. 32 Ploegsteert Memorial Part Two
CUMBERPATCH, Pte. John Henry, 10923. 1st Bn. The Cameronians (Sco. Rif.). 22 nd Oct., 1914. Age 16. Son of Mr. and Mrs. H. J. Cumberpatch, of 13, Doddridge St., Northampton.
Soldiers Effects
Record No: 141050
Registry No: E/59457/1
Soldier's Name: Cumberpatch John H. AFW 5070 sent 20 Feb 1919 & at 741 183168 15/16
Regiment, Rank, No.: 1st Battalion Scottish Rifles Private 10923
Date and Place of Death: 22 Oct 1914 in Action
Place of Birth, Date of Enlistment, Trade on Enlistment: Northampton 6 Jan 1913 Factory Bootmaker
Whether Will left: Father Henry
Credits
 Account and Date: Hamilton £5 19s 10d
 War Gratuity Transfer no 3197 d 28 Mar 1919 Regd Paper No 21/1918 £5 Serial No 402
Charges
 Account and Date:£5 19s 10d Mo Jan 1915
Date of Authority:
 20 Jan 1915/1
 29 May 1919/4
To whom authorised:
 Fa[ther] Henry James; Amount Authorised: £5 19s 10d
 Fa[ther] Henry James Amount Authorised: £5

Medal Rolls
1 st Battalion The Cameronians (Scottish Rifles) REGIMENT
ROLL of INDIVIDUALS entitled to the Decoration granted under Army Order II of 24th November 1917 [1914-15 Star]
| | | | | | |
| --- | --- | --- | --- | --- | --- |
| | Regtl. No. | Rank | Name | Date of Disembarkation | Remarks |
| | 10923 | Private | Cumberpatch J. [John Henry] | 15 Aug 1914 | Killed in Action 22 Oct 1914 |
Hamilton, 27 December 1917
SCOTTISH RIFLES REGIMENT
431 (b)
ROLL of INDIVIDUALS entitled to the Victory Medal and British War Medal under Army Orders 301 and 266 of 1919
| | | | | |
| --- | --- | --- | --- | --- |
| Regimental No. | Rank | Name | Unit (in order) | Remarks |
| 10923 | Private | Cumberpatch, John H. | 1st Scottish Rifles 10923 Private | |
Hamilton, 21 Apr 1920
Medal Card
Campaign: 1914

(A) Where decoration was earned.

(B) Present situation.

Name

Corps

Rank

Reg. No.

Roll on which included (if any)

(A) CUMBERPATCH

S Rifles1

Private2

10923

Medal

Roll

Page

(B) John Henry1

"

"

"

Victory

D/103 B4

431

British

do

do

14 Star

D/2/4

29

Action taken

Killed in Action3

Clasp 2/26204

Qualifying Date.

15-8-14

(6 34 46) W234-HP5590 500,000 4/19 HWV(P240) K60S

(Over.

Notes:

1: J and John H

2: Pte

3: K in A

4: A narrow horizontal bronze clasp sewn onto the ribbon, bearing the dates '5th AUG. – 22nd NOV. 1914' shows that the recipient had actually served under fire of the enemy during that period. For every seven medals issued without a clasp there were approximately five issued with the clasp. The Silver Heraldic Rose worn on a 1914 Star ribbon

Recipients who received the medal with the clasp were also entitled to attach a small silver heraldic rose to the ribbon when just the ribbon was being worn.

Army Order 361, 1919 – "1914 Star- Grant of Clasp"

1. His Majesty the King has been graciously pleased to approve of the issue of a clasp to officers, warrant officers, non-commissioned officers and men who have actually been awarded the '1914 Star' under Army Order 350 of 1917, and who actually served under fire of the enemy in France and Belgium between the 5th August, 1914, and midnight 22nd/ 23rd November, 1914.

2. The clasp will be in bronze and will bear the inscription: '5th Aug.-22nd Nov., 1914'.

3. Officers and soldiers who were actually present on duty within range of the enemy's mobile artillery and were on the strength of, or attached to the units and formations set forth in Appendix A between the above mentioned dates, will be eligible for the award.

4. An individual who served with a formation, otherwise than named in Appendix A, will only be granted the clasp on furnishing a certificate signed by an officer, warrant officer, or non-commissioned officer not below the rank of serjeant personally cognisant that the individual served on duty within a range of the enemy's mobile artillery during the period referred to in paragraph 1.

5. Two small silver roses will be issued with the clasp to each approved individual.

6. Officers commanding units and heads of departments will forward nominal rolls of troops now serving under their command entitled to the clasp, to the Secretary, War Office (AC 10), 27, Pilgrim Street, E.C.4. The rolls should be made out in duplicate in conformity with the specimen shown in Appendix B.

7. Individuals not now serving should apply on special forms (which can be obtained on application to any head or branch post office in a town or to any post office in the country districts), to the officer in charge of the record office of the corps in which they last served. If possible the certificate which is referred to in paragraph 5 (and which will be found on the form), should be first completed and signed as directed thereon. Officers in charge of records will forward all applications through the officer commanding the unit concerned, to the Secretary, War Office (AG 10), 27, Pilgrim Street, E.G.4. Applications made otherwise than on the prescribed form will be ignored.

Source: http://www.northeastmedals.co.uk/britishguide/ww1_1914_mons_star_bars.htm

Correspondence

Address: