Maps showing Cumberbatch in England. These show the place of origin, concentrations, distribution and the movement of Cumberbatch families from 1881 census.
Cumberbatchs in England in 1881 & 2001
Maps showing Cumberbatch in England show that Cumberbatch is a surname based on a place called Comberbach; which is a small village in Cheshire, England. These maps show the distribution of the surname by 1881.
Surname Frequency UK in 1881
Maps showing Cumberbatch in England can be useful in highlighting where the surname originates especially if it is named after a place.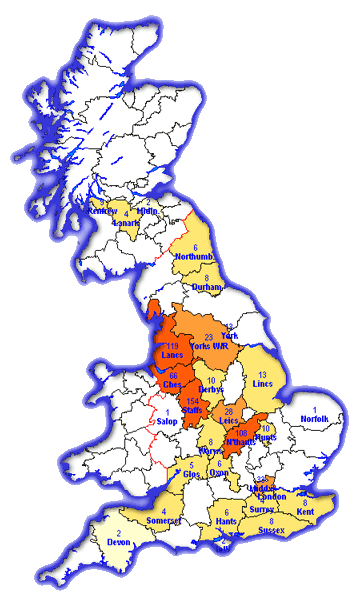 The numbers in the map show the counts of Cumberbatchs in England in 1881, and the redder the county the more there are. 154 in Staffordshire, 119 in Lancashire and 108 in Northamptonshire.
The highest number of Cumberbatchs were to be found in:
Staffordshire
Lancashire
Northamptonshire
Cheshire
As Comberbach in Cheshire is the origin of the surname, then the picture above shows migration away from Cheshire and into neighbouring counties. This suggests that the migration away from the area began many years prior to 1881.
Tudor tax returns of 1545-46 for Congleton tax the three most wealthy local men at a rate of:
Richard Grene, several times mayor, £35 per year
James Rode (Rood), £21 per year
Thomas Comberbach, £20 per year
Cheshire
These three men were the only Congleton men to have voluntarily contributed to the King's collection in the next year (History of Congleton, Ed. WB Stephens p.49). Congleton is 18.8 miles away from Comberbach. Migration away from Comberbach may have started during the 16th century.
Observations
The high county population in Lancashire due to the industrial revolution effectively masks the 2nd highest number of instances of the surname Cumberbatch, whilst the low population of Huntingdonshire effectively promotes the 10 individuals in that small county. This distribution is too late to help to pinpoint the origin of this surname.
Surname Density UK in 1881
Maps showing Cumberbatch in England by density show where there are higher than normal occurences of the name. These are further evidence that higher than normal distributions are an indicator to a place of origin.
The numbers of Cumberbatchs in the map above shows how densely populated the surname Cumberbatch is in the highlighted counties of England. The density of a surname shows how concentrated the surname is, in any one location at that time, compared to the national average. A density equal to '1' indicates an even distribution, i.e. equivalent to the national average. A density greater than '1' indicates a higher, than normal, concentration of the surname. This could indicate the place of origin of the surname, or just a more fertile bunch of families.
For instance, there are 18 times more CUMBERBATCHs, well CUMBERPATCHs, in Northamptonshire than the national average population there. These are mostly CUMBERPATCHs, see below. 7 times for Staffordshire and 5 times for Cheshire.
The density of Cumberbatchs suggest a prolific concentration in:
Northamptonshire 18x the national average
Huntingdonshire 8x
Staffordshire 7x
Cheshire 5
Northamptonshire: 108 – 17 times the national average density; the home of Cumberpatch = 97.2%
103 CUMBERPATCH
2 CUMBERLEGE
1 CUMBERLIDGE
1 CUMBERPACH
1 CUMPERPATCH
Most were born in Northamptonshire.
Huntingdonshire : 10x the national average density
1 family of 8 CUMBLIDGE
2 CUMBLEDGE
All were born in Huntingdonshire. A 'large' concentration in a small county is misleading
Staffordshire: 154 – 7 times the national average density
27 CUMBERBIRCH
26 CUMBERLIDGE
23 CUMBERBATCH
19 COMBERBACH
9 CUMBERBACH
Other variants
Cheshire: 66 – 4 times the national average density
27 CUMBERBIRCH
15 COMBERBACH
15 CUMBERBATCH
6 CUMBERLIDGE
Other variants
1881 Surname variants
CUMBERLIDGE 146
CUMBERBATCH 114
CUMBERPATCH 109
CUMBERBIRCH 65
CUMBERLEDGE 46
COMBERBACH 45
CUMBERBACH 25
CUMBERBEACH 22
CUMBLIDGE 19
CUMBERLEGE 18
CAMBERLIDGE 14
CUMBERLIGE 6
COMBERBASH 3
CUMBERBACK 3
CUMBERBATH 3
CUMBERLATCH 3
CUMBERLODGE 3
CUMERLIDGE 3
COMBERLEGE 2
CUMBERFATCH 2
CUMBLEDGE 2
CAMBERBATCH 1
CAMBERLEDGE 1
COMBERBACK 1
COMBERBEACH 1
CUMBERL 1
CUMBERLAGE 1
CUMBERLITCH 1
CUMBERPACH 1
CUMBERTH 1
CUMPERPATCH 1
Total 663
Surname Density UK in 2001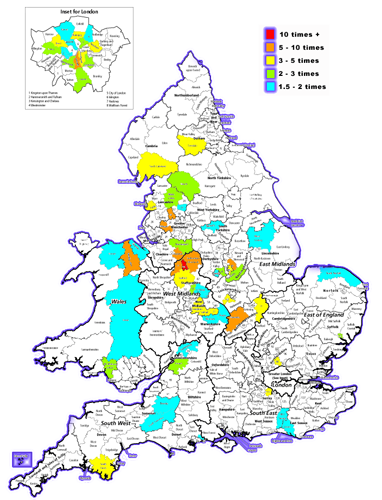 Maps showing Cumberbatch in England in modern times tend not to change dramatically from previous times. The eldest son often inherited the family ancestral home and occupation from his father whilst yonger sons moved away.
By 2001 very little has changed. Stoke on Trent in Staffordshire has 10 times the national average. Daventry in Northamptonshire has 8 times and parts of Lancashire and Cheshire have 7 times.
Inner London was treated separately as London has a large population.
Commonwealth immigrants who have arrived since the 1950s can be even more difficult to identify in this way [distribution by telephone numbers], for many came with English surnames. Some of the bearers of distinctive surnames derived from English villages and hamlets turn out to be descendants of African slaves who were shipped to the West Indies and given the name of a slave owner whose family originated in England. For example, Comberbatch (sic) [he means Cumberbatch], a surname which is derived from a village in Cheshire, is a very common name in Barbados and has been reintroduced into England by West Indian immigrants…..As immigrants tend to cluster together, some of their distinctive surnames are now confined to particular localities in Britain.

David Hey in his Family Names and Family History p.140
Whilst slave naming patterns are not the subject here he does raise a point regarding immigrants. The UK National Archives website 'Moving Here' includes a sample of immigrants ariving at UK ports between 1950 and 1960. In this sample 43 Cumberbatchs are mentioned and of these 33 (77%) are destined for London. The 'clustering' Hey mentions may be identified in the above mentioned Inner London boroughs, which may well be due to immigrants from Barbados.
A minority [of Caribbeans] were recruited and subsidised by London Transport or by the hospitals of the new Health Service, but the majority came of their own accord, paying fares of up to £85, for ship cabins they typically shared with half a dozen other travellers. At the lower price range, conditions were worse, and cabin accommodation could be shared among a score of passengers.

'Moving Here' website