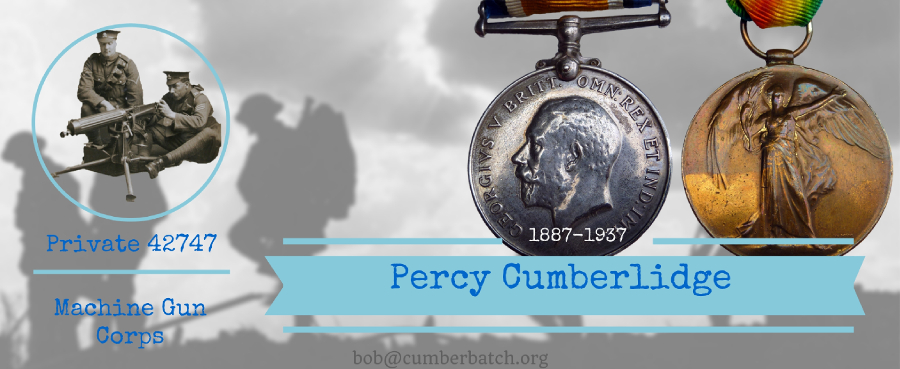 Percy Cumberlidge 1887-1937
Private 42747 Machine Gun Corps
Percy Cumberlidge was born in 1887 in Derby, Derbyshire in England. He was the youngest son of George Cumberlidge and his first wife Sarah nee Gibbons. Percy's mother died whilst he was just four years old.
Aged 13 he was an errand boy working in a port and aged 23 he as a moulder working for a stove manufacturer.
Percy Cumberlidge married Florence Harrison, nee Smith, in 1912 and they had three children:
Percy Cumberlidge, born 4 December 1916
Doris Cumberlidge, born 1916
George Cumberlidge, born 5 September 1927
During WW1 Percy joined the Machine Gun Corps as Private 42747. He was discharged to the army reserves on 10 February 1919 and was awarded the British War and Victory Medals. However, these medals were never claimed.
Percy died in 1937 and his wife Florence died in 1975.
Medal Roll
MACHINE GUN CORP REGIMENT OR CORPS
ROLL of INDIVIDUALS entitled to the Victory Medal and British War Medal granted under Army Orders 266 and 301 of 1919. 2700B
Regtl. No.

Rank

Name

Unit

Remarks

42747

Private

CUMBERLIDGE, Percy

42747 MGC Private#

#7849/Adt Returned Undisposed

Class Z (Army Reserve) 10 Feb 1919
Alexandra Palace, Wood Green, N 22, 21 Apr 1920
Medal Card
Name.

Corps.

Rank.

Regtl. No.

CUMBERLIDGE

Machine Gun Corps

Private

42747

Percy

Medal.

Roll.

Page.

Remarks.

VICTORY

MGC/101B29

2700

British War & Victory Medals (undisposed of) CM 475/B 6 Mar 1923 7849/Adt

BRITISH

-do-

-do-

Star

Theatre of War first served in

Date of entry therein

K1380