Rear Admiral Claude Lionel Cumberlege was a Salt Horse an exceptional, dashing, gallant and gifted Shipmaster, joined the Royal Navy under sail at the age of 12.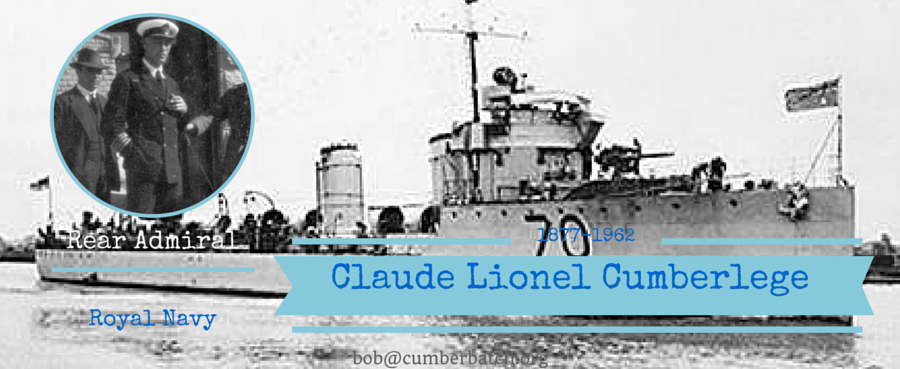 Rear Admiral Claude Lionel Cumberlege
Rear Admiral Claude Lionel Cumberlege was a Salt Horse an exceptional, dashing, gallant and gifted Shipmaster, joined the Royal Navy under sail at the age of 12.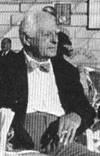 Betty Donkin's Uncle
Rear Admiral Claude Lionel Cumberlege
Rear Admiral Claude Lionel Cumberlege was a Salt Horse an exceptional, dashing, gallant and gifted Shipmaster, joined the Royal Navy under sail at the age of 12. 
Career summary: 09 Jun 1877- 22 Nov 1963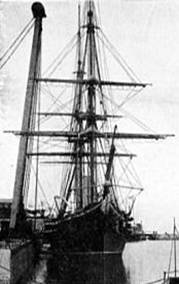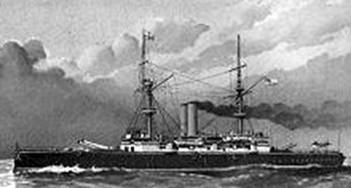 09 Jun1877 Born
1889 HMS Britannia Royal Naval College age 12
04 Apr 1892 HMS Tourmaline Masted Corvette 2,120 t age 15
15 Jul 1893 Midshipman age 16
01 Aug 1896 HMS Royal Sovereign Battleship 14,150 t
15 Jan 1897 Sub-Lieutenant age 20
1897 HMS Decoy Destroyer 260t
15 Mar 1898 HMS Halcyon Torpedo Boat 1,070 t
30 Jun 1899 Lieutenant age 22
06 Jan1901 HMS Furious Cruiser 5,750 t
11 Sep 1902 HMS Cormorant Sloop 1,130 t age 23 in Command
HMTB 90
1905 HMS Banshee Destroyer 330 t in Command
05 Oct 1905 HMS Locust Destroyer 385 t age 28 in Command
15 Jan 1906 HMS Albatross Destroyer 430 t in Command
30 Jun 1907 Senior Lieutenant ( the rank of Lieutenant-Commander for Senior Lieutenants was only formally introduced in 1914)
10 Jan 1908 HMS Hussar CinC's Yacht 1,470 t in Command
02 Aug 1910 HMS Hogue Cruiser 12,000 t
02 Jan 1911 HMS Speedy Torpedo GunBoat 1,070 t in Command
22 Jun 1911 Commander age 34
17 Aug 1911 HMS Kale Destroyer 646 t in Command
23 Aug 1912 HMS Fury Destroyer 760 t in Command
29 Oct 1912 HMS Lurcher Destroyer 765 t in Command
13 Dec 1913 HMAS Warrego Destroyer 700 t in Command
RAN Destroyer Flotilla
30 Jun 1915 Captain age 38
Jan 16– Oct 16 HMAS Encounter Cruiser 5,880 t in Command
Oct 16– Apr 19 HMAS Brisbane Cruiser 5,400 t in Command
08 Apr 1919 HMAS Australia Battlecruiser 18,800 t Flag Captain and Chief of Staff
21 Sep 1920 HMAS Melbourne Cruiser 5,440 t Flag Captain and Chief of Staff
18 Jun 1922 Retired age 45
30 Jun 1922 Rear Admiral age 45
22 Nov 1963 Died age 86
Claude Cumberlege was a Salt Horse – an exceptional, dashing, gallant and gifted Shipmaster, who joined the Royal Navy under sail at the age of 12. He served most of his 30-year career in Gun Boats and Destroyers. A handsome, picturesque figure, Claude Cumberlege was of the type of naval officer of Queen Victoria's day. He was born out of season and belonged to a generation too early to fit into the completely mechanized modernized Navy of is time.
Entering HMS Britannia at Dartmouth in 1889, the tailor who measured him for his first uniform was Mr Gieve himself. His first 3-year cruise on the Masted Corvette HMS Tourmaline as a Cadet, Midshipman and Sub-Lieutenant, under Captain Sir Richard Poore, took him to the Mediterranean, the West Indies and Canada. Appointed to his first command as a Lieutenant, in HM Torpedo Boat 90 and the Torpedo Boat Flotilla at Gibraltar, at the age of 23, he spent the next 20 years, with the exception of qualification courses, in command of an astonishing 13 Warships, from Torpedo Boats to a Battlecruiser., retiring as a Rear-Admiral.
He served with most of the premier naval personalities of the day, including Fisher, Beresford, Culme- Seymour, Prince Louis of Battenberg, Curzon-Howe, Carter Drury, Craddock, Arbuthnot, Pakenham, Foley Lambert, Troubridge amongst others. Several of his contemporaries – most notably, Andrew Cunningham, achieved Flag Rank.
In the course of his career he met The Czar, The Kaiser, The King and Queen, The Prince of Wales, Emperor Franz Josef of Austria and other prominent personalities.
Following his time in Torpedo Boats, he commanded a series of Destroyers; then was invited to command the yacht of the Commander-in-Chief, Mediterranean Fleet, HMS Hussar,
Claude spent two years in that role, before undertaking a Gunnery Course at HMS Excellent, Whale
Island, Portsmouth and then being posted to the staff of Admiral Inspector of Target Practice on the old Royal Yachts, so that, in many ways, Fury had "yacht practice" put into her extras – all her canvas screens and so on, were beautifully finished, and down below the works, wherever possible, were nickel plated instead of being just polished steel, which required continuous polishing.
Then Claude Lionel Cumberlege got wind of a new destroyer which was just about to be completed at Messrs. Yarrows' Shipbuilders Yard, Clyde.
The founder of Yarrow Shipbuilding, later Sir, Alfred Yarrow knew he could build better ships than anybody else in the world. Firedrake and Oak and Lurcher were the names of these ships, all of which were a couple of knots faster than anything afloat and the beautiful Lurcher reeled off 37+ knots on her trials, all weights on board. Some of the Tribal class could get about 33 knots but these were already becoming slightly passé. Yarrow and his chief constructor, Mr. Mariner, put their soul into Lurcher. Claude Lionel Cumberlege visited the Admiralty and, after bribing the attendant into letting him into the Office of the` Second Sea Lord, secured an interview with the officer in charge of Ship Commanding Officer appointments – Captain E.M. 'Jerry' Philpotts an old friend from the Mediterranean. (Captain Philpotts later commanded the Queen Elizabeth Class Battleship- HMS Warspite- at Jutland).
Having secured appointment to Lurcher, Claude Lionel Cumberlege rushed off to Glasgow by the night mail and next day found his way, in the pitiless Glasgow rain and mud, to Yarrows Yard. He met Alfred Yarrow, – white bearded, patriarchal – and Mr Mariner and all his departmental heads and was taken to a great closed-in shed.
There lay a gladdening sight, finished – perfect. Lurcher, the dog that can see like a greyhound, scent like a fox hound and hear like a dingo, with the speed of an express train and the grace of a glamour girl. Lurcher was Claude Lionel Cumberlege's when he signed a receipt for her "To one Destroyer complete" and then went to luncheon, with Mr. Yarrow at the head of his mahogany table with the heads of his departments around it.
Some twelve months later Lurcher was up at Lamlash, Scotland when no exercises were taking place. Claude Lionel Cumberlege wrote to Mr. Yarrow and asked him to come on board with any of his officials and have a look at their ship after a year in commission. Yarrow sent his son and daughter-in-law and Mr. Mariner, but regretted that he could not come himself.
Lurcher had a grand run after lunch at full speed over the calm waters of the Firth, doing 37 knots as if she had only just come off the stocks. On parting, Mr. Yarrow told Claude Lionel Cumberlege that it was the first time in the history of the firm that any member of it had been on board one of their own built ships after she had left their hands. One evening, the First Lieutenant, having opened the official mail and glanced at the Admiralty weekly orders, pushed them across the table with the remark: "Hello, sir, this might suit you." Claude Lionel Cumberlege read that the Australian Government were looking for an RN Commander to go out and organise their Destroyer Flotilla for them "…only Commanders with Destroyer experience need apply". Claude Lionel Cumberlege applied for the job immediately by telegram. Others, after, applied by letter and wasted 48 hours.
Australia
Sailing in the liner Orontes of the Orient Line, Claude Lionel Cumberlege first landed in Australia at Fremantle, Perth, which shocked him as a pretty awful town in 1913, thence round the Leeuwin to anchor in the river of Adelaide. Port Adelaide was not much more than a berthing place for steamers at the time. Here Claude Lionel Cumberlege received a telegram to say one of his destroyers had been sent to him and to convoy round to Spencers Gulf where the fleet was then lying. HMAS Warrego was the destroyer, and before long it was steaming round to that great gulf, a very fine natural harbour where Claude Lionel Cumberlege found the Battlecruiser Australia with George Edwin Patey in charge of the fleet as Rear Admiral.
Rear Admiral Sir George Patey KCVO (later Admiral Sir George Patey KCMG KCVO) was the first Flag Officer Commanding HM Australian Fleet – the Royal Australian Navy having been created by Royal Warrant on 10 July 1911. When the Battlecruiser Australia commissioned in 1913, HM King George V paid a visit to the embryonic Australian Fleet at Spithead to wish them bon voyage before departure to Australia. The King bestowed the accolade of Knight Commander of the Royal Victorian Order on Patey on the Quarterdeck of his own Flagship – something which had not happened since Drake on Golden Hind at the hands of Queen Elizabeth I – and which later happened when King George V created Admiral Beatty GCVO on his Flagship, the Battlecruiser HMS Lion in 1917.

HMAS Warrego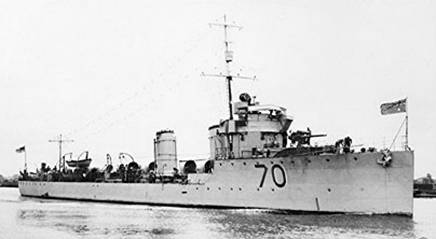 Destroyer : 700 tons: 3 x 4 inch guns : (Claude Lionel Cumberlege in Command : 1913-1916) HMAS Warrego was built in Scotland, dismantled and shipped to Sydney where she was reconstructed at the Cockatoo Island shipyard to provide it with construction experience.
The dockyard would subsequently build three of Warrego's sister ships. Warrego led the Australian destroyer force into Port Jackson as part of the ceremonial entry of the Australian Fleet Unit on 4 October 1913.
Following the outbreak of war in August 1914, under Commander Claude L. Cumberlege RN, Commander (D), Warrego took part in operations against the German Pacific colonies. On 12 August, she landed men as part of the force ordered to take Rabaul and the next month took part in the capture of the German wireless station at Bitapaka and captured the German vessel Nusa. Warrego carried out further patrol operations in New Guinea waters in company with Yarra and Parramatta. In December, accompanied by Parramatta and Nusa she steamed over 300 kilometres up the Sepik River to check for any German presence.
Warrego returned to Australia in February 1915 and was employed on patrol work locally and in Malayan,
Philippines and East Indies waters.

HMAS Encounter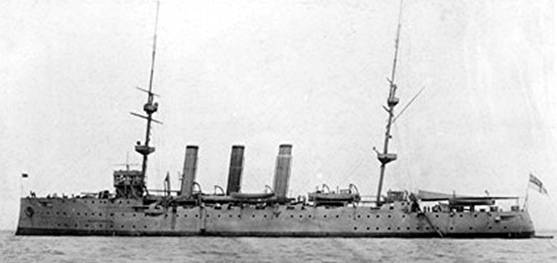 Light Cruiser : 5,880 tons : 11x 6 inch guns (Claude Lionel Cumberlege in Command : Jan-Oct 1916)
After long service on the Australia Station with the Royal Navy, HMS Encounter was lent to the RAN as a training cruiser, pending the completion of HMAS Brisbane. She was commissioned into the RAN on 1 July
1912. On 4 October 1913 she entered Sydney Harbour as part of the Australian Fleet Unit.
Following the outbreak of the First World War in August 1914, Encounter was part of the force which occupied German New Guinea. In the course of these operations she captured the steamer Zambezi on 12 August and, on 14 September, bombarded Toma Ridge to support the Australian Military and Naval Expeditionary Force. She covered the landing at Madang on 24 December. In October, Encounter patrolled the Fiji-Samoa area, capturing the German schooner Elfrede. After a refit, she continued patrol duties in the Pacific, landing troops to protect the cable station on Fanning Island in July 1915. After grounding on a coral reef at Johnson Island, Encounter had to put-in at Hong Kong for repairs.
From January 1916, under the command of Captain Claude L. Cumberlege RN, Encounter patrolled East Indies waters, returning to Australia the next month. She remained in Australian waters for the rest of the war.

HMAS Brisbane (I)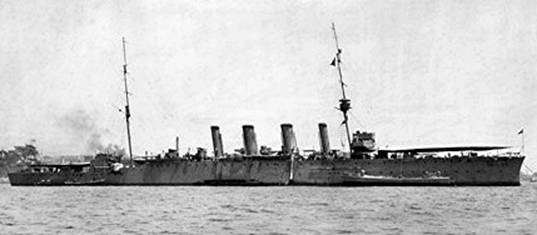 'Town' Class Light Cruiser : 5,400 tons : 8 x 6-inch guns (Claude Lionel Cumberlege in Command : 1916-1919)
HMAS Brisbane and her sister ships HMA Ships Melbourne and Sydney were the first cruisers built for the RAN. They were constructed at Cockatoo Island Dockyard, Sydney Harbour, to the design of the 'Chatham' group of the British 'Town' Class.
Brisbane commissioned at Sydney on 31 October 1916 under the command of Captain Claude L. Cumberlege RN. Claude Lionel Cumberlege took her to sea early in order to escape the sabotage activities of dissident construction groups in Sydney. On 13 December 1916 she departed Sydney for war service in the Mediterranean, arriving at Malta on 4 February 1917. However, after a brief stay during which the crew was
quarantined with measles,, the ship was transferred to the Indian Ocean to assist in the hunt for the German commerce raiders Wolf and Seeadler. The transfer of a Sopwith Baby seaplane from the seaplane carrier HMS Raven to Brisbane early in 1917 was the RAN's first involvement in naval aviation. When ordered to Australia in June 1917 the ship unfortunately had to give up the aircraft. She operated on patrol duty off the Western Australian coast until late September.
Between October 1917 and January 1918 Brisbane served on patrol duty in the western Pacific, visiting the Solomon Islands, Nauru, Ocean Island, Tarawa (Gilbert Group) and Fiji. From February to October 1918 she served in Australian waters. On 30 October 1918 Brisbane departed Fremantle for England and was at sea en route Colombo to Aden when the Armistice of 11 November 1918 ended hostilities in World War I. She reached Mudros on Lemnos Island on 26 November 1918 and spent a month with the Australian Destroyer Flotilla in the Eastern Mediterranean, the Sea of Marmora and the Black Sea before completing her voyage to England. At Portsmouth Dockyard in January 1919 the ship commenced a refit lasting three months.
Claude Lionel Cumberlege was relieved of command and was offered the post of Flag Captain to Commodore Commanding HM Australian Fleet, Commodore First Class John Saumarez Dumaresq CB CVO, who flew his Broad Pennant in the Battlecruiser HMAS Australia. He was a small man, didn't smoke or drink, was of unrelenting principles and had spent most of his naval career in the rigidly structured discipline of Cruisers and Battleships and as Flag Captain and Chief Staff Officer to 5 Admirals. He was widely referred to as 'that bloody little lunatic.'
His Flag Captain, Captain Claude Cumberlege, who had spent the majority of his service in Destroyers and GunBoats, where Captains are inevitably closer to, and inspire loyalty and affection from, their crew, presented a remarkable contrast to his orthodox, conventional, senior, to whom he was the complete antithesis. As a gay and gallant destroyer Captain, for several years he was well and popularly known for the introduction of just those qualities in the social life of the Fleet.
HMAS Australia

Battlecruiser: 18,800 tons : 8 x 8inch, 4x 4 inch Guns (Claude Lionel Cumberlege in Command : 1919-1920)
Australia had never been a happy ship – she had missed Jutland because she had rammed her sister ship
New Zealand earlier in 1916 and most of her crew had had a very boring war. The percentage of Australia's crew facing charges was the highest of any ship in the Navy, from the time it was brought into service in 1913. (The Royal Australian Navy only came into being on 10 July 1911.) They had been denied pay to which they thought they were entitled, their leave had been cancelled or shortened, there had been a high incidence of sickness and death from measles, Royal Navy sailors were promoted faster and occupied the senior positions on the lower deck; but most of all the RAN sailors didn't accept the iron discipline which had applied to RN sailors for centuries. There had been several major disciplinary incidents on Australia , including 100 stokers being clapped in irons.
Claude Cumberlege took Command of Australia in April 1919, for her return voyage to Australia. On arrival in Port Said there was an unfortunate incident, hinging on the date of pay day. Claude Lionel Cumberlege eventually ordered that the crew be paid there, rather than on the due date when they would have been in the Suez Canal- so that they would have the chance to buy those little odds and ends, so beloved of the sailor, to take back to their girls at home. This seems to have been seen as evidence of weakness, rather than a thoughtful act.
At Aden, officers of the native Indian Cavalry Regiment were entertained on board by the Commodore and the day of sailing was postponed so that the important Sultan could also be entertained. After Colombo, the next port of call, according to schedule, was to be Melbourne, where the time-expired men were to be discharged. Dumaresq – in pursuance of his policy to show the competence of the Royal Australian Navy – wanted to go via Fremantle to give the inhabitants of Western Australia a chance to see their Flagship for which they had helped to pay.
Claude Lionel Cumberlege agreed, being very familiar with the Port of Fremantle. He knew there was just enough draft to take Australia, though the confines of the Swan River were not suited to the manoeuvring of a Battlecruiser. So Fremantle, just downriver from Perth the Capital of Western Australia, became Australia's first port of call in Australia, mooring to buoys in the Port's channel.
The stay was a short three days because, despite the change of schedule, the Navy Board had ordered the rest of the busy schedule of "Welcome Home" port visits be completed. It coincided with a dockyard strike in Fremantle with a violent clash on the waterfront the day after Australia's arrival – a most unfortunate reintroduction to Australian life for the crew who had been away for several years. There was an extensive programme of hospitality, including an Open Day – during which the crews of the ferries taking visitors to and from Australia went on strike – causing Claude Lionel Cumberlege to launch the ship's boats to return visitors to shore.
A deputation saw the Captain, to ask for sailing to be delayed by a day so that the crew could have a full weekend's leave on their first visit home in 4 years and so that some could travel between Perth and Fremantle to see family and friends. It is still burned in the Western Australian psyche that Perth and Fremantle are a long way apart. Even in 1919 they were contiguous and are actually less than 10 miles apart centre-to-centre. Claude Lionel Cumberlege – under strict sailing orders from the Commodore and the Navy Board – was unable to agree to this request.
At 10:30 on the Sunday morning Australia was ready to go to sea. The Commodore returned from staying with the Governor of Western Australia. As Claude Lionel Cumberlege stepped out on the Quarterdeck to receive him, he noticed a fairly large body of men assembled on the far side, which he took for the watch falling in. Having received the Commodore's orders to proceed to sea, Claude Lionel Cumberlege asked the Commander what was the party fallen in on the other side of the Quarterdeck.
The Commander reported that it was a deputation that had requested to see him to again ask if the stay of the ship in Fremantle could be extended. He immediately stepped across the deck with the Commander and told them that he understood what they were there for but that he would not listen to any request brought forward collectively. If any one person had anything say he might say it. After a good deal of hesitation, one replied that he had been asked by his Mates to say that the people of Perth had been very kind to them and that the ship's company as a whole felt that they had not had sufficient opportunity to return their hospitality and would it therefore be possible to postpone sailing so that this might be remedied. Claude Lionel Cumberlege quietly replied that his orders were to proceed to sea and added that even if he, or the Commodore, wished to remain; orders from the Navy Board were absolutely definite on the subject. The party dispersed with noise and remarks such as "what about the bloody Gypo?" – a reference to the ship's delayed sailing at Aden to entertain the distinguished Sultan.
As the ship let go her moorings, the Officer of the Watch took a call on the Bridge, from the Chief Engineer, to tell the Captain not move the engines as the stokers had left the stokehold. The Engineer Commander then arrived on the bridge some 70 ft up from the Engine Room and reported that a posse of masked men had entered the boiler room and terrorized the stokers on watch into leaving the stokeholds, leaving only the Petty Officers in place. Claude Lionel Cumberlege first went into the Commodore's cabin and reported the matter to him. His reaction was "If there is going to be a riot, let's bog into them." To which Claude Lionel Cumberlege replied, "Your orders are for the ship to go to sea. I shall take her to sea, but I thought I would let you know what was going on first."
On the afterdeck most of the 1000 crew were congregated, where Claude Lionel Cumberlege told them he was taking the ship to sea. He had the Chief Bosun's Mate pipe "Petty Officers fall in on the Quarterdeck" – which they did –and said to the Engineer Commander "There you are, Chief. There is your steaming watch. Let me know, please, when you are once more ready to proceed." After half an hour the Engineer Commander once more arrived on the bridge and reported ready to proceed. Australia went to sea an hour late. This is a perfectly normal reaction by a ship's Captain to any interference with sailing directions. In the case of a strike by stokers on board HMAS Berrima in 1914, the instant reaction of Commander Cumberlege in the escorting HMAS Warrego was to use the embarked soldiers on Berrima to man the boilers – which, indeed was what happened.
Later that day, with Engines stopped, the Captain read the Articles of War to the ship's company:- "Article 1 Any Captain, Commanding Officer or officer in command of His Majesty's ships who shall not make every endeavour to bring the enemy to action shall suffer death." "Article 10 Any person who shall commit Mutiny shall suffer death." The crew dispersed and the 'Mutiny' was over.
Claude Lionel Cumberlege's view was to call it even a 'strike' would have been an exaggeration. The origin of it was vanity. One thing is absolutely certain, that personal violence towards the officers, as a whole or individually, was neither thought of nor attempted. Nor was any attempt made to interfere with the casting off of the hawsers. 32 men who had refused orders in the Engine room were put under arrest. 27 were summarily sentenced by the Captain to 90 days in cells for refusing duty. 5 were charged by the Captain – not with Mutiny- but with " joining in a Mutiny, not accompanied by violence, on board Australia on 01 June 1919."
In addition to using this lesser charge Captain Cumberlege advised the Prisoner's Friend appearing for the accused that, if called, he would testify as to their previous good character.
The Court Martial
The Court-Martial, convened by Commodore Dumaresq, took place in HMAS Encounter, under the Presidency of Commodore John Glossop (formerly Captain of HMAS Sydney) on 20 June 1919.
The other members were Captains Brownlow and Robins; Commanders Brabant and Feakes. The Judge Advocate was Paymaster Commander Cooke.
The 5 accused – Stoker Dalmorton Rudd DSM, Stoker William MacIntosh, Stoker Leonard Rudd (Dalmorton's brother), Ordinary Seaman Wilfred Thompson and Ordinary Seaman Kenneth Patterson -pleaded guilty and asked for leniency. 4 were represented by a civil lawyer, Richard Orchard – a Commonwealth Parliamentarian – as Prisoner's Friend. The proceedings revolved around pleas in mitigation.
Two (Patterson and Thompson) received sentences of imprisonment for one year, one (Leonard Rudd) for eighteen months, whilst the remaining two (Dalmorton Rudd and MacIntosh) were dismissed from the Navy and sentenced to two years' imprisonment with hard labour. The sentences were carried out at Goulburn Jail.
Some 6 weeks later on the agreed date of 01 August 1919, the Royal Australian Navy reverted to Australian Government control. In Federal Parliament debate raged for 4 months about the severity of the sentences and on the Admiralty having retained operational control of the RAN well into 1919. The Court- Martial process and the sentences were debated no less than 25 times in the Commonwealth Parliament. Sir Joseph Cook, Minister for the Navy, having earlier told Parliament " .. at whatever cost, the discipline of the Navy must not be interfered with.." on 21 November 1919 told the House that the sentences would be "remitted from 20 December 1919, on account of the youth of the prisoners and their good previous records."
This effective reduction to six months' jail outraged the Navy Board. Rear Admiral Sir Percy E.F.P. Grant KCVO, the Admiralty-appointed First Naval Member of the Australian Navy Board and Commodore First Class John Saumarez Dumaresq CB CVO, Commodore Commanding HM Australian Fleet refused to sign the official orders releasing the men. Both submitted their resignations on 19 December 1919 – the only occasion in the history of the RAN on which Flag Officers submitted resignations on a point of principle. Grant's resignation was only withdrawn on 16 February 1920 after the Minister promised Grant that his views would be taken into account in all future representations with the Admiralty and the Commonwealth Government. Dumaresq's was withdrawn after the Government issued a General Notice being issued throughout the Australian Fleet in 1920, expressing the Government's deep regret at the defiance of authority which marked Australia's return home and affirming that in future it would " fully support all just and proper actions taken by the constituted authorities to maintain the discipline of the Fleet."
The final word belongs to Captain Claude Cumberlege RN, who wrote:- "The law, at any rate, had been upheld. Our yardarm had been cleared, though I shall always regard the whole episode as being no more than a sort of schoolboy escapade and I, for one, was quite unconcerned, when a year later a Labour government released the prisoners.
Shortly after these occurrences I happened to be walking along Elizabeth Street, Sydney, which reminds me of the delightful remark of 'Bushie', a friend of mine, made. "The worst of Sydney," he said, "is that I never remember if I am going to meet Anne in Elizabeth Street or Elizabeth in Anne St." As I said, I was walking along Elizabeth Street when a decently dressed man, looking across the road at me, raised his hat. Not being able to place him I returned the salute and stepped across. He held out his hand, which I took, and he said: "You don't remember me, sir. My name is…" It was the ex- hero of Zeebrugge! (Dalmorton Rudd, one of the 5 charged) We stepped inside and "stopped a couple".
"Action This Day" the biography of Admiral of The Fleet Sir Philip Vian GCB KBE DSO, hero of the Altmark rescue, describes his service just after World War I (1920-1922):- "There followed a commission on Australia, land of milk and honey, as Gunnery Officer of the flagship, HMAS Australia. In Australia I had the benign guidance of Harold Burrough, who was `to become famous for fighting convoys through to Malta in World War II. (later Admiral Sir Harold Burrough GCB KBE DSO) The Captain was Claude Cumberlege, a sun-lover. On a Sunday morning, divisions were being paraded on the quarter-deck in Number One Dress for his inspection. The Captain electrified everyone, and the Commodore in particular, by appearing on deck in a slip, wending his way through the divisions to the ladder, and so into his galley, to picnic ashore in the sun."
HMAS Melbourne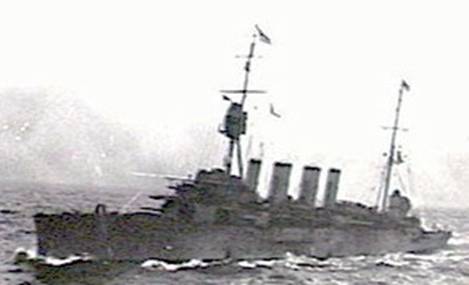 5,400 tons : 8 x 6 inch guns (Claude Lionel Cumberlege in Command : 1920- 1922)
Claude Cumberlege's last command was the cruiser HMAS Melbourne, which became the Flagship of the Royal Australian Navy under Commodore.
Retirement
Claude Lionel Cumberlege returned to Britain in 1922, retired from the Royal Navy and was promoted Rear-Admiral. In retirement, Claude acquired a former Ostende Pilot Boat, renamed her L'Insoumise (The Rebel) and made his home on her in the Bay of Biscay and the Mediterranean. In 1931, he swapped her with some
visiting Americans for a smaller schooner Westward, which he renamed Fleur de Lys. (The Cumberlege crest, uniquely in English families, includes the Fleur de Lys).
The Cumberleges lead active, entertaining, hospitable and interesting social lives based around their ship in Mediterranean and Atlantic waters, cruising as they wished, and going on skiing holidays to Kitzbuhel. Claude had two marriages – the first ending after 25 years with the death of his wife Sarah Letitia Crossley nee Coldwell in a Paris hospital. By that marriage he had two children, Claude Michael Bulstrode Cumberlege DSO – who also became a Mariner and Diana Cumberlege, who married Don José-Maria Avial (c 1923) in the Roman Catholic Cathedral in Gibraltar. José-Maria was shot by Communists in the Spanish Civil War in 1936. Secondly, Claude married, in St Tropez, Nora Kirby by whom he had 4 children.
Mistral Cumberlege, born 24 Sep 1933, on Fleur de Lys in "the heaviest North West gale of the year, a violent Mistral out of a wonderfully blue sky." Having gone ashore to live in El Canuto de Los Arco, Pelayo, Algeciras, the Cumberleges were evacuated back to Gibraltar in the Spanish Civil War in 1936, Nora staying at The Mount, residence of Flag Officer Gibraltar, where Tarik Cumberlege was born on 16 August 1936. Tarik was the name of the first known Moorish general to conquer the Rock. Gib-el, meaning "Mount of" – hence Gibel-Tarik. The Mount of Tarik, which eventually corrupted into 'Gibraltar'.
Attempting to journey through Spain to Portugal, to find somewhere settled to live, proved impossible and the Cumberlege family returned to Gibraltar. Further journeys by ship to Italy and then through Italy into France resulted in them renting a Villa in Cap d'Antibes in 1939.
Post 1939
Claudine Cumberlege was born in Cap d'Antibes in 1939, and like her brother Tarik, was christened on board the Battlecruiser HMS Repulse – Tarik in Gibraltar, Claudine in the Mediterranean. The rented Villa in Cap d'Antibes was replaced by one Claude and Nora built, completing it in 1940. Diana and her new husband, Jorge Dibos, a Peruvian, had to leave their home, in Sussex as they were aliens. They moved to Biarritz.
As the realities of War loomed large and the Germans advanced, Michael Cumberlege drove from Marseilles to advise the Admiral and Nora to leave on the Andorra Star, on which he had obtained passage for them, which the Admiral refused to do. Diana having arranged Spanish visas, the Cumberleges left Antibes for Biarritz, crossed the border with many other refugees – including the Duke and Duchess of Windsor – via Bilbao to Madrid. Spanish visas having been cancelled they travelled via Algeciras to Gibraltar and then on a Mac Andrews Line ship to Liverpool.
They took over Diana and Jorge's house in Sussex, next to the Officers' Mess of 239 Squadron, commanded by Wing Commander Peter Donkin, and in 1941, Nora's niece, Betty Cox, married Peter Donkin (later Air Commodore Peter Donkin CBE DSO).
Claude enlisted in the Home Guard. Luis Cumberlege was born in 1941. At the end of the War, Nora returned, via Paris, to Antibes and managed to find the Villa they had built now, of course, with a mature garden giving it a different appearance, making it difficult for Nora to find. She spent some time in Antibes before the family joined her, striking up a friendship- amongst others – with a Dominican Diplomat, Porfirio Rubirosa, (known as the Greatest Lover of the 20th Century and married 5 times) who did not impress the Admiral when he eventually arrived with the family. Leading an active social life in Antibes – Nora mentions The Duke and Duchess of Windsor, Noel Coward, Lord Beaverbrook, Rita Hayworth and Prince Aly Khan, amongst others, – the Cumberleges went into various businesses ( bars, discos, apartments, there and in nearby skifields With the advent of DeGaulle and his monetary policy, they moved first to the Costa Brava and then to Majorca, where they established themselves. On the death of Claude Cumberlege in 1963, the Villa in Cap d'Antibes was sold. Luis Cumberlege still operates the Sea Club based on the Villa that Claude and Nora found in the small village of Cala Ratjada, Majorca.
Claude Cumberlege's eldest son
Lieutenant-Commander Claude Michael Bullstrode CUMBERLEGE DSO and Bar, RD, RNR served with the Special Operations Executive and Special Boat Squadron during World War II and became a legend operating a Greek caique, smuggling resistance fighters and escapees in the Eastern Mediterranean. In November 1941, on one trip alone, in his boat Hedgehog, he took 86 soldiers off Crete despite the attempts of the Germans to seal off the coast with daily sea and air patrols.
He was awarded his first DSO for gallantry in his work during the evacuation of Greece and Crete, and was in action at the Corinth Canal, also being Mentioned in Despatches by Admiral Sir Andrew Cunningham GCB DSO, Commander-in-Chief, Mediterranean, who had served as a fellow Commanding Officer with Claude Cumberlege in Destroyer Flotillas in 1911.
Numb 37805
FOURTH SUPPLEMENT TO
The London Gazette
Of FRIDAY, the 29th of NOVEMBER, 1946
TUESDAY, 3 DECEMBER, 1946
ADMIRALTY.
Whitehall, S.W.1.;
3rd December, 1946.
The KING has been graciously pleased to
approve the following Reward and Awards.
For great gallantry, and determination of the highest order
in clandestine operations behind the enemy lines
in Greece in January and February, 1943:
Bar to the Distinguished Service Order
Acting Lieutenant-Commander
Claude Michael Bullstrode CUMBERLEGE,
D.S.O., R.D.,
Royal Naval Reserve (Retired).
(This Appointment to be dated 21st February, 1944)
His Majesty King George of the Hellenes awarded him the Greek War Medal in 1943. He was captured and executed – at the age of 39 – at the infamous Flossenbürg Concentration Camp, near the borders of Germany with Czechoslovakia and Austria, on 10 April 1945 – 13 days before its liberation by the 90th Infantry Division of General George S. Patton Jr's US 3rd Army, and one month before the war ended.
This information was researched and contributed by © Stephen Collins and remains his copyright. It is reproduced here with his kind permission and with the permission of Mistral Cumberlege.
Claude Lionel Cumberlege Officer Service Records at the National Archives: