Discover the origin and meaning of the surname Cumberbatch.
Cumberbatch is a modern variant spelling with a much more frequent occurence of the original surname Comberbach.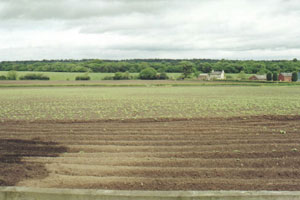 Comberbach was inherited from a village called Comberbach. The village is located in Cheshire, England and is a topographical description of the place. The place-name Comberbach means "valley with a stream".
CUMBERBATCH

Variants: Comberbach, Cumberbach, Cumberpatch, Cumberbirch

Current Frequencies: GB 705, Ireland 0

GB frequency 1881: 114

Main GB location 1881: Staffs, Lancs & Cheshire

[Origin] English: locative name from Comberbach (Cheshire)

Early Bearers […de] Combrebeche, 1190, […de] Comerbache, 1257 in Place-Names of Cheshire; Richard Comberbache, 1533 in Lancs Record Office (Appleton, Cheshire); Francis Comberbach, 1584 in IGI (Stockport, Cheshire); Susanna Cumbarbatch, 1598 in IGI (Ormskirk, Lancs); Margeria Cumberbach, 1634 in IGI (Biddulph, Staffs); Wm. Cumberpatch, 1777 in IGI (Northampton, Northants).

References: Place-Names of Cheshire, vol. 2, p.111.

Hanks, Coates, McClure 2016 – The Oxford Dictionary of Family Names in Britain and Ireland, vol. 1, p.639
Cumberbatch Variant Spellings
COMBERBACH – the most ancient form based on the village in Cheshire.

CUMBERBATCH – the modern and most frequently occuring spelling.

CUMBERPATCH – a spelling most often found in the Northampton area of England. It was derived from the family of Roger Comberbach (1628-1712) Constable of the Parish of Church Lawton, Cheshire in 1653 and who moved to Northampton in the 17th century.
CUMBERBIRCH – another spelling found in Manchester but derived from Cumberbatch.

CUMBERBEACH – another spelling found in Manchester but derived from Cumberbatch.
Cumberbatch Possible Variant Spellings
CUMBERLEDGE

CUMBERLEGE

CUMBERLIDGE
Here I should remark that one of my reasons for considering the names Comberbach and Cumberlege identical is the similarity of the arms. John Cumberlege, was a subscriber to Plot's Natural history of Staffordshire, and his arms figure on the folding title to that work, viz. Barry of six ermine and sable, on a canton or a fleur-de-lis gules. The Rev. S. F. Cumberlege, who claims to be of the same family, now bears this coat, and for his crest, a fleur-de-lis between two feathers, with a motto, Vouloir ce que Dieu veut.

George William Marshall, in Collections for a Genealogical Account of the Family of Comberbach, 1866
George William Marshall considered the similarity of the arms as sufficient reason to consider the surname spellings as variants and thus to be related to each other. I have my doubts, however the surname origins plotted on a map of England have very high densities around the border between Cheshire and Staffordshire which are geographically very close together. Certainly too close to exclude them as improbable variants.