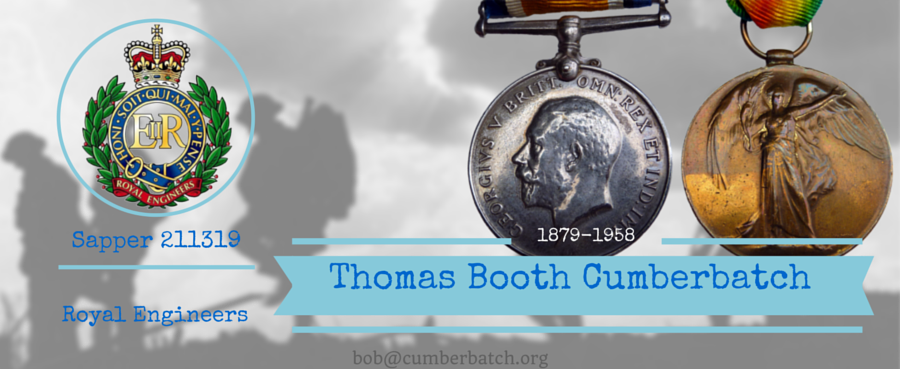 Thomas Booth Cumberbatch
Sapper 211319 16th Division Signal Company 48 Brigade Royal Engineers
Thomas Booth Cumberbatch was born in Bolton, Lancashire, England in 1879. He was baptised at Holy Trinity Church, Bolton on 31st August 1879. He was the son of Joseph Cumberbatch and his wife Isabella nee Booth.
In 1898 he was a postman working for the General Post Office in Bolton. By 1901 he was a sorter and telegraphist for the General Post Office in Bolton.
Thomas married Irene Nelson in Chorlton, Manchester on 13 November 1907 and they had three daughters:
Beth Cumberbatch born 25 July 1901, Bolton
Joan Cumberbatch born 25 July 1912, Bolton
Roma Cumberbatch born 9 Sep 1916, Bolton
He enlisted in the army on 25 May 1915 at Newcastle-on-Tyne. His employment as a telegraphist enabled him to enter the Northumbrian Signal Company in the Royal Engineers as Sapper 2490.
Letter
Ridley Place,
Newcastle-on-Tyne,
19-5-15
Mr. T.B. Cumberbatch,
P.O.
Bolton.
I understand from the Surveyor of the North West District that you wish to enlist as an office telegraphist in this Company.
Enclosed you will find free Railway Warrant together with a list of kit you will require.
Please report as soon as convenient.
Cameron S Lones
for Capt.
O.C. Northumbrian Divisional Signal Company R.E.
He was employed in the Northumbrian Signal Company in the Royal Engineers between 25 May 1915 and November 1916.
25 May 1915 2490 of 1 Parkdale Road, Bolton, Lancashire; GPO Telegraphist
Medical Inspection Report

Age: 36 years 10 months
Height: 5 feet 6 inches
Chest – Girth when fully expanded 33 inches; range of expansion: 2 inches
Vision: Good
Physical development: Good
Fit for Service: 25 May 1915, Newcastle-On-Tyne
He was employed in the Signal Company of the Royal Engineers at Fenny Stratford, Milton Keynes, Buckinghamshire between November 1916 and 25 March 1918 when he was discharged with debility. He served overseas between 17 June 1917 to 10 January 1918.
Statement of Services

Corps: Royal Engineers Sig. Co. 25th May 1915 Posted Sapper 25 May 1915
D.R.E. Sig Co. Sapper 25 May 1915
D.R.E. Sig Co Rerated from 6th to 4th Sapper 25 June 1915
R.E. Regular Transferred 3 Oct 1916
R.E. FSSD Posted Sapper 4 Oct 1916
Embarked British Expeditionary Force (B.E.F.) Sapper 17 June 1917
Transferred B.E.F. Sapper 11 Jan 1918
Discharged- no longer physically fit for War Service para. 392 XVI King's Regulations. 25 March 1918
Total service 2 years 305 days

Military History Sheet

From To
Embodied Home 25 May 1915 to 16 June 1917
British Expeditionary Force (B.E.F.) 17 June 1917 to 11 Jan 1918
Home 12 Jan 1918 to 25 Mar 1918
Next of Kin: Wife, Irene Cumberbatch 79 Thicketford Road, Tonge Moor, Bolton
Certificate of Trade Proficiency
Place: Fenny Stratford – Signal School at Fenny Stratford = Proficient Office Telegraphist

Discharge Form W.3494

No: 211319
Rank: Spr
Regiment: R.E.
Qualifications for civil employment: Sorter & telegraphist GPO
Last employer before enlistment: as Sorter & Clerk Telegraphist GPO Bolton for 23 years
Employment desired: Any work with the GPO
Employed whilst with the Colours: As Telegraphist 2 years
14 March 1918
Approval of Soldier's Discharge
Regmt No & Rank: 211319 Sapper
Regt: R.E. 16th Div Signal Coy 48 brigade
Discharge address: 68 Thicketford Road, Tongmoor Bolton

Family Details

Woman's Name: Irene Cumberbatch nee Irene Nelson; Wife; Married 11 Nov 1907 Chorlton, Manchester
Man's No. And Name
No: 211319 Spr T B Cumberbatch R.E. of 78 Thicketford Rd Tonge Moor Bolton
Children: Date and place of Birth:
Beth 25.7.1901 Bolton
Joan 25.7.[19]12 Bolton
Roma 9.9.[19]16 Bolton
Casualty Form – Active Service
Report Date From Whom Record Date
6 Jul 1917 OC 16th Sig Joined Unit from Sig. Depot 30 Jun 1917
27 Oct 1917 OC 16th Sig Leave to UK 25 Oct 1917 to 4 Nov 1917
5 Jan 1918 OC 16th Sig Admitted to Hospital 29 Dec 1917
OC 10 General Hospital To Eng ex 10 Gen Hos 9 Jan 1918

War Gratuity Claim

211319 R.E. Sig Co of 382 Tonge Moor Rd, Bolton, Lancs
Regiment: Northumbrian Sig. Co. R.E.
Rgmt No: 2490
Enlisted: 25 May 1919
From: 25 May 1915
To: Oct or Nov 1916 afterwards at Fenny Stratford
Date of Discharge: 25th March 1918 Debility
Period Overseas 17 June 17 to Jan 10th 1918
Regiment: 6 Div Sig. Co. R.E.
Rgmt No: 211319
Thomas and his wife travelled aboard the Matiana to visit Mombasa, Kenya in 1951. Thomas died in 1958 in Devon, England. His wife Irene died in 1976 in Weston-super-Mare, Somerset.
Silver War Badge Roll
ROLL OF INDIVIDUALS entitled to the "WAR BADGE"
19 Mar 1918
R.E. 1757
WAR OFFICE
Regtl. No.

Rank

Name

Unit

No. of Badge

Enlistment

Discharge

Cause of Discharge

Whether Served Overseas and Age

211319

Sapper

Cumberbatch Thos. Booth

Bedford S.D.

372,636

25 May 1915

25 Mar 1918

A.O. II of 10th Aug. 1917

Para. 2(b)i) Sickness

Yes 38
Medal Roll
Royal Engineers
25476
ROLL of INDIVIDUALS entitled to the Victory Medal and British War Medal under Army Orders 301 and 266 of 1919
Regimental No.

Rank

Name

Unit

Remarks

211319

Sapper

Cumberbatch, Thomas Booth

Royal Engineers 2490

Royal Engineers 211319 Sapper
Chatham
Medal Card
Name.

Corps.

Rank.

Regtl No.

CUMBERBATCH

Royal Engineers

2490

Ditto

Sapper

211319

Thomas Booth

Medal.

Roll.

Page.

Remarks.

VICTORY

RE/101B118

25476

BRITISH

d[itt]o

d[itt]o

15 STAR

Theatre of War first served in

Date of entry therein

K1380

Correspondence

Address