Thomas Cumberbirch Private Royal Army Service Corps born 1864 in Cheshire was a cotton spinner and a foreman wheelwright for railway carriers before the army.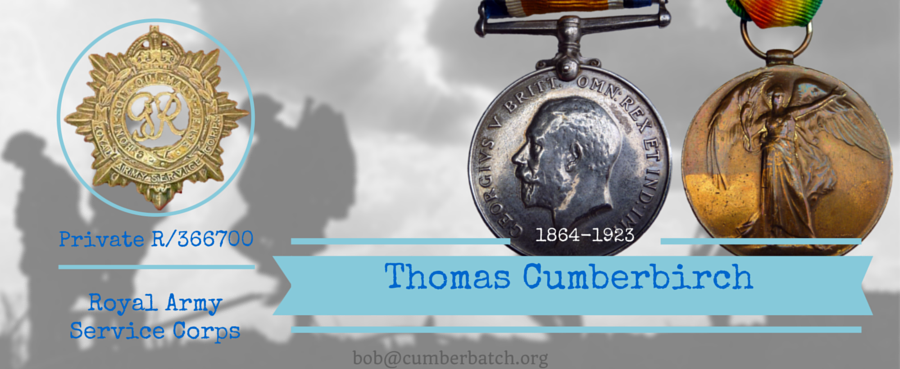 Private R/366700 Royal Army Service Corps
Thomas Cumberbirch was born in Q4 1864 in Congleton, Cheshire, England. He was the son of William Cumberbirch and his wife Catherine nee Hancock. 
He was a cotton spinner by 1881 and 10 years later he was a wheelwright. By 1901 he was a foreman wheelwright and he was a Foreman Wheelwright – Railway Carriers by 1911. An ideal background for the Royal Army Service Corps.
Thomas married Sarah Beatrice Milne in Q4 1891 in Rochdale Registration District, Lancashire, England. Together they had:
Thomas Cumberbirch joined the army becoming Private R/366700 in the Royal Army Service Corps. He was awarded the British War and Victory medals.
Thomas Cumberbirch died in Q1 1923 in Hull, Yorkshire, England. His wife Sarah Beatrice Cumberbirch died in Q1 1930 in Sculcoates Registration District, Yorkshire, England.
Medal Roll
ROYAL ARMY SERVICE CORPS
26563
ROLL of INDIVIDUALS entitled to the Victory Medal and British War Medal granted under Army Orders 301 30 Aug 1919 & V of 16 Jul 1919.
| | | | | |
| --- | --- | --- | --- | --- |
| Regimental No. | Rank | Name | Unit (in order) | Theatres of war in which served |
| R/366700 | Private | CUMBERBIRCH Thomas | R.A.S.C. R/366700 Private | |
Woolwich Dockyard, 30 Apr 1921
Medal Card
Name
Corps
Rank
Regtl. No.
CUMBERBIRCH
Army Service Corps
Private
R/366700
Thomas
Medal
Roll
Page
Remarks
VICTORY
RASC/101 B258
26563
BRITISH
– ditto –
– ditto –
STAR
Theatre of War
first served in
Date of entry
therein
K.1380
Correspondence







Address
Thomas Cumberbirch's WW1 Medal CArd