Thomas Leonard Barton Cumberlidge Prvt Lancashire Fusiliers. He enlisted on 2 September 1914, entered the war in the Balkans on 5 May 1915 but became a casualty.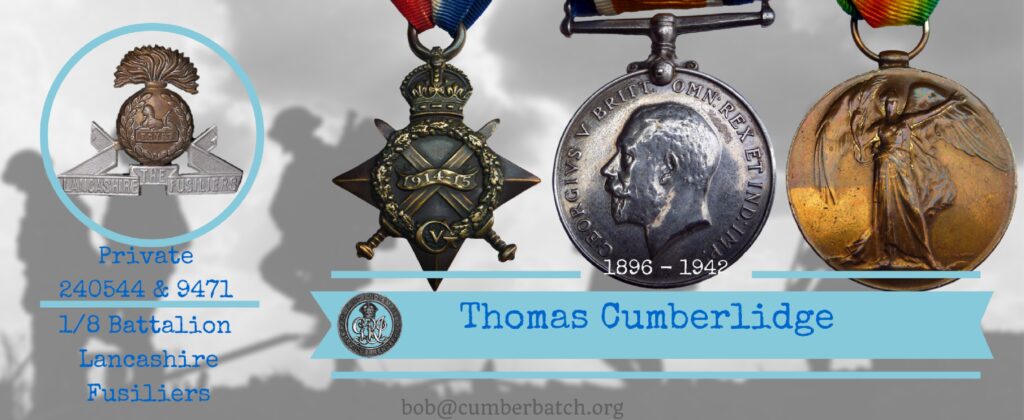 Thomas Leonard Barton Cumberlidge 1896-1942 Private 240544 & 9471 1/8 Battalion Lancashire Fusiliers
Thomas Leonard Barton Cumberlidge was born in 1896 in Tonge, Middleton, Lancashire, England. He was the son of George William Cumberlidge and Eliza nee Spiller.
He enlisted in the army shortly after World War One started on 2 September 1914 as Private 9471 in the 1/8 Lancashire Fusiliers. He entered the war in the Balkans on 5 May 1915 but became a casualty. He was discharged as medically unfit for war service on 18 July 1919.
He was awarded the 1914-15 Star, British War and Victory Medals and the Silver War Badge.
Thomas married Elsie Elizabeth Radcliffe in 1921 and they had two children:
He was living apart from his family and working as a greyhound racing track manager living at Regent Cottage, Cochno Road, Hardgate, Duntocher, Dunbartonshire, Scotland when he died on 6 June 1942. He died at Stobhill Hospital, 133 Balornock Rd, Glasgow, Lanarkshire, Scotland and his death was caused by:
Chronic alcoholism
Suicidal cut-throat
Vagus neuritis
Sudden cardiac failure
His wife Elsie died in 1978 in Manchester, Lancashire.
Medal Roll
1/8th LANCASHIRE FUSILIERS Regiment or Corps when Decoration was earned
ROLL OF INDIVIDUALS entitled to the Decoration granted under Army Order 20 of 1919 [1914-15 Star]
Regtl. No.
Rank
Name
Date of Disembarkation
On date of Disembarkation

9471

Private

CUMBERLIDGE T.

5 May 1915 2B [Balkans]
Thomas Cumberlidge's 1914-15 Star Medal Roll
Fulwood Barracks, Preston, 12 Feb 1920
LANCASHIRE FUSILIERS REGIMENT OR CORPS
7492. B
ROLL of INDIVIDUALS entitled to the Victory Medal and British War Medal granted under Army Orders 266-301 of 1919.
Regtl. No.

Rank

Name

Units and Corps

Remarks

240544

Private

CUMBERLIDGE Thomas

1/6th Lancashire Fusiliers 9471 Private

15th Lancashire Fusiliers 240544
Thomas Cumberlidge's Victory & British War Medal Roll
Fulwood Barracks, Preston, 8 Apr 1921
Silver War Badge
ROLL OF INDIVIDUALS entitled to the "WAR BADGE"
H/2715/1, 30 Jul 1918 WAR OFFICE
Regtl No.

Rank

Name

Unit

No. of Badge

Enlistment

Discharge

Cause of Discharge

Whether served Overseas

240544

Private

Cumberlidge, T.

Lancashire Fusiliers

B260184

2 Sep 1914

18 Jul 1919

Para 392 xvi a.i Kings Regulations

Age on discharge: 25

Yes
Thomas Cumberlidge's Silver War Badge Roll
Preston, 26th July 1919
WW1 Medal Index Card
Name
Corps
Rank
Regtl. No.
CUMBERLIDGE
Lancashire Fusiliers
Private
9471
– ditto –
240544
Thomas
Medal
Roll
Page
Remarks
VICTORY
H/1/101B36
7492











K.1380
BRITISH
– ditto –
– ditto –
15 STAR
Silver War Badge List
H/2715/1
Theatre of War
first served in
2B Balkans
Date of entry
therein
5 May 1915
Correspondence







Address
Thomas Cumberlidge's WW1 Medal Index Card