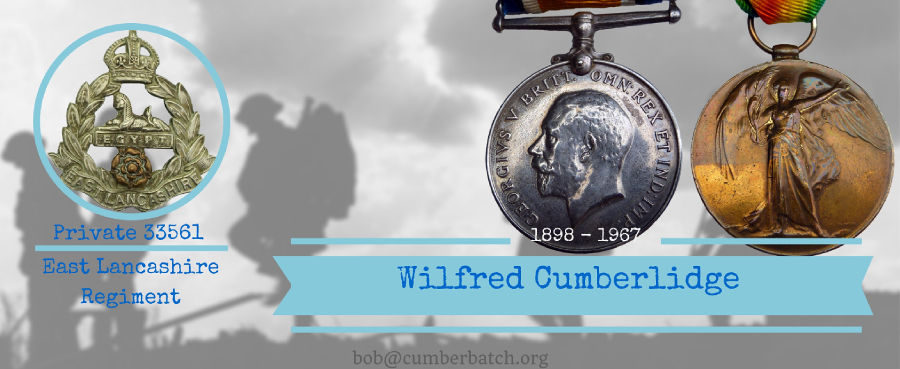 Wilfred Cumberlidge 1898-1967
Private 33561 East Lancashire Regiment
Wilfred Cumberlidge was born 9 December 1898 in Furness Vale, Cheshire, England. He was the eldest son of William Cumberlidge and his wife Elizabeth Ann nee Woodbridge.
Wilfred joined the 13th General Battalion of the East Lancashire Regiment as Private 33561. He was awarded the British War and Victory Medals.
Wilfred married Edith Ann Leech in 1924 and they had a daughter Edith Joyce Cumberlidge, born in 1929.
Wilfred died in 1967 and his wife Elizabeth Ann Cumberlidge died in 1993.
Medal Roll
EAST LANCASHIRE REGIMENT
3787 B
ROLL of INDIVIDUALS entitled to the Victory Medal and British War Medal granted under Army Orders 266 & 301 of 1919.
| | | | | |
| --- | --- | --- | --- | --- |
| Regimental No. | Rank | Name | Unit (in order) | Theatres of war in which served |
| 33561 | Private | CUMBERLIDGE Wilfred | 13th Gn Battalion East Lancashire Regiment 33561 Private | |
Fulwood Barracks Preston, 19 Nov 1920
Medal Card
Name.

Corps.

Rank.

Regtl. No.

CUMBERLIDGE

East Lancashire Regiment

Private

33561

Wilfred

Medal.

Roll.

Page.

Remarks.

VICTORY

H/1/102B17

3787

BRITISH

–"–

–"–

STAR

Theatre of War first served in

Date of entry therein

K1380