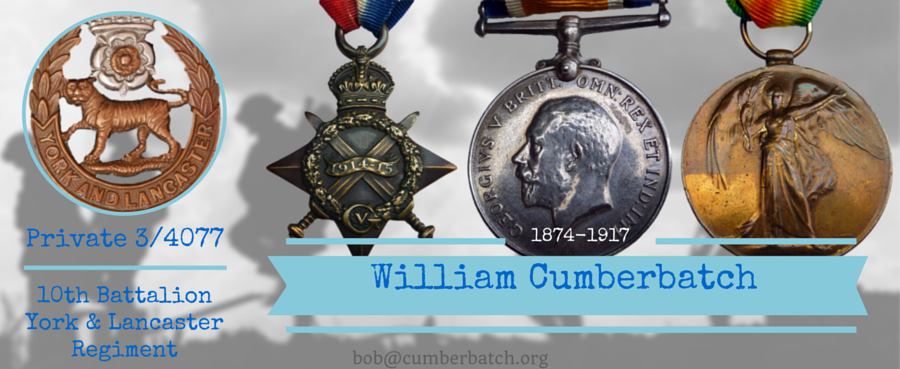 William Cumberbatch
Private 40018 3rd Battalion Prince of Wales Volunteers South Lancashire Regiment
William Cumberbatch was born at Moreton, Astbury, Cheshire, England on 21 October 1888. He was baptsed at St Mary's Church, Astbury on 2 December 1888. He was the eldest son of Thomas Cumberbatch and his wife Phoebe nee Sanderson. William became a Banskman at a coal mine.
He enlisted in the army on 9 December 1915. He joined the 3rd Battalion Prince of Wales' Volunteers, South Lancashire Regiment as Private 40018. He spent the first year and 2 months in the reserves and was mobilised on 23 February 1917 but did not serve overseas.He was dscharged from the army at Shrewsbury on 6 Septermber 1917 as he was physically unfit for War Service. A medical board had diagnosed him as having rheumatoid arthritis which started in 1908 in England. His condition was agrravated by the war. His military character was described as "good.
On discharge he was described as:
Age: 28 years 11 months
Height: 5 feet 4½ inches
Chest: expanded: 34½ inches with 2 inches of expansion
Complexion: Fresh
Eyes: Grey
Hair: Dark Brown
Trade: Banksman
Intended place of residence: Fords Lane, Mow Cop, Stoke, Staffs
Descriptive marks: Contraction fingers right hand
He was awarded a gratuity of £15 and his pension commenced from the end of 29 August 1917. William married Hannah Gibson at St Thomas Church, Mow Cop, Staffordshire, Egland. Together they had a son Frederick William Cumberbatch Apr 1917-2009.
William died in 1972 in Leek, Staffordshire.
Silver War Badge
SOUTH LANCASHIRE REGIMENT
ROLL OF INDIVIDUALS entitled to the "WAR BADGE"
No. J.964 3 Sep 1917 War Office
| | | | | | | | | |
| --- | --- | --- | --- | --- | --- | --- | --- | --- |
| Regtl. No. | Rank | Name | Unit | No. of Badge | Enlistment | Discharge | Cause of Discharge | Whether served Overseas |
| 40018 | Private | Comberbatch Wm | 3rd Bn. | 245,132 | 2 Dec 1915 | 6 Sep 1917 | Sickness Para 392 (XVI) | No |
Shrewsbury, August 30, 1917
Pension Record
Pension Record William Cumberbatch
Name: William Cumberbatch
Gender: Male
Birth Date: abt 1889
Age: 28
Document Year: 1917
Residence Place: Fords Lane, Mow Cop, Stoke Staffs
Regimental Number: 40018
Regiment Name: Prince of Wales's Volunteers (South Lancashire) Regiment
Form Title: Proceedings on Discharge
Number of Images: 10 [Ancestry]
Proceedings on Discharge
Chelsea Number: 92252
Rank: Private
Name: William Cumberbatch
Corps: South Lancashire Regiment
Date of Discharge: 6 Sept 1917
Place of Discharge: Shrewsbury
Description at time of discharge:
Age: 28 years 11 months
Height: 5 feet 4½ inches
Chest: expanded: 34½ inches with 2 inches of expansion
Complexion: Fresh
Eyes: Grey
Hair: Dark Brown
Trade: Banksman
Intended place of residence: Fords Lane, Mow Cop, Stoke, Staffs
Descriptive marks: Contraction fingers right hand
The above-named man is discharged in consequence of being No longer physically fit for War Service, para 392 (xvi) Kings Regulations
Military character: Good
Admitted to Pension: Week ending 29 Aug 1917
Rank: Private
Regimental No: 40018
Name: William Cumberbatch
Regiment: South Lancs
Date of Discharge: 6 Sep 1917
Age: 29 Born 1888
Address: Fords Lane, Mow Cop, Stoke, Staffs
Character: Good
Service:
A Res B 1yr 2/12
Col[ours] 7/12
Total 1yr 9/12
Date of Enlistment: 9 Dec 1915
Date of Mobilization: 23 Feb 1917
Chelsea Number: 92252
Gratuity £15
Names of Children: Hannah [Wife]
Foreign Service: Nil
Cause of Discharge: Physically unfit
Report o Medical Board (dated 16 Aug 1917) Rheumatoid Arthritis
Originated about 1908 England
Not result of war aggravate by active service
Permanent Cap. not lessened by enlistment
Submitted as eligible for gratuity under clause 7 (2) Royal Warrant 1917 £15
Total Service towards Engagement to 6 Sep 1917 1 year 272 days Including 1 year 76 days Army Reserve B
Military History Sheet
Home from 9 Dec 1915 to 6 Sep 1917 = 1 year 272 days Including 1 yr 76 days Army Res "B"
Next of Kin: Wife: Hannah Mow Cop, Staffordshire
Wife: Hannah Gibson
Married at: St Thomas Church, Mow Cop, 18 Feb 1917
Medal Card
Name

Corps

Reg. No.

Rank

Date of Discharge

Cause of Discharge

Comberhatch

Wm:

South Lancashire Regiment

3rd Battalion

40018

Private

6 Sep 1917

Enlistment

9 Dec 1915

Para. 392 (XVI)

Sickness Kings Regulations