William Phillips 1914-1943 Able Seaman HMS Beverley was killed when it was torpedoed on 11th April 1943 in the Atlantic Ocean whilst escorting a convoy of ships.
William Phillips 1914 – 1943, Able Seaman, Royal Navy, HMS Beverley
William Phillips 1914-1943 Able Seaman HMS Beverley was killed when it was torpedoed on 11th April 1943 in the Atlantic Ocean whilst escorting a convoy of ships.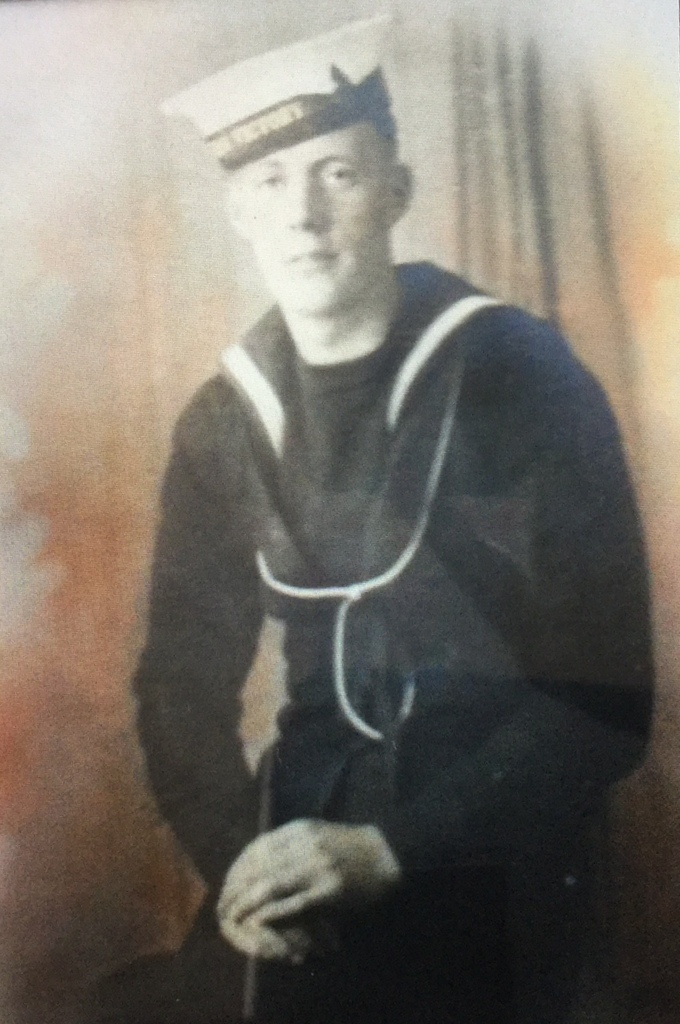 William Phillips was born on 10th December 1914 at 11 High Street, Shotts, Lanark in Scotland. He was the son of James Phillips who was born in Tourtane, Clogh, Castlecomer, Kilkenny Ireland and his wife Bridget nee O'Neill born in Shotts, Lanark, Scotland.
Able Seaman, P/SSX 16711 William Phillips, was killed aboard the H.M.S. Beverley when it was torpedoed and sunk at 0358h on 11th April 1943 in the Atlantic Ocean whilst escorting a convoy of ships. U-188 the submarine that torpedoed the H.M.S. Beverley was captained by Kptlt Siegfried Lüdden.
Convoy ON 176 left Liverpool on 31st March 1943 at 1430 GMT. It consisted of 41 ships and was met by the Royal Navy escort at 1800 on 1st April in position 55.40 N, 06, 30 W. The Royal Navy escort consisted of B.4. Escort Group, HMS HIGHLANDER, HMS BEVERLEY, HMS VIMY, HMS ANEMONE, HMS ASPHODEL, HMS PENNYWORT, HMS ABELIA and HMS CLOVER.
The weather was poor on 2nd April and visibility was poor owing to fog and drizzle. The weather improved by the morning of 3rd April and the convoy's oilers were warned to be ready to fuel the Royal Navy escorts as soon as the swell moderated. This unfortunately did not occur, but arrangements were made to station the oilers one and a half miles ahead at daylight, Sunday 4th, with a view to fueling HMS BEVERLEY and HMS VIMY. Unfortunately the weather worsened and no opportunity of fueling occurred from 3rd to the 7th April.
During the 4th and 5th April strong Westerly gales were experienced with poor visibility, and the convoy straggled badly in depth, but owing to excellent work on the part of the flank escorts, HMS ANEMONE, HMS ABELIA and HMS PENNYWORT, only one ship, S.S. STANLODGE, lost touch with the convoy apart from those that made for Clyde (C. Carrel and Helder), and Iceland (W. L. Smith), with weather damage.
H.M.S. ships VIMY and BEVERLEY were detached to Iceland to fuel at 1830 on the 5th April as the chances of fuelling at sea in the immediate future appeared remote and it was estimated that they would be able to rejoin convoy before it passed outside the range of air cover.
HMS HIGHLANDER's Asdic set was put out of action during the forenoon of April 5th, entirely owing to a bad error in judgement on the part of its Commander.
It was blowing hard with a fairly rough sea and the Commander Day was anxious at the time about the position of the two U-boats placed S.E. of Iceland in Admiralty's situation report, as one or both had been heard making weather reports during the night of the 4th-5th, bearing 045 degrees from the convoy. In fact one must have passed close astern of the convoy, as a sighting report from SC 124 was intercepted at 2317 5th April when this convoy was within 100 miles to the South West of ON 176.
After a quiet night the wind started to freshen on the morning of the 7th, but it was decided that fuelling must be attempted before passing beyond air cover. Oilers LUMINETTA and HENTE MAERSK were stationed one and a half miles ahead between columns and HMS ANEMONE and HMS ABELIA were ordered to take in sixty tons of fuel each. Once connected up, this was most expeditiously supplied with both ships receiving over sixty tons in just over half an hour's pumping.
HMS HIGHLANDER followed HMS ANEMONE on Luminetta, and HMS ASPHODEL endeavoured to connect with Hente Maersk, but with a rising wind and sea failed to do so. HMS HIGHLANDER obtained 34.7 tons in twenty two minutes before the hose parted on the oilers roller fair lead, after a particularly heavy yaw. It was noticed that after connecting up, the steering of Luminetta became erratic, which suggests that the chief quartermaster probably turned over the wheel once the hose was connected or at least a change of helmsmen took place. Apart from this both oilers were excellent and the rate of supply most satisfactory. HMS HIGHLANDER's one extra day's fuel was to prove invaluable during the period of attacks from 10th – 12th April.
HMS ASPHODEL subsequently obtained sixty tons from Hente Maersk p.m. 11th April during a lull in the battle. Detailed reports in accordance with Londonderry General Orders are attached.
HMS VIMY and HMS BEVERLEY rejoined the convoy at daylight 8th April in position 59.25 N. 32.32 W.
Dense fog was experienced during the greater part of April 9th and the convoy became somewhat scattered, but only Margaret Lykes failed to keep touch. Shortly after noon a fair break for nearly one hour enabled thirty four ships to reform.
At 2130 the fog again lifted and H.M.S. BEVERLEY closed H.M.S. CLOVER in position 'C' to pass her some diphtheria serum. Unfortunately the fog closed down again very suddenly before HMS BEVERLEY had regained her station and at 2210 she reported being in collision with S.S. Cairnvalona at 2206 in dense fog. HMS Beverley was holed at 19 Station starboard, fore shore with the Petty Officers' Mess and one Oil Fuel Tank flooded. Her Asdic and D G Gear were out of action as a result of the collision. Bulkheads forward of 12 and aft of 26 intact and she remained with the Convoy.
Just how this can have occurred is not clear, and will now never be known, but as far as could be seen ships on the starboard aide of the convoy were in fairly good station at the time.
HMS BEVERLEY reported that she had been holed forward on the starboard side, but was capable of up to 15 knots in calm weather and could remain with convey and later that only her A/S and D.G. gear were out of action. She was ordered to remain with convoy, in position 'E' where she would be up moon from the convoy for the greater part of the night.
Convoy ON 176 formation before the attack:
| | | | | | | | | | | | | |
| --- | --- | --- | --- | --- | --- | --- | --- | --- | --- | --- | --- | --- |
| | ASHPHODEL | | | | | HIGHLANDER | | | | | ABELIA | |
| VIMY | 01 | 03 | 04 | 05 | 06 | 07 | 08 | 09 | 010 | 012 | 013 | BEVERLEY |
| | () | () | () | () | () | () | () | () | () | () | () | |
| | () | () | () | () | () | () | () | () | () | () | () | |
| | () | () | () | () | () | () | () | () | () | () | () | |
| | | | () | () | () | () | () | () | () | () | () | |
| PENNYWORT | | | | () | () | | | | | | | CLOVER |
| | | | | | | ANEMONE | | | | | | |
Columns five cables apart. Ships in Column four cables apart.
The first intimation that U-boats were in the vicinity was the receipt of an H/F D/F bearing at 1010 on 10th April. From about midday on this day until daylight on the 12th, the convoy ON 176 was shadowed and reported. It is estimated that 10 or 12 U-boats were in the vicinity of the convoy during this period, and that seven attempts were made to attack it. Of these only one got past the escort, and that owing to a bad appreciation on the part of the Commander.
H.M.S. "CLOVER"
Note as to Survivors picked up from H.M.S. "BEVERLEY" on night of 10/11th April, 1943.
Following were picked up:
BRAILLARD, C.G. P.O. P/J. 110872
TRUSWELL, G. A.B. P/JX 217419
WATLING, J.M. A.B. P/JX. 201890
HORTON, R.J. A.B. P/JX. 178847
COPPARD, A. A.B. Dead
GREENLAND A.B. Dead
CRABBE, B.A.R. E.R.A. P/MX. 60366 Died on Board
C. G. BRAILLARD P.O. (T.1.) stated he was the Petty Officer of the watch when "BEVERLEY" was torpedoed. After operation "BERRY", action stations were secured. At approximately 0325 (GMT) Braillard had examined watertight doors and bulkheads forward, and went to the galley on the upper deck. About ten minutes later, approximately 0340 he put it, "BEVERLEY" torpedoed. He stated that, he considered she was hit by one torpedo on the port side between the foreword and aft Boiler Rooms.
All lights went out and the ship developed a big list to port. He went out on deck and found the Port Carley floats awash and then went to the Starboard Carley floats to cut them adrift. Before he had time to cut the lashings the ship went down and he was taken down also. He estimated that the ship sank in under one minute from the time she was hit. No Carley floats or boats got away.
He came to the surface and found a lifebuoy near him. He then saw "BEVERLEY'S" bows sticking up out of the water and as if about to come down on him, the bows then went under.
He said that there were at the most about 20 persons in the water as far as he could tell; after 2 or 3 minutes someone suggested forming a group. A group was then formed round a calcium flare attached to a raft and the group kept together until a large amount of wreckage split up the group again.
Then he saw "CLOVER" coming up and observed "CLOVER'S" D/C attack.
Braillard states that all Depth Charges stowed on deck (30 in number) were kept set to safe with primers "Home" in 20 but "Safe" in remaining 10. All D/C's were secured by wire spans.
He himself heard no depth charge explosions after the explosion of the torpedo.
In the sinking of H.M.S. BEVERLEY the Western Approaches Command has suffered a serious loss. The ship herself was old, and her days for ocean escort work were nearly done, but the almost total loss of her highly efficient, well trained and well led company was a grave misfortune.
HMS Beverley's Loss was announced by BBC 1st May 1943.
URGENT No. 836
OFFICIAL ADMIRALTY COMMUNIQUE
The Board of Admiralty regret to announce that the destroyer H.M.S. BEVERLEY, (Lieutenant Commander Rodney A. Price, R.N.) has been lost. The next of kin of casualties have been informed.
ADMIRALTY, S.W.1.
Commander Day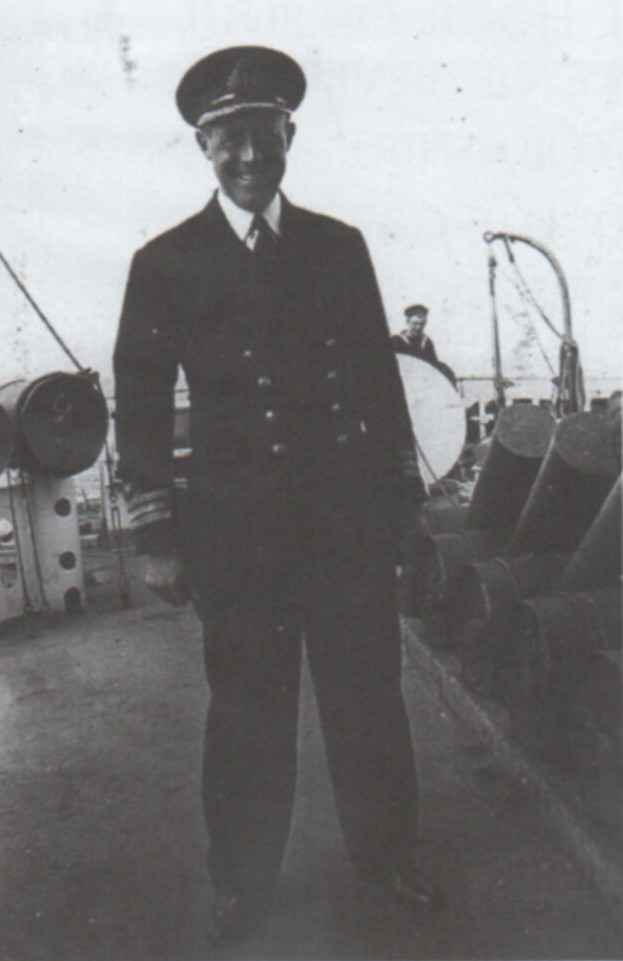 1st May, 1943
Commander Day reported that:
The loss of HMS BEVERLEY is deeply felt by us all. Personally having spent the month HMS HIGHLANDER was refitting in that ship, I knew both her Officers and Ship's Company better than any of the group; her Commanding Officer had for the past five months undertaken for me the organisation of training boards for higher rate, where he rendered invaluable service to all ships in the Group, and as our Group Training Officer he will be very greatly missed.
That the U-boat that torpedoed HMS BEVERLEY should have been the only one undetected is deeply regretted; but the study of the plot gives same evidence to suggest that this was the same U-boat that was fixed at 1113 on 11th April and attacked and sank Lancastrian Prince next night, there being a certain similarity in the position and speed of both attacks.
Commander in Chief, United States Atlantic Fleet
UNITED STATES FLEET
Headquarter of the Commander in Chief, Navy Department, Washington D.C.
4 Jun 1943
U.S. CONFIDENTIAL
BRITISH SECRET
From: Commander in Chief, United States Fleet and Chief of Naval Operations
To: First Sea Lord and Chief of Naval Staff
Subject: Loss of HMS Beverley
The Commander in Chief, United States Atlantic Fleet, joins with me in conveying to you our appreciation of the services of HMS BEVERLEY and our regret for her loss together with so many of her gallant company.
The aggressive tactics employed by the escorts of Convoy ON-176 enabled this convoy to pass through a heavy concentration of submarines with relatively light damage. The success of the operation reflects credit on the training and efficiency of the escort commander, officers, men and ships engaged.
E.J King
70th Anniversary Commemoration by HMS Edinburgh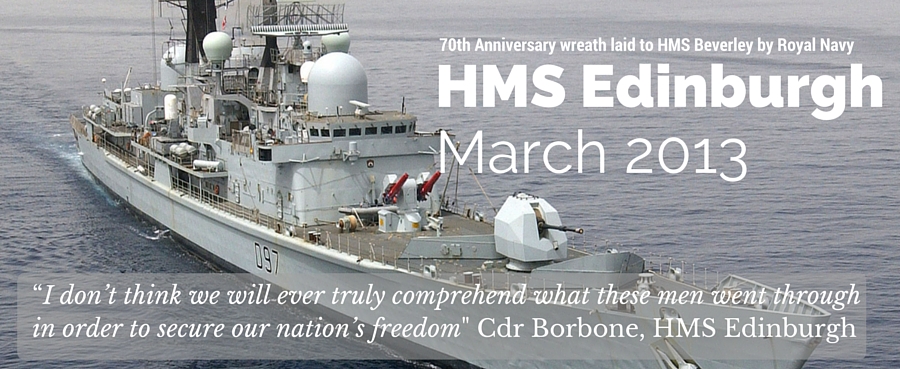 HMS Edinburgh Lays Battle Of The Atlantic Wreath Mid Ocean
On a cold March day in the mid Atlantic the Ship's Company of HMS Edinburgh laid a wreath in memory of the thousands of sailors who lost their lives in the Battle of the Atlantic.
HMS Edinburgh is on her way home following a six month deployment around the Atlantic. The wreath was laid at the site where HMS Beverley sank in 1943, taking all but four of her crew with her.
On completion, Cdr Borbone said:
"I don't think we will ever truly comprehend what these men went through in order to secure our nation's freedom.

"Thousands of sailors crossed the Atlantic in constant fear of enemy warships and U boats, they lived with this threat day and night."
http://www.royalnavy.mod.uk/news-and-latest-activity/news/2013/march/25/130325-hms-edinburgh-lays-battle-of-the-atlantic-wreath