John William Cumberpatch aka John William Staines 1886-1936. Private 1st Btn Leicestershire Regiment and 1st General Btn Notts & Derby Regiment in WW1.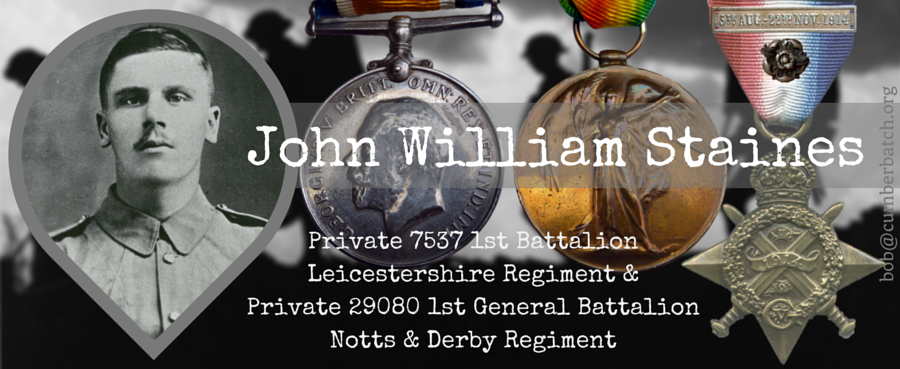 John William Cumberpatch aka John William Williams aka John William Staines
Brief notes of family Remembrances of John William STAINES 16th January, 1886 – 18th March, 1936.
By G.R. Deakin (nephew of John William Staines) April 2002.
John William first saw the light of day in the Union Workhouse, Northampton. Two years later his mother married James William Staines who became his Stepfather and gave him his family name. His mother's maiden name was Cumberpatch, but in further research, her Marriage Certificate in 1888 showed that she had added Williams to her surname – Mary Ann Cumberpatch Williams. Did she name John William Cumberpatch (now Staines) using the name of his father John Williams as his forenames?It would appear that Grandmother Cumberpatch, whose maiden name was White, was married to a Shoemaker whose kinfolk came to Leicester to work in the shoe industry bringing in young Mary Ann and her son John with them. At this time of the century most of the workers in the shoe industry and allied trades were settled in the Parish of St. Margaret. By 1888 the Parish of St. Margaret boasted another Church called Christchurch dealing with christenings and marriages where Mary Ann joined in matrimony with James William Staines thereby giving a form of acceptance of John William into the Staines dynasty, already a proud family of artisans who could boast a number of their ancestors who were Freemen of the City of Leicester, and indeed can still record family members in the year of 2002.
Mary Ann Staines, as she now was, eventually had seven children, starting in 1890 with Job, John Henry, Florence, Ethel, George and Lillian.
My mother, Lillian, told of the many escapades involving John William Staines. She said he had "a wanderlust" and she never believed there was any other reason for his devilment, but it is not very hard to imagine the feelings of one who is a stepchild and who has acquire a father of proud disciplinarian quality.
The 1891 Census describes him as a "Lodger" at five years of age when, in fact, he is a member of a family that is already growing. Many times John William Staines would stay away from home all day and night and would often be found in the early morning hours, asleep in the lavatory situated down the end of the backyard of their house in Western Road, Leicester. On other occasions John William Staines could be seen diving into the Canal by the Western Boulevard and playing at life saving his friends. There were many times when his Stepfather would have to walk to Glen Parva to collect him after he had "marched" with the Band of the Leicester Regiment as they marched out of the Magazine in Newarkes, Leicester.
From the family stories, nobody realised that John William Staines was two years older than the married period of their parents. Such was the subterfuge involved that, when one day he never returned home, Mary Ann told her other children that a nearby neighbour had signed his Enlistment Papers because he was underage for Army Service! In fact he was eighteen years old and no longer needed anyone's permission to enlist. Within a few months John William Staines was with the 2nd Battalion Leicester Regiment in India, and no doubt they must have been the happier days in his early life. In 1908 the sad news came to him about the tragic drowning of his younger stepbrother George, to whom he was fairly close.
John William Staines was a more restrained character by all accounts and no doubt Army discipline had made its influence felt. Education seems to have been foremost in his early Army days – he was already engaged in the study of elementary Arithmetics and other educational subjects, even to the extent of gaining a Diploma at Bangalore in the role of Nursing Orderly. It is quite probable that he felt at home in his Army career and was quite able to take the "hard knocks" of life more easily. By 1912, Army life came to an end and he returned to England to find the Staines family had left his old haunts of Western Road and were now ensconced at 131 Wilberforce Road, Leicester. In the month of August, 1913, John William Staines to himself a bride called Florence Hemsley. He was 26 years, she was 27 years and by the following year they had the first addition to their family – daughter. It wasn't very long before the Great War broke out and as a Reservist he was called to the Colours once more. This time he was seconded to the Notts and Derby's Regiment – The Sherwood Foresters and before long with the B.E.F. in France. By the month of October in 1914 he had been wounded in action which took him back to Blighty where he stayed in the American Hospital at Paignton in Devon. As a result of his wounds he was medically downgraded to B1 and sent to Egypt with the B.M.E.F. ostensibly to guard the Suez Canal. It was there that, in a Canalside café he met his stepfather, who at the age of 46 was a Rifleman in the 1st Batt. London Rifles. The meeting was but brief as both men were enroute to various parts of the Country. This was to be the last time that John William Staines would see his stepfather. Rifleman James William Staines was accidentally killed whilst on duty at the Military Rifle Range in the month of May, 1918, aged 49 years. He now lies in the Military Cemetery at Ramileh [Remleh] in Israel. In 1919 only one member of the Staines family returned to England to the new found peace – John William.
Three more children, another daughter and two sons came when the Great War had ended. By this time John William Staines was making his home in the township of Coalville. His occupation is not known but it is likely that he sought work with the LMS Railway Company. Family life must have been hard in the depression years of the Twenties – already his stepbrother George was long gone in the tragic drowning of 1908 and the death of his Stepfather in 1918. Still misfortunes of life were to dog him.
By 1927, his stepbrother Joseph (Job), beset by the horror and shellshock of War in Europe, took his own life by drowning in the River Soar not far from the family home.
The final straw came with the infidelity of his wife who left him for pastures new leaving him to care for his four children. Unable to cope with the burden John William Staines had to put his children into care for adoption. To this day, the writer still seeks to find some evidence of their existence. By this time he became a Railway Shunter. He left his home in Coalville and came back to lodgings in Leicester. Holidays were taken in the form of free travel on his Railway Pass – once again he became a free spirit.By 1936 he had been taken ill with stomach cancer and in a short while he departed this life. The Death Certificate merely states 'cancer of the colon' but members of his family claimed the surgeon had removed minor shrapnel fragments during his early treatment. He rests quietly in an unmarked grave in Welford Road Cemetery, Leicester.
G.R. Deakin (nephew of John William Staines) April 2002.
[Source: DE6515 from the Leicestershire Record Office 22 May 2015.]
Third Class Certificate of Education
Awarded on the authority of the H E the Commander in Chief in India
To No. 7537 Private J.W. Staines
2nd Battalion Leicestershire Regiment On the recommendation of Inspector of Army Schools Lieut W.G. Fairbrother
Attainments
Arithmetic: First four Rules, Money Avoirdupois Weight and Lineal Measure Simple Addition & Subtraction of Vulgar Fractions
Writing from Dictation: Proficiency in Writing Regimental Orders
Composition – Writing a simple letter
28 Oct 1910
DE6515 from the Leicestershire Record Office 22 May 2015.
CERTIFICATE
This is to certify that No 7537 Private STAINES J.W. 2nd Leicester. Regiment has undergone a course of instruction in nursing duties
He has passed an examination at Bangalore on 27th March 1912 according to Regulations and is hereby qualified to perform the duties of a nursing orderly.
Degree of proficiency: Very good
Station: Bangalore
Date: 28 May 1912
DE6515 from the Leicestershire Record Office 22 May 2015.
To
Pte 7537
J.W. Staines
1st Leic Regt
American Hospital
Paignton
Devon
1 Nov 1914
131 Wilberforce Rd
Leicester
Dear Will,

Received your letter from Southampton & last card from hospital, now we are all glad to know you have settled down in hospital & comfort after the weeks of straw & hardship, I and mother & all sorry to hear you had come to grief, should very like to know the nature of your wounds serious or not we sent you a parcel abroad did you receive the same your last letter implies to me you are still happy & not down hearted, that is characteristic of yourself & the metal that our gallant army is made of. Seems to me twill be a long campaign of hardship and loss of life but we must and shall win in the end, am prepared myself to assist our country if needed, now your mother & all of us t let us know if you need anything and will do what we can to give you comfort. Your wife & baby came to see us last week accompanied by Mr & Mrs Spencer the former was just going back to rejoin after seven days leave, now I know you will keep a stout heart Mother & brothers & sisters including myself wish you a happy recovery to convalescence, now goodbye hoping we shall see you soon.

I remain Yours truly, J.W. Staines XXXXXXX

Source: DE6515 from the Leicestershire Record Office 22 May 2015.
Y.M.C.A. with Mediterranean Expeditionary Force
April 7, 1917
Same address,
Dear Harry,

Well I have just got your last letter – and excuse me not answering same before now you see it's like this I have only just got back from India, to Egypt and regt. Now my dear boy I am sorry to know you have been so unwell, but hope you are better by now. Well you seem optimistic that I shall soon be home now seeing they are forming a new Garrison Batt. at home – for foreign service. But you see our Batt. is a service one, and I do not know whether it will affect us or not. But my dear boy speaking for myself, I wish the thing was over so I could return home & to my former life, if only for your mother's sake, and I am beginning to feel the strain. I hope you will continue to write & comfort your mother, as much as possible – and I know she worries over me. Yes I think the war will end soon, Germans can never stand the strain- much longer, and now the United States have gone against her the end will come sooner than we expect. I am always pleased to have a few lines from yourself, and I very often think of you, and the time when we shall meet again. Now I hope you will excuse these few simple lines, I do not feel in much form for writing at present. So now my lad goodbye for present, remember me to all. And now in conclusion I ask you to believe me to remain.

Truly yours J.W. Staines

DE6515 from the Leicestershire Record Office 22 May 2015.
WW1 Medals
1st Battalion LEICESTERSHIRE REGIMENT
88
ROLL of INDIVIDUALS entitled to the Decoration granted under Army Order 350 of 1917 [1914 Star]
| | | | | |
| --- | --- | --- | --- | --- |
| Regimental No. | Rank | Name | Date of Disembarkation | Remarks |
| 7537 | Private | STAINES John William | 9 Sep 1914 | Notts & Derby 29080 31 Jul 1915 (Private) |
John William Staines' WW1 1914 Star
Lichfield, 17 Jun 1918
NOTTINGHAMSHIRE & DERBYSHIRE REGIMENT
2090.B.
ROLL of INDIVIDUALS entitled to the Victory Medal and British War Medal under Army Orders 301 and 266 of 1919
Regimental No.

Rank

Name

Unit (in order)

Remarks

29080

Private

STAINES John William

7537 1st Battalion Leicestershire Regiment

29080 1st General Battalion Notts & Derby Regiment
John William Staines WW1 Victory & British War Medals
Lichfield, 7 Oct 1920
WW1 Medal Index Card
Campaign: British Expeditionary Force 1914
(A) Where decoration was earned
(B) Present situation
Name
Corps
Rank
Reg. No.
Roll on which included (if any)
(A) STAINES
1st Battalion Leicestershire
Private
7537
F/2/1/88
(B) John William
Notts & Derbyshire Regiment
Private
29080
1st Battalion Leicestershire
Action taken
B389 British War & Victory Medals F/103B12 Page: 2090 24 Aug 1921
C 429 14 Star F/103B12 Page: 88 28 Mar 1919
Disembarkation Date.
9 September 1914
(6 34 46) W234-HP5590 500,000 4/19 HWV(P240) K60S
Correspondence
WW1 Medal Index Card of John William Staines