Archie Frederick Flack Private 2nd Battalion Essex Regiment. Aged 20 he died in France. This is his very mobile war to his death when soldiers become entrenched.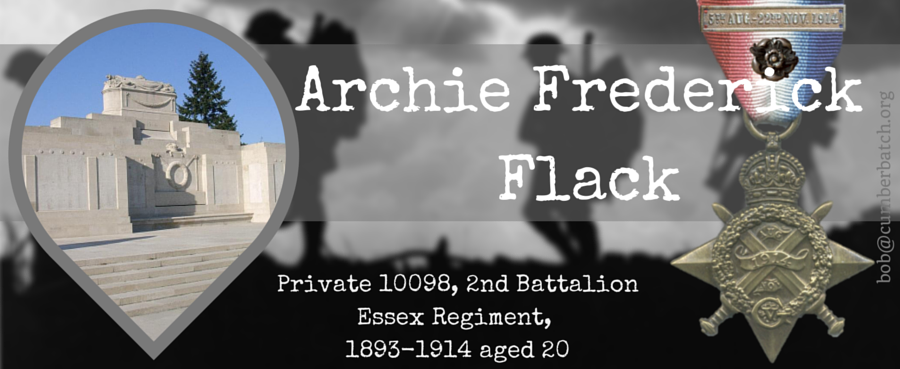 Archie Frederick Flack Private 2nd Battalion Essex Regiment
Archie Frederick Flack Private 2nd Battalion Essex Regiment. Aged 20 he died in France. This is his very mobile war to his death when soldiers become entrenched.
Archie was the son of Henry Septimus Flack and his wife Eliza Caroline nee Brenton. He lived at 67 Fourth Avenue, Manor Park, West Ham, London but is not commemorated on the war memorial there. He enlisted at Stratford, London and was a painter and paper hanger by trade. He became Private 10098, 2nd Battalion, Essex Regiment.
His brother Ernest Septimus Flack served with the 1st Battalion Essex Regiment and would see action and become wounded in Gallipoli.
Archie died on 15th September 1914 whilst improving trenches at Sainte Marguerite, France during the first battle of Aisne. This was the very start of British and German soldiers being forced to dig trenches due to the stalemate and would become one of the lasting hallmarks of WW1. Archie is commemorated at the La Ferte-Souse-Jouarre Memorial in France.
He was entitled to the 1914 'Mons' Star, the British War and Victory medals.
Essex Regiment War Diary Extract
4th Division 12th Brigade War Diaries 2nd Essex Regiment
Map Marker
Place & Date
Diary Entry
Sheerness 4 Aug 1914 5pm
While at Sheerness on Precautionary Period received order to Mobilize
Sheerness 5 Aug 1914 6am
Officers & NCOs to commence mobilization returned to Chatham. Reservists arrived at 1.30am 6th.
Sheerness 6 Aug 1914 9am
Battalion returned to Chatham. Relieved at Sheerness by 8th Middlesex Regiment (T.F.). Reservists arrived at 1.30 am
Chatham 7 August 1914 2pm
Mobilization completed. Ordered to CROMER, leaving at 11.30pm.
CROMER 8 August 1914 8.40am
Arrived. 2nd Train about noon. Billeted at night.
CROMER 10 August 1914 9am
Battalion ordered to NORWICH. Arrived 12 noon. Billeted in Agricultural Hall.
NORWICH 12 August 1914 8am

Left NORWICH and billeted at COSTESSEY HALL.

COSTESSEY HALL 18 August 1914 9am
Battalion moved to HARROW in two trains arriving at 6.20pm & 10.20pm.
HARROW 20 August 1914
Orders to move received.
HARROW 22 August 1914 1.30am
Left HARROW (WEMBLEY PARK STATION) en route for SOUTHAMPTON in two trains, arriving at 7.20am & 10am.
A
22 August 1914 7.20am
Battalion arrived at SOUTHAMPTON and embarked on SS Corsican for FRANCE.
B
23 August 1914 5am
disembarked & marched to No.2 Rest Camp. 10pm Marched to Railway Station to entrain.
C
24 August 1914 8pm
Arrived at BERTRY and detrained.
D

10pm Marched to MONTIGNY.

11pm Arrived at MONTIGNY.
E
25 August 1914 1.30am
Left MONTIGNY. 5.30am Arrived Pt 129 1/2 miles North East of P in PRAYELLE. Hearing firing – gun & rifle heard in direction of QUIEVY, some shells bursting on ridge West of VIESLY. Part XIX Brigade returned through. 8.20pm Lt Colonel Anley C & D Companies left as escort to ammunition column, with orders to halt at BETHENCOURT and wait till the whole of the 4th Division had passed through and then follow on as rear guard, join remainder of Battalion at ESNES.

F

26 August 1914 1.30 pm
A, C & D Companies left BETHENCOURT – route COUDRY-LIGNY-HAWCOURT-ESNES. 3pm C & D Companies delayed for about 1 hour at LIGNY owing to artillery halting in the town & blocking the road so that it was not possible to advance in single file. 4.30am arrived ESNES.

A & B Companies then on hill near Left of LONGSART entrenching. 6am Heavy Gun & machine gun fire opened on A & B Companies – C & D Companies ordered to take up position near sugar factory 3/4 miles South of N in LONGSART to cover retirement. 8am Retirement from LONGSART commenced towards SELVIGNY – Enemy did not pursue beyond wood South of LONGSART with infantry but with gun fire only. 1pm Enemy having apparently evacuated hill an advance was ordered to recover wounded – on arrival at top of LONGSART hill many wounded & killed were found. Enemy opened heavy fire a retirement was ordered. This was very steadily carried out by the Battalion under a very heavy shell fire, in the direction of SELVIGNY.

Casualties – Capt Vandeleur? & 9 men killed, Lt Rownd? (since dead), Lt Smith-Mason? & 40 men wounded, Lt Northey (3rd Battalion) & 98 men missing.

6.20pm Retirement ordered to VENDHUILE – route WALMCOURT – MALIMCOURT – VILLERS OUTREAUX – AUBENCHEULS – VENDHUILE. Battalion advance guard 10.30pm arrived VENDHUILE [G] and billeted.

G
27 August 1914 3am
At VENDHUILE. 5.30am Took up position with INNISKILLING FISILIERS at RAPERIE South of RONSSOY to cover retirement of the Division. 10.30am Battalion was ordered to fall back and take up position on P 144 1 mile South of TEMPLEUX LE GUERARD. 3pm Battalion ordered to fall back to HANCOURT via HERVILLY.
H

5.30 Arrived HANCOURT – A, B & C Companies on outpost. 10.30pm Left HANCOURT for SANCOURT – route VRAIGNES – MERAUCOURT – MONCHYLAGACHE – CROIX – MATIGNY – SANCOURT

I

28 August 1914 10am

Arrived SANCOURT after halting twice for long periods near MATIGNY. All officers kits thrown away at VOYENNES by order of Staff.

J

2pm Left SANCOURT – route OFFOY – cross country to ESMERY – HALLON – FML DEBOIS BRULE – FRENICHES – CAMPAGNE. Halted some time at ESMERY-HALLON Battalion advance guard. 10.30pm Arrived CAMPAGNE and bivouacked. 29 August 1914 9am Left CAMPAGNE along road running along West side of LA CHAPITRE wood.

K

10 am Arrived CHEVILLY and halted for the day. Battalion rear guard & forward posts to the North & East covering halt. 9pm Left CHEVILLY route – 4 CRESSONNIER – SERMAISE – NOYON – PONT L'EVEQUE – SEMPIGNY – V of VILLERS CATTERETS – LES CLOYES

L

30 August 12.30am

Arrived LES CLOYES. 1.25am, Left Les CLOYES – route BAILLY – TRACY – LE MONT – BERNUIL.

M

10pm Arrived BREUIL and bivouacked in street.

31 August 1914 7am

Left BREUIL – route road junction ¼ mile North North West NEUFONTAINES – through FORET DE COMPEIGNE to PARIS road – VERBERIE.

N

10pm Arrived VERBERIE – street blocked with transport – bivouacked.

1 September 1914 7am

Left route – St VAASTS de LONGMENTS across country to DUCY – BARON. Took up position at LA HOTEBORNE to cover retirement. Heavy cavalry engagement to East and North East. 1st Cavalry Brigade suffered heavily in morning while in bivouac.

O

9pm Arrived BARON – road again blocked by transport.

2 September 9.15pm

Left BARON route MONTAGNY – LE PLESSIS – DAMMARTIN.

P

10am Arrived DAMMARTIN & bivouacked. 9.15pm Left DAMMARTIN route on country to main road ¼ mile West of ST MARD – ST MARD – JOUILLY – NANTOUILLET – ST MESMES – MESSY – CLAYE SOUILLY – ANNET – THORIGNY – LAGNY – SERRIS

Q

3 September 1914 9am

Arrived SERRIS after long halt S LAGNY.

4 September 1914 5pm

Left SERRIS route JOSSIGNY – cross roads North of FERRIERES – FERRIERES.

R

8.30 Arrived FERRIERES bivouacked in BARON ROTHCHILDS Park.

S

5 September 1914 2am

Left FERRIERES route PONT CARRE – cross roads 1¼ miles South railway crossing – CHEVRY – BRIE COMPTE ROBERT – river 1 mile South – 1st Waugh with reinforcements arrived. [S] 8.30am Arrived at river, limit of retirement.

6 September 1914 1.30am

Left bivouac South of BRIE COMPTE ROBERT route FERRIERS – JOSSIGNY – SERRIS –

VILLIERS SUR MORIN

DAMVILLE.

T

4.30pm Arrived ¾ South East of

VILLIERS SUR MORIN

DAMVILLE & bivouacked. Halted during day at SERRIS & threw out outposts. Lt Christy with reinforcements arrived.

7 September 1914 11 am

Left bivouac (advance guard) route – VILLIERS SUR MORIN – road junction ¼ mile North West R in MARTIGNY – BOULEURS – COULOMMES – SANCY – LA HAUTE MAISON.

U

8pm Arrived in bivouac ½ mile North East of LA HAUTE MAISON. Surprised 20 Uhlans who withdrew. Inniskilling Fusiliers heavily shelled on our right when going into bivouacs. 2 Lt Irwin & 2 men scouted during the night through PIERRE-LEVEE and town that the enemy had retired. The patrol was fired on from LES SAOTTS FM

V

8 September 1914 6.30am

Left bivouac (advance guard) Halted for some time at LES SAVARTS FME – Moved to road junction ½ miles South West of P in PETIT COURROIS and cooked breakfasts – move across country to PERREUSE CHATEAU to cover Divisional Artillery who were ordered to take up a position to shell LA FERTE where enemy was crossing river – Moved forward across small stream at COURCELLES and bivouacked – slight casualties in D Company & machine gun section.

9 September 1914 5am

Battalion moved out of bivouac & took up a position facing North with left resting on Left of TARTAREL – D Company sent to reconnoitre river crossing at "BARRAGE" South East of CHAMPIGNY. Battalion moved forward with Lancashire Fusiliers to cross river MARNE, halting at VAUHARLIN while wood on East side of river was reconnoitred by Major ___ & d Binstead. Battalion moved in single file through the thick wood to East side of road opposite BARRAGE. Sgt Sharply & 3 men sent forward to reconnoitre BARRAGE & draw the enemy's fire. BARRAGE found to be held – machine gun section a Lancashire Fusiliers machine gun section placed at edge of wood 400yds on right flank to cover advance. Pt Gray returned under fire from Sgt Sharply to show a covered way to BARRAGE – 2 men of Sgt SHARPLEY's party were wounded in going forward. Guided by Pt Gray, Lt Vance & 1 platoon moved forward to BARRAGE crossed by Battalion followed by Lancashire Fusiliers & Rifle Brigade.

W

Battalion bivouacked at road junction ¼ mile North West of CHAMPIGNY RAILWAY BRIDGE at LE SAUSSOY CHATEAU said to be moved but discovered to be only prepared for moving.

X

10 September 1914 9am

Battalion moved to road junction LES DAVID's and halted. 1pm Moved route – main road junction ½ mile West of CHAMOUST – Pt 209 – DHUISY – COLOMBS – HERVILLIERS – CERFROID. Battalion on outpost along road CERFROID – BRUMETZ. Many signs of enemy having made a hasty retirement all along road.

11 September 1914 5am

Left bivouac – halted 2 hours at CERFROID – halted again at MANTIGNY for 1 hour – route MANTIGNY – MAREUIL SUR OURCQ – St QUENTIN – PASSY – NOROY.

Y

6.30 pm Arrived at NOROY and billeted about 7.30.

Z

12 September 8am

Left billets route – CHOUY – LOUATRE – VILLERS – HELON – TIGNY – VILLEMONTOIRE – ROZIERES – LA CARIERE L'EVEQUE. 6.30 Arrived LA CARIERE L'EVEQUE and bivouacked in cave under farm.

13 September 7am

Left bivouac & halted on road for 1 hour, route – BILLY SUR AISNE – VENIZEL – St MARGARITE.

9 am Arrived at VENIZEL and halted in field in village. Enemy began shelling the village with heavy guns dropping one shell into the Battalion wounding Lt Read & 8 men. Battalion crossed the river by bridge which was partially blown up. The advance across the plane to BUCY LE LONG was carried out in extended line at 10 paces interval a 100yds distance a heavy cross shell fire was directed at the Battalion the whole time but the casualties were slight.

a

After halting at BUCY LE LONG to reform, the Battalion moved to St MARGARITE & took up a position along the East side of wood North of St MARGARITE overlooking the CHIVERS valley in which the enemy were entrenched. Lancashire Fusiliers were ordered to attack CHIVERS covered by fire from the Battalion the attack failed. Battalion took up a position along the high ground North of ST MARGARITE with right thrown back along East side of above mentioned wood & entrenched itself. Total casualties for the day – 10 killed – Lt Read & 32 wounded.

14 September 1914

Entrenched position – right all or left front beyond 11th Brigade. Casualties 1 killed, 20 wounded (Mjr Tufnell)

15 September 1914

Improved trenches. Casualties 2 killed – Capt Boone & 15 wounded.

[One of those killed was Archie Frederick Flack].
Source: 2nd Battalion Essex Regiment War Diaries – The National Archives WO 95/1505/1
Medals
2nd BATTALION ESSEX REGIMENT
138
ROLL of INDIVIDUALS entitled to the Decoration granted under Army Order 350 of 1917 [1914 Star].
| | | | | |
| --- | --- | --- | --- | --- |
| Regtl. No. | Rank | Name | Date of Disembarkation | Remarks |
| 10098 | Private | FLACK A. | 22 Aug 1914 | Killed in Action |
Warley, 3 Jun 1918
ESSEX REGIMENT
138
ROLL of INDIVIDUALS entitled to the Victory Medal and British War Medal granted under Army Orders 5 and 301 of 1919.
| | | | | |
| --- | --- | --- | --- | --- |
| Regtl. No. | Rank | Name | Record of disposal of decorations | Remarks |
| 10098 | Private | FLACK A.F. | 10098 Essex Private | |
Warley, 23 Jan 1920