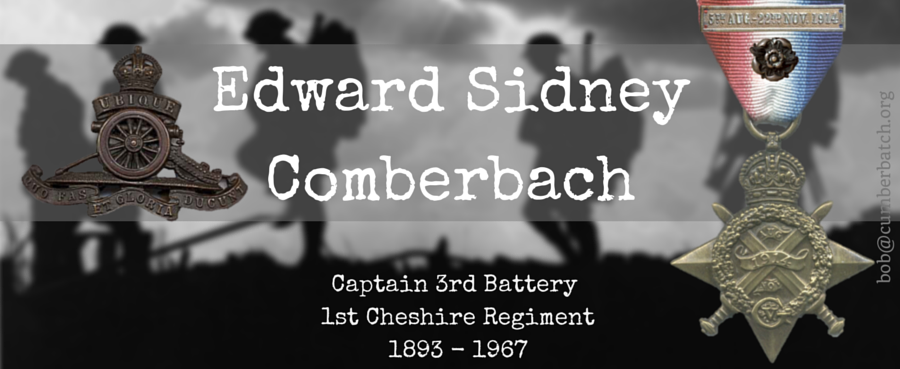 Edward Sidney Comberbach 1893-1967
Captain 3rd Battery 1st Cheshire Regiment Royal Field Artillery
Edward Sidney Comberbach was the son of Edward Stephen Comberbach, a watchmaker, and Jane Amelia Minnie nee Pitt, his wife.
He initially served in the 10th Scottish King's Liverpool Regiment as Private 3224 and progressed to become a Lance Corporal.
He was commissioned as Captain 6 October 1915 in the 3rd Battery, 1st Cheshire Regiment, Royal Garrison Artillery, Royal Field Artillery.
The undermentioned to be Adjts., and to be actg. Capts. whilst So empld.: —
2nd Lt. J. R. Hudson, Spec. Res. 28th June 1917.
Temp. 2nd Lt. E. S. Comberbach, R.F.A. 1st July 1917.
Temp. Lt. E.S. Comberbach, R.F.A., relinquishes the actg. Rank of Capt. On ceasing to hold the apt. of Adjt. 8th July 1919.
Edward Sidney Comberbach married Rosamund Cecile Grace Winckley in 1937 and had two daughters. Edward Sidney Comberbach would later become Pilot Officer 80642, then Flying Officer and Flying Lieutenant in the RAF during WW2.
Medal Index Card
Campaign: 1914

(A) Where decoration was earned.

(B) Present situation.

Name

Corps

Rank

Reg. No.

Roll on which included (if any)

(A) COMBERBACH

10 Sco

xKings2 Liverpool

xPte

L/Cpl

3224

Medal

Roll

Page

(B) Edward Sidney%

3/1 Ches

Bdr

RFA

Victory RGA

*OFF/139

148c

British

do

Do

14 Star

H/2/1

13

Action taken

xOn R&F Roll H/2/102B 52/8703

RGA [Royal Garrison Artillery] Capt* Commission RFA 6 October 1915

I.V. 1077/m d/ 10 Nov 1919

WS/5/34

British War & Victory Medal I.V.X. 2498 d/ 26 October 1922 NW/1/1391

P/144011/1

Qualifying Date.

1 November 1914 W.S. /5/34

(6 34 46) W234-HP5590 500,000 4/19 HWV(P240) K60S

(Over.

15 August 1922 % NW/1/13931

Correspondence

O.C.H.A. Group R.F.A. submits application on behalf of Capt Comberbach 1 December 1917

EF9 returned 21 September 1922

Address: 67th H.A. Group, R.F.A. British Expeditionary Force (BEF), France

C/o Messrs Grey Mourney & Fuller, 9 Staple Inn, Holborn