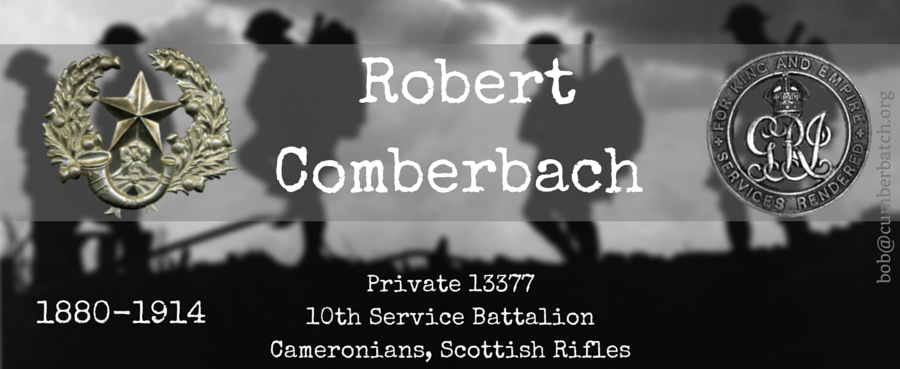 Robert Comberbach Private 13377
10th Service Ballation
The Cameronians, Scottish Rifles
Robert Comberbach was 34 when he enlisted in the 10th Service Battalion of the Cameronians, the Scottish Rifles on 6th September 1914 but was discharged within three months of enlisting as 'unlikely to become an efficient soldier'. He was 5 feet 7 1/4 inches in height, weighed 154 lbs and a labourer when he enlisted and intended to return home to 31 Union Buildings, Blackburn, Lancashire. He had a fresh complexion, with blue eyes and light brown hair.
He was discharged on 19th October 1914 after serving 44 days in the army. The reasons for his discharge were:
Lumbago
Deficient teeth – dyspepsia
Robert married Catherine Tattersal, Spinster, on 12 June 1899 in Blackburn and they had:
Mary Frances Comberbach, born 1899, Blackburn
Hannah Comberbach, born and died 1901, Blackburn
Martha Comberbach, born 1902, Blackburn
Florence Comberbach, born 1904, Blackburn
George Edward Comberbach, born 1906, Blackburn
Robert Comberbach, born 1908, Blackburn
Catherine Comberbach, born 1910, Blackburn
Peter Comberbach, born 1913, Blackburn
May Comberbach, born 1915, Blackburn
Robert died in 1914 shortly after he was discharged.