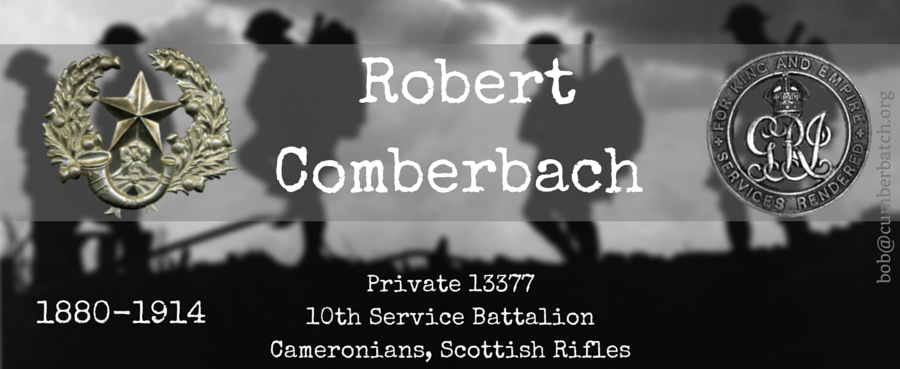 Robert Comberbach
Private 139604 Royal Army Medical Corps
Private 48098 Labour Corps
Private 63260 Liverpool Regiment
Robert Comberbach was born in 1896 in Blackburn, Lancashire, England. He was the son of George Comberbach and his wife Ellen nee Wood.
Prior to joining the army Robert worked at The Prospect Mill, Wharf Street, Blackburn as a Cotton Weaver. Robert Comberbach enlisted on 12 December 1915 and served for 4 years and 2 days spending 111 days with the British Expeditionary Force in France.
He was born in Blackburn, Lancashire and was examined on 21st January 1916 at Preston when he was aged 19 years, 2 months. He was 5 feet 5 inches tall, weighed 115 lbs, had a chest size of 33 1/2 expanded, 3 inch expansion. His physical development: good with his vision being right eye: 6/18 left eye: 6/18. However, he did have a slight problem but not sufficient to cause rejection in that he was diagnosed with a slight left inguinal hernia.
Private Robert Comberbach first transferred to the Private 48098 Labour Corps on 14 May 1917 and as Private 139604 to the Royal Army Medical Corps on 2 March 1918. His hernia was treated in various hospitals including the 13th Stationary Hospital Boulogne; 1st Stationary General Hospital Birmingham & 2nd Western General Hospital Manchester.He was admitted to the Whalley Hospital on 14 August 1917 for 94 days and discharged 16 November 1917 with a double inguinal hernia which was first noticed in April 1917, was visible on left and palpable on the right. hw did not suffer any loss of weight or signs of TB. Nothing abnormal was found with heart and lungs. He was admitted to 2nd Western General Hospital Manchester Hospital on for 55 days and was discharged 22 June 1918. This time his Left Inguinal Hernia was operated on and cured.
Robert was transferred to the reserves on 14 December 1919 from Unit 60 Royal Army Medical Corps. He was awarded an 8 shilling pension for 6 months and he was awarded a gratuity of £30 for a hernia causing disability that he suffered during the war. He suffered from varicocele and was treated for an inguinal hernia. These conditions led to a disability of 20% and the Army Medical Board recognised that these were cause and aggravated whilst Robert served in the army. On being discharged he moved home to 41 Pringle Street, Blackburn, Lancashire.
Diagnosis and particulars of disability on discharge:
He complains of weakness, has a slight left sided varicocele, which he says ballooned & Hernia operation he had a hernia when he enlisted.
Robert Comberbach married Cicely Pinder in 1920. They had:
Fred Comberbach, born 1921, Blackburn
Edward Comberbach, born 1923, Blackburn
Clarice Comberbach, born 1924, Blackburn
Robert Comberbach, born 1931, Blackburn
Medal Index Card
Name.

Corps.

Rank.

Regtl. No.

COMBERBACK

Liverpool Regiment

Private

63260

Labour Corps

48098

Royal Army Medical Corps

139604

Robert

Medal.

Roll.

Page.

Remarks.

VICTORY

RAMC/101B55

4013

BRITISH

ditto

ditto

STAR

Theatre of War first served in

Date of entry therein

K1380

Correspondence.

Address