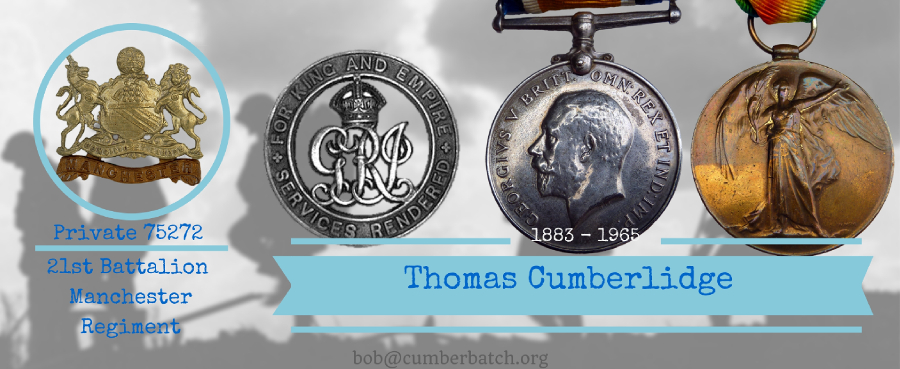 Thomas Cumberlidge 1883-1965
Private 75272 21st Battalion Manchester Regiment
Thomas Cumberlidge was born 21 April 1883 in Lees near Oldham in Lancashire, England. He was the youngest son of James Cumberlidge and his wife Alice nee Ashworth. Thomas worked in a cotton mill as a piecer in 1901. He became a spinner in the mill by 1911.
Thomas Cumberlidge married Eda Barnes on 18 November 1905 in Christ Church, Chadderton, Lancashire, England. They had nine children together:
James Cumberlidge, born, 1907
Alice Cumberlidge, born 1907 and died aged 1 years old.
Emily Cumberlidge, born 6 July 1909
Edith Cumberlidge, born 1911
Doris Cumberlidge, born 20 December 1912
Lily Cumberlidge, born 19 February 1915
Jack Cumberlidge, born 1922
Alice Cumberlidge, born 1925
Arnold Cumberlidge, born 1926
Thomas Cumberlidge joined the 21st Battalion of the Manchester Regiment on 8 December 1915 as private 75272. He served in France between 26 October 1918 and 23 November 1918. He was admitted to the Scottish National Red Cross Hospital in Glasgow on 25 November 1918. He was discharged as medically unfit for war service due to a gun shot wound to his left knee on 7 March 1919. This caused a disablement of 40%. He was awarded the British War and Victory Medals and the Silver War Badge number B193572 and given a pension of 11/- commencing 8 March 1919.
Thomas died in 1965 aged 82 and his wife Eda Cumberlidge died in 1941 aged 58.
WW1 Army Service Record
CUMBERLIDGE Thomas 75272
Name: Thomas Cumberlidge
Address: 1 Newton Street, Cowhill, Chadderton
British Subject: Yes
Age: 32 Years 210 days
Trade: Cotton Spinner
Married: Yes
Served before: No
8th Dec 1915
[Form damaged]
Chest measurement, girth when fully expanded: 35 inches, range 3 inches
INFORMATION SUPPLIED BY RECRUIT
Name and Address of next-of-kin Ada Cumberlidge 1 Newton Street, Cowhill, Chadderton; Relationship: Wife
Particulars as to Marriage
Christian and Surname of Woman: Eda Cumberlidge formerly Barnes Spinster
Place and date of marriage: Christ Church, Chadderton, 18 November 1905
Present address: as above
Initials of Officer verifying entry: verified from cert
Particulars as to Children
Christian names, Date and place of Birth:
Emily, 6 Jul 1909, Chadderton
Doris, 20 Dec 1912, Chadderton
Lily, 19 Feb 1915, Chadderton
MILITARY HISTORY SHEET
Wounded: C1751 Wounded 3 Nov 1918
Medals: BRITISH WAR MEDAL, VICTORY MEDAL
Reference No MBA7364
Sir, I am directed by the Minister of Pensions to inform you of the undermentioned [form damaged] a man whose discharge documents have been recently received with a view to … considered.
To the Officer Commanding
Manchester Regiment. 21st Bn
Rank (for pension): Private
Name: CUMBERLIDGE Thomas
Regiment: 21st Manchester
Date of Discharge: 7 Mar 1919
Age on Discharge: 35
Address on Discharge: 1 Newton Street, Cowhill, Chadderton
Disabilities: Gun Shot Wound Left knee
Degree of Disablement: 40%
Weekly Pension: 11/- from 8 Mar 1919
Allowances for 3 children 6/4 from …
Bonus 20%
Army Form B.5112
RECORD OFFICE, PRESTON, 16 May 1922
I am directed to forward the accompanying British War Medal Victory Medal which has been awarded to you in respect of your services with MANCHESTER REGT
Please complete receipt and return this card. No stamp is required.
166-41-8156
I hereby acknowledge the receipt of the British War Medal Victory Medal
Regtl. No. 75272
Rank: Private
Signature Cumberlidge T
Unit: Manchesters
Date: 18 May 1922
Manchester Regt.
No. 2 Section
Infantry Record Office
No. 3 District,
Fulwood Barracks,
PRESTON
To: Officer i/c
Scot Nat Red C[ross] Gen H[ospital] Cardonald Glas[gow]
Herewith Medical History Sheet (A.F. B.178) in the..
No. 75272 Rank: Pte Name: Cumberlidge…
MANCHESTER REGIMENT. After completion by you please dispose…
Accordance with A.C.I. 371 (Table 2) of 1918.
Please acknowledge receipt hereon.
Received SCOTTISH NATIONAL … GENERAL HOSPITAL, Bellahouston, Glasgow
11 Dec 1918
The Secretary of the War Office presents his compliments to The Officer in Charge No 1 Infantry Record Office, Fulwood Barracks, Preston and is commanded by the Army Council to transmit for such action as may be necessary the document noted in the subjoined schedule on the subject of the claim of Mr T Cumberlidge to the Wilver Ward Badge
Date: 17 April 1919
From: Mr T Cumberlidge
Description: 1 Letter
No. 75272 Name: Cumberlidge T Conduct Sheet
Place: Cleethorpes
Date of offence: 17 Oct 1918
Rank: Private
Offence: Overstaying Final Leave from Tattoo until 9:30pm 22nd Inst: (4 days, 23 hours, 30 mins)
Witness: Cpl Simons
Punishment: 96 hours Detention, dep[rived]d 5 days pay
Dis[charged] 392 XVI 7 Mar 1919
REGIMENTAL CONDUCT SHEET
Regimental Number and Name: 75272 Name: Cumberlidge T
Place: Cleethorpes
Date of offence: 17 Oct 1918
Rank: Private
Offence: Overstaying Final Leave from Tattoo until 9:30pm 22nd Inst: (4 days, 23 hours, 30 mins)
Date of award, or order of dispensing with trial: 23 Oct 1918
…/1898), is forwarded herewith to
T Cumbridge [sic]
In respect of his service as No. 75272 Rank: Pte
Name: T Cumbrdge Corps: M/C
Receipt of the same should be acknowledge hereon
Received: Sep 3rd 1919
Signature: Thomas Cumberlidge
Date: Sep 3rd 1919
Address: No. 1 Newton Street, Cowhill, Chadderton
Enlisted: 8 Dec 1915
Joined: 9 Dec 1915
Manchester Regiment, 3rd Battalion, Posted, Private, 16 May 1918
British Expeditionary Force, 21 Bn, Posted, Private, 26 Oct 1918
21 Bn, Posted, Private, 24 Nov 1918
Discharged no longer physically fit for war service para. 392 XVI KR, Private, 7 Mar 1919
Authority to discharge following G.S.W [Gun Shot Wound] attributable to service
Home Res. From 8 Dec 1915 to 13 May 1918, 2 years 157 days
Home from 14 May 1918 to 25 Oct 1918, 165 days
France from 26 Oct 1918 to 23 Nov 1918, 29 days
Home from 24 Nov 1918 to 7 Mar 1919, 104 days
Total 3 years 90 days.
Total Service towards Engagement to 7 Mar 1919 (date of discharge) 3 years 90 days
Total Service towards Pension to 7 Mar 1919 (date of discharge) / years 298 days
SICK AND WOUNDED N.C.O's AND MEN OF THE EXPEDITIONARY FORCE – FRANCE
No. 1 RECORD OFFICE PRESTON
ADM SCOT NATIONAL RED CROSS GENERAL HOSPITAL CARDONALD GLASGOW 25 NOV. 1918
75272 Pte Cumberlidge T…21st Manchester….. Wounded.
Medal Roll
THE MANCHESTER REGIMENT REGIMENT OR CORPS
8156 B
ROLL of INDIVIDUALS entitled to the Victory Medal and British War Medal granted under Army Orders 266 of 1919.
| | | | | |
| --- | --- | --- | --- | --- |
| Regtl. No. | Rank | Name | Record of disposal of decorations | Remarks |
| 75272 | Private | CUMBERLIDGE Thomas | 21st Manchester Regiment 75272 Private | |
Fulwood Barracks, Preston, 27 May 1921
Silver War Badge
ROLL OF INDIVIDUALS entitled to the "WAR BADGE"
9 May 1919, Fulwood Barracks, Preston
H/2392/1
Manchester Regiment
Regtl No.

Rank

Name

Unit

No. of Badge

Enlistment

Discharge

Cause of Discharge

Whether served Overseas

75272

Private

Cumberlidge, Thomas

21st Manchester Regiment

B193572

8 Dec 1915

7 Mar 1919

Para 392/xvi Kings Regulations

Yes

Age: 35
Preston, 9 May 1919
Medal Card
Name.

Corps.

Rank.

Regtl. No.

CUMBERLIDGE

Manchester Regiment

Private

75272

Thomas

Medal.

Roll.

Page.

Remarks.

VICTORY

H/1/104B40

8156

BRITISH

–"–

–"–

STAR

Silver War Badge List

H/2392/1 11137/1

Theatre of War first served in

Date of entry therein

K1380