Thomas Cumberlidge Private South Wales Borderers Regiment served abroad in WW1 and was discharged medically unfit for War Service on 25 Sept 1919 aged 35 years.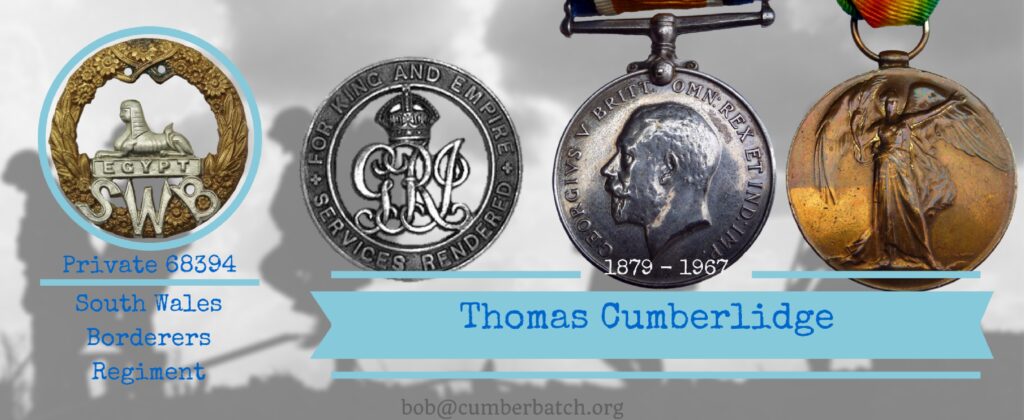 Thomas Cumberlidge 1879-1967 Private 68394 South Wales Borderers Regiment
Thomas Cumberlidge was born 26 April 1879 in Hanley in Staffordshire, England.He was the son of Thomas Cumberlidge and his first wife Mary nee Hambleton. Thomas' mother died when he was just three years old.
Thomas enlisted in the Army on 15 February 1899. He joined as Private 27725 in the 47 Company of the Labour Corps. He later served in the Artisan Company of the Labour Corps. He transferred to the South Wales Borderers becoming Private 68394. He served abroad in WW1 and he was discharged as medically unfit for War Service on 25 September 1919 aged 35 years and 5 months old. He was awarded the British War and Victory Medals and the Silver War Badge.
Thomas Cumberlidge married Margaret Katherine Merritt nee Page in 1905 and they had a daughter Margaret Thomasine Cumberlidge born in 1909.
Thomas was a Joiner for a builder in 1939 and a Discharged Army Pensioner. Thomas died in 1967 and his wife died in 1938.
Medal Roll
SOUTH WALES BORDERERS REGIMENT OR CORPS
5603(b)
ROLL of INDIVIDUALS entitled to the Victory Medal and British War Medal granted under Army Orders 266 of 1919.
Regtl. No.

Rank

Name

Units and Corps

Remarks

68394

Private

CUMBERLIDGE Thomas

Labour Corps Private 27725

Labour Corps

Labour Corp

47 Company issue authorized J/1/101B20 pt2

Artizan Company

Artizan Company
Thomas Cumberlidge's Victory & British War Medal Roll
Shrewsbury, 11 Mar 1921
Silver War Badge
ROLL OF INDIVIDUALS entitled to the "WAR BADGE"
J/2243/1 6 Nov 1919
SOUTH WALES BORDERERS
Regtl No.

Rank

Name

Unit

No. of Badge

Enlistment

Discharge

Cause of Discharge

Whether served Overseas

27725

[68394]

Private

Cumberlidge, Thomas

Depot SWB [South Wales Borderers]

B328121

15 Feb 1899

25 Sep 1919

Para 392 XVI Kings Regulations

Age on discharge: 39y 5m

Yes
Thomas Cumberlidge's Silver War Badge Roll
Shrewsbury, 30th October 1919
WW1 Medal Index Card
Name
Corps
Rank
Regtl. No.
CUMBERLIDGE
Labour Corps
Private
2430
South Wales Borderers
68394
Thomas
Medal
Roll
Page
Remarks
VICTORY
J/1/101B10
5603




Obs[ervation] Unit






K.1380
BRITISH
– ditto –
– ditto –
15 STAR
Silver War Badge List
J/2243/1
Theatre of War
first served in
Date of entry
therein
Correspondence







Address
Thomas Cumberlidge's WW1 Medal Index Card