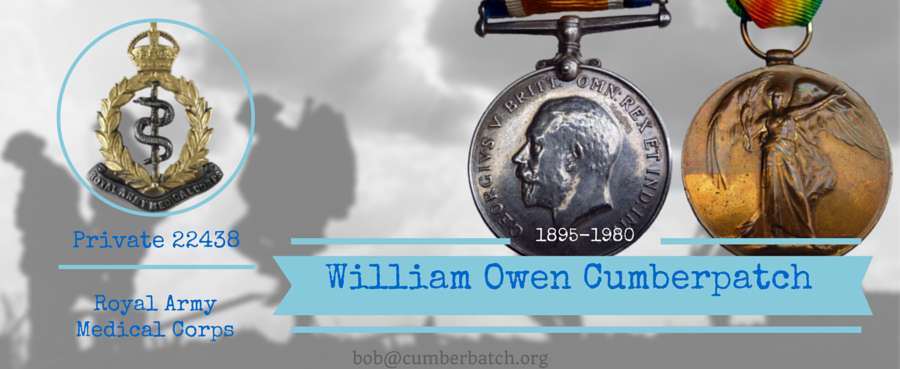 William Owen Cumberpatch
Private 22438 Royal Army Medical Corps
William Owen Cumberpatch was born at Wollaston, Northamptonshire, England on 6 November 1895. He was the son of Henry Alfred Cumberpatch and his wife Fanny nee Wright. William's father died when Alfred was 4 years old. William was a boot maker by trade. William married Florrie Susan Childs in Wellingborough, Northamptonshire in Q2 1920. Florrie died in Q4 1926 and William Owen married Comfort Ivy R Reynolds in 1929. Together they had:
Clarice E Cumberpatch, born 1930 in Wellingborough, Northamptonshire, England
Comfort Ivy R Cumberpatch died in Q4 1969 and William Owen Cumberpatch died in Q4 1980.
Medal Roll
ROYAL ARMY MEDICAL CORPS
B.4954
ROLL of INDIVIDUALS entitled to the Victory Medal and British War Medal under Army Orders 301 and 266 of 1919.
| | | | | |
| --- | --- | --- | --- | --- |
| Regimental No. | Rank | Name | Unit (in order) | Theatres of war in which served |
| 22438 | Private | Cumberpatch, William Owen | 22438 RAMC Private | |
Woking, 3 May 1920
Medal Card
Name.

Corps.

Rank.

Regtl No.

CUMBERPATCH

Royal Army Medical Corps

Private

22438

William Owen

Medal.

Roll.

Page.

Remarks.

VICTORY

RAMC/101B65

4954

BRITISH

Ditto

Ditto

Theatre of War first served in

Date of entry therein

K1380

Correspondence

Address