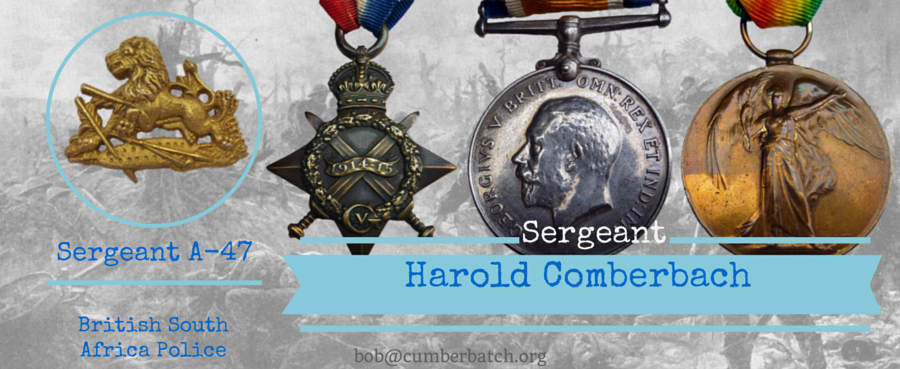 Harold Comberbach
Harold Comberbach was born in 1888 in Macclesfield, Cheshire, England. He was the son of Robert Suker Comberbach and his wife Annie nee Crew. After finishing his studies he became a civil servant. He emigrated from England to South Africa in 1912 travelling aboard the Kinfauns Castle and settled in Rhodesia, which is now called Zimbabwe. Harold may never have known that is great-uncle William Shuker Comberbach, a doctor in the Army of the East India Company, had died in South Africa on 12 June 1853.
Harold joined the British South African Police Regiment in the Southern Rhodesia Column during World War 1. Whilst he enlisted as a Private he was promoted to Sergeant. He fought between 3 Oct 1915 to 1 Feb 1917 and between 30 July 1917 to 23 Sep 1918 in the African Theatre. This included theatres in British East Africa, German East Africa, Rhodesia, Nyasaland and Uganda. For a while Harold was a prisoner of war in German East Africa and was released in 1917. Harold was passed as medically unfit for duty on 27th Dec 1918 and was discharged from duty. He was awarded the 1914-15 Star, British War and Victory medals.
In 1921 he married Rose Le Noie in Bulawayo, Zimbabwe and they have a son Stephen Blois Comberbach. Stephen would later fight in World War Two becoming a Lieutenant in The King's Royal Rifle Corps.
Harold became the Native Commissioner in Rhodesia. This was a governmental position and this post would later become called the District Commissioner after Harold's death. It would also become a military position responsible for security.
Harold died on 3 January 1959 at his home in Wooda, Marandellas, Maranedllas, Zimbabwe, Africa. His death was registered by his widow Rose.
Medal Index Card Harold Comberbach
Name.

Corps.

Rank.

Regtl. No.

COMBERBACH

British South African Police

3/Sergeant

A-47

British South African Police (Southern Rhodesia Column)

*Private

A-47

Harold

Medal.

Roll.

Page.

Remarks.

VICTORY

Col/146B

23

BRITISH

Col/146B

23

15 STAR

*Col/lef6

7

Theatre of War first served in

4(a)

Date of entry therein

3 Oct 1915

K1380

Correspondence.

Address
ROLL OF INDIVIDUALS entitled to the Decoration granted under Army Order 20 of 1919 [1914-15 Star]
British South Africa Police (Southern Rhodesia Column)
Operations – Northern Rhodesia & German East Africa
On Date of Disembarkation

Name

Date of Disembarkation

Remarks

Regtl No.

Rank

A47

Private

COMBERBACH, Harold

3 Oct 1915

Passed Medically Unfit 27 Dec 1918
Salisbury [Harare] 6 Aug 1919
ROLL OF INDIVIDUALS entitled to the British War & Victory MEDAL granted under Army Order 301 of 1919
Reg. No.

Rank

Name

Units

Theatres of War

A47

3/Sergeant

COMBERBACH, Harold

B.S.A. Police

3 Oct 1915 to 1 Feb 1917

African Theatre (a)

A47

3/Sergeant

COMBERBACH, Harold

B.S.A. Police

30 July 1917 to 23 Sep 1918 African Theatre (a)
Place: Salisbury [Harare] 6th Sept 1921