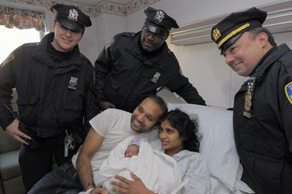 Planes, Trains and Automobiles
Officer Atiba Joseph-Cumberbatch helps with birth of boy on a train.
10:00am Monday 16 January 2012

"Blue Monday" so called due it being believed to be the most depressing day of the year was a "Blue Monday" for a different reason yesterday. NY Port Authority Officer Atiba Joseph-Cumberbatch and his partner Officer Krzysztof Kutarnia were called to help with the birth of a baby on a PATH train heading from New Jersey to mid-town New York City.
By Bob Cumberbatch www.cumberbatch.org
The PATH train was turned into a non-stop express train to get the young couple to hospital in Manhattan. However, when the officers joined the train at 33rd Street the baby had just been born between 23rd Street and 33rd Street stations at 10:00am Monday 16 January 2012.
When Port Authority Police Officer Atiba Joseph-Cumberbatch's son couldn't wait to be born last March, his training came in handy. He helped his wife deliver their son in their car in the parking lot outside Hackensack University Medical Center.
I know with my son, the big thing was clearing out his airway and keeping him warm

said Joseph-Cumberbatch, a four-year veteran who lives in Bergen County, by Steve Strunsky/The Star-Ledger
The parents have nick-named their son "Jhatpat" a hindi word meaning fast, quick, speedy.
Atiba Joseph-Cumberbatch, has been a visitor to this site, and we congratulate you on the birth of your son and on the birth of Jhatpat.

Read the original story by Steve Strunsky/The Star-Ledger