Valentine Val Cumberbatch a professional rugby league player who played in the 1930s & 1940s and played one England game vs France scoring one try for 3 points.
Valentine 'Val' Cumberbatch
Valentine Val Cumberbatch a professional rugby league player who played in the 1930s & 1940s and played one England game vs France scoring one try for 3 points.
Broughton Rangers and Newcastle Player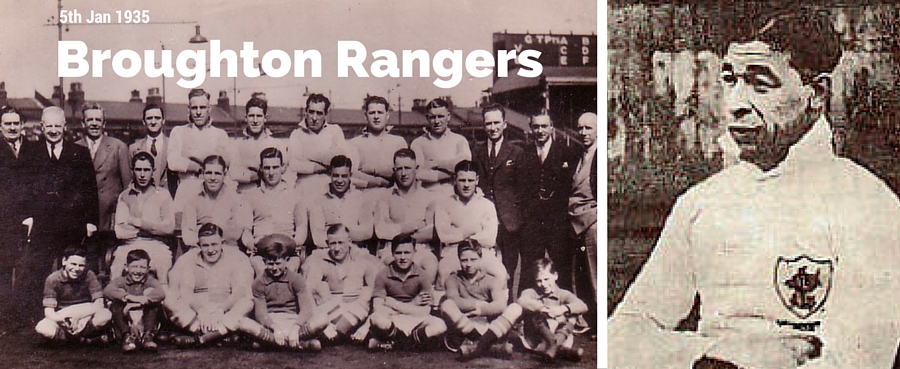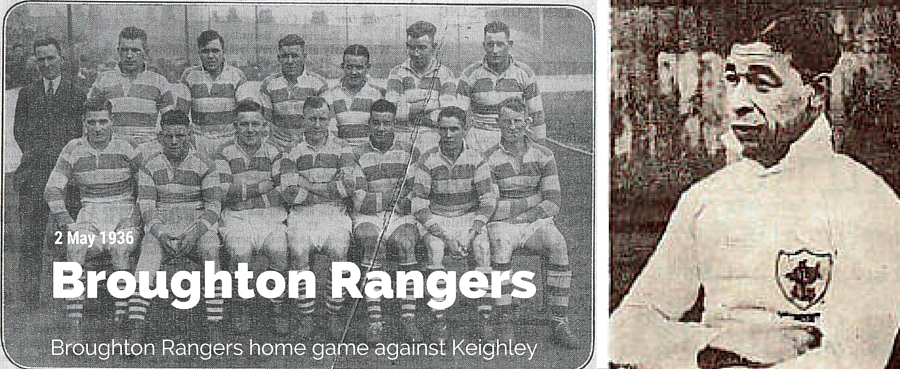 Barrow and England Rugby League Player
Brothers Val and Jimmy Cumberbatch both played rugby league. Val Cumberbatch was a strong and popular player for Barrow and won a single cap for England scoring a try in his international debut against France at Stade Buffalo, Paris on 20 March 1938. Val Cumberbatch played in Barrow's first Cup Final at Wembley in 1938 and in 1947 he and four other Barrow players, the "Big Five", were the beneficiaries of a several testimonial games for their service to the club.
BARROW MAN'S EVE OF CUP FINAL WEDDING
Cumberbatch's Surprise for Colleagues
On the eve of the Lancashire Rugby League Cup Final between Barrow and Warrington, at Wigan, to-day, Val Cumberbatch, the Furness club's wing threequarter, was married.
The ceremony, by licence, took place quietly at St. Mary's Parish Church, Walney Island yesterday. His bride was Miss Mary Lightfoot, daughter of Mr J. H. Lightfoot, of Hall-street, Barrow.
The news came as a pleasant surprise to many of his colleagues and to supporters of the club as they left Barrow, this morning, for Wigan.
BRILLIANT WINGER
Val Cumberbatch, who was born at Liverpool 24 years ago, went to Barrow as a baby, and was educated at Ocean-road School, Walney. He entered the Rugby League game with Barrow Cambridge-street O.B. Today he is regarded as one of the best wing threequarters in the Rugby League game.
He smiled happily this morning, when he received many congratulations and expressions of good wishes for future happiness. He is staying with his mother at his home in Delhi-street Walney, until a new house in Plymouth-street, Walney, is completed in a few weeks' time.
Mrs Cumberbatch did not accompany her husband to Wigan, but she is looking forward to seeing him and his colleagues returning with the cup tonight.
STRONG FOLLOWING
Thousands of Barrow supporters left the town before noon to-day for Wigan.
There was optimism that the recent good form of the Barrow players would be maintained. Just before the club party left Mr John Atkinson, chairman, remarked: "I think we should come back with the cup."
Lancashire Evening Post 23 October 1937
http://search.findmypast.co.uk/bna/viewarticle?id=bl%2f0000711%2f19371023%2f169
Barrow Rugby F.C.
Finalists 1937-1938
Back row: G. RIMMER A.T. W BURGESS H. HALSALL Trainer
Row 3: GREENHALGH BLACKBURN FRENCH SKELLY MARKLEW RAWLINGS
Row 2: McDONNELL THORNBURROW TROUP AYRES McKEATING BARTON
Front Row: HIGGINS LLOYD LITTLE CUMBERBATCH
Barrow's First Wembley Cup Final
SALFORD (4) 7 4 (2) BARROW
Saturday 7 May 1938
| | |
| --- | --- |
| SALFORD | BARROW |
| H. Osbaldestin | F. French |
| B. Hudson | V. Cumberbatch |
| R. Brown | J. Higgin |
| A. Gear | D. McDonnell |
| A.S. Edwards | J. Thornburrow |
| A.J. Risman | L. Lloyd |
| W. Watkins | W. Little |
| H.A. Williams | G.A. Rawlings |
| H.C. Day | D. McKeating |
| D.M. Davies | W.J. Skelly |
| H. Thomas | L.A. Troup |
| P. Dalton | R. Ayres |
| J. Feetham | A.E. Marklew |
| | |
| --- | --- |
| Tries: | A. Gear |
| Goals: | F. French |
| Drop Goals: | W. Little |
Referee: F. Peel (Bradford)
Attendance: 51,243
Receipts: £ 7,474
Cup Presented by Donald Bradman, the Australian Test batsman
Match Report
The strength and superb tactics of the Barrow forwards dominated a game that many described as the worst ever seen at Wembley. Barrow's strategy was simple – they had to control and contain the game with their mighty pack and do their utmost to throw the clever and confident Salford back division out of gear. The Barrow pack monopolised the ball in the first half so successfully that, to some extent, they spoilt the match as spectacle and little was seen of the finer points of the game. The full-backs on each side handled well but were guilty of some very poor, almost aimless kicking for touch, and only very rarely did they start a passing movement. French, the Barrow full-back, handled faultlessly but constantly kicked into touch on the full. One newspaper was scathing in its criticism of the match: 'The game was smash and grab, crash and bang, ten yards run, tackle and play the ball and hardly one concerted movement.'
The showpiece started with a very poor attempt at goal from Gus Risman, following a penalty against Barrow. After eight minutes play Fred French put Barrow ahead from a successful penalty-kick.
Gus Risman put Salford on level terms with a penalty-goal and on the half-hour collected a loose ball well and made himself the space and time to drop a good goal to put the Reds in front.
For the first 30 minutes of the second half, each side attacked furiously but incoherently. Barrow had the best of the play but were unable to score and missed one of the best chances of the game when Cumberbatch was stopped, despite two Salford players lying injured on the ground. With 14 minutes to play, Billy Little collected the ball from a scrum on the Salford '25' and dropped a brilliant goal with his left foot.
The surprise score was the catalyst for a tremendous burst of play from each side and with about a minute remaining, Barrow were penalised on the half-way line. Risman found touch ten yards from the Barrow line with a long, raking kick. One account describes the last few dramatic moments of the game: 'Five or six men jumped for the ball when it came out of the scrum, and there was a fine confused melee, in the course of which it was fumbled and juggled across the field in front of the Barrow goal posts until, finally, Gear dashed in, took the ball on the bounce, forced his way past two tacklers, and threw himself over the line with three men hanging on to him.'
The goal-kick was missed but the try was enough, for there was not even enough time left to restart the game.
Details kindly provided by Lee Cumberbatch grandson of Val Cumberbatch. Val's son Barrie still has the shirt worn by his father in this game.
Barrow Testimonial Game for "Big Five"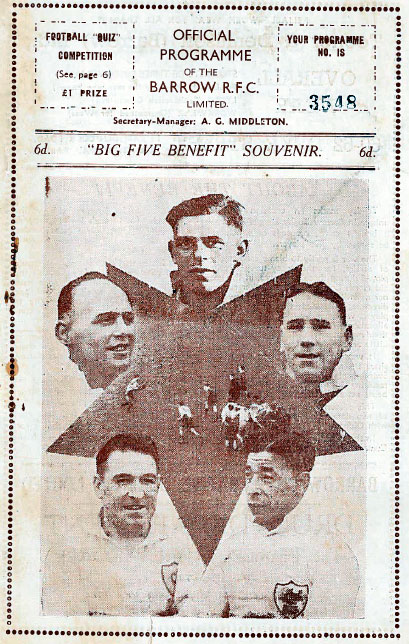 Barrow vs. Oldham
Saturday, 25 January 1947 3:00 p.m. Kick off
About the benefit
Today marks an occasion unique in Barrow Rugby League history – a benefit game, proceeds of which will be shared by five players.
The war is partly to blame for the state of affairs, for the topsy-turvy football played during those years was, in the good old North Country term, "neither summat nor nowt." Last season, the Barrow Club directorate decided that five of their players were worthy of recognition by the allocation of a benefit, and they named their men as Ayres, Cumberbatch, Higgin, Little and McKeating, good players all.
It was decided that these five should share the net takings of the game against Swinton, played on 27th April, 1946, and resulting in the sum of £167 15s 2d being set aside as a players' benefit fund.
This season the players had the offer of two dates, and chose today's fixture with Oldham.
In the meantime, the "Big Five" Benefit Committee came on the scene, and now over £500 extra has been raised by voluntary effort. On today's takings depends the amount of the final cheque handed over to each of the quintet so aptly titled the "Big Five."
It is fitting that such recognition should be paid consistent and really good playing service. Other clubs in the League have joined in helping to swell the fund, and each and every one has paid tribute to the fine sportsmanship of the men concerned.
Cumberbatch is now with Liverpool Stanley, but he is worthy of his share by virtue of his performances for Barrow over a period of years.
In thanking the Barrow Club and the sporting public of the town and district for what has been accomplished, the "Big Five" Benefit Committee feel that they are right when they assert that credit is being given where credit is due. Make it a bumper benefit.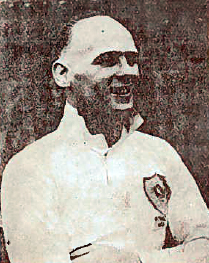 Bob Ayres
The man who always comes up smiling, Club captain during the war years. A product of local football, signed in 1933. Has few equals as a second row forward. International and County player.
Val Cumberbatch
The local intermediate League produced Val Cumberbatch, now with Liverpool Stanley, having been transferred during the war. Still an entertaining player to watch. A Lancashire County winger. Signed by Barrow in 1932.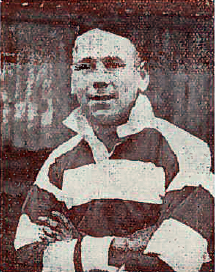 John Higgin
Reliability has been John Higgin's watchword throughout his service with the Barrow Club – and he has been with them since 1933. He learned his football in the Barrow Schools League.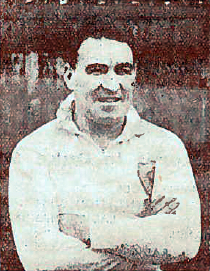 William Little
The man who spelt the end to Halifax R.L. Cup hopes in 1938. Member of a famous Great Clifton football family. International and Cumberland County man.
Dan McKeating
At present on Army service on the Continent, Dan McKeating came to Barrow from Whitehaven in 1932 and proved himself a great hooker. International and Cumberland County player. A top rank man who has given yeoman service to the Barrow Club.
Something About the Clubs
Barrow
Until last season, Barrow was the out-post of the Rugby League. Advent of Workington Town has robbed the club of that doubtful honour, but there are many who envy the firm sway held in this rather remote corner of Britain.
Founded in 1871, Barrow joined the Northern Union in 1896, one season after its formation. Since then they have had three grounds – Cavendish Park, Little Park and the present headquarters at Craven Park, and many ups and downs. Runners-up in the R.L. Cup and Lancashire Cup in 1938, and three times runners-up in the Lancashire League. Barrow are a popular club, and generally rates as attractive opposition.
Fifth in the League last season. Now able to claim four 1946 Tourists in their ranks, in addition to their international and county men.
Oldham
The Oldham Rugby League Club, with headquarters at The Pavilion, Watersheddings, have a good record behind them, and were the first Lancashire club to win the Rugby League Challenge Cup, defeating Hunslet 19-9 at Manchester in 1899. Batley had twice won the trophy before then.
Oldham have since taken it home in 1924-25 and 1926-27, and can claim three League championships, three Lancashire League championships, and have been five times Lancashire Cup winners.
The club was one of the founder members of the Northern Union, and, as a matter of interest, is two years younger than Barrow. In the first six seasons of the Northern Union, Oldham were champions twice and runners-up four times.
Fifteenth in the Rugby League final table last season,. Claim George Gummer, formerly with Barrow, in their playing strengths.
A Tribute from Barrow's Chairman Mr John Atkinson
As Chairman of the Barrow Club, may I add my praise of the five players whose joint benefit falls today. May I say that in my long association with Rugby League football and the local club, I have watched them make progress up the ladder of fame, and become the good club men they undoubtedly are.
The smiling face of Bob Ayres; the steady, reliable play of John Higgin; the mercurial touch that is Val Cumberbatch's; Dan McKeating's remarkable performances as hooker; and the sterling worth of Bill Littler, are all well known to Barrow supported. These men have done – and are indeed still doing – their share for Barrow and the game.
It gives me particular pleasure to recall my visit to Billy Little's Clifton home. Mr. Gabbatt and I, making an approach on behalf of Barrow, found him and five other Littles stripping in the wash-house after a local game. That was my first introduction to a man who typifies the spirit of the men to whom we pay tribute today – sportsmen all.
I say "Thank you" on behalf of the club, and I wish them all well.
Teams for Saturday, January 25th 1947 3-0 p.m. Kick off
Referee: A Holbrook (Warrington). Touch judges: D. Halliday and S. Inman

BARROW (Colour Blue and White)
1 Jones
2 Lewthwaite 3 Knowelden 4 Bowker 5 Francis
6 Horne 7 Bowyer
8 Longman 9 Woods (W) 10 Hornby 11 Ayres 12 Petcher
13 Little

13 Thomas
12 Ayres 11 Shaw 10 Moore 9 Brooks 8 Ogden
7 Smith 6 Rees
5 Large 4 Harris (Capt.) 3 Mahoney 2 Evans
1 Griffiths
OLDHAM (Colour: Red and White)
"May the Game Further Cement The Bonds of Our Friendship"
Mr. Fred Mills, President of the Oldham Club, asked to send a message for inclusion in this souvenir programme, conveys his Club's sincere good wishes for a "bumper" benefit.
He writes:-
"It is with great pleasure that I write to convey greetings and congratulations to our old friends, Barrow F.C., and in particular. To your tried and proved loyal players, Ayres, Cumberbatch, Higgin, Little and McKeating, men who have proved their skill and ability, not only at Barrow, but throughout the Rugby League. On behalf of Oldham F.C. and its officials, I wish to convey our sincere good wishes for a very successful benefit.
"We, at Oldham, feel honoured to be your opponents on this occasion, and are looking forward to our usual pleasant game with you. In sending my personal good wishes, I recall the many occasions on which I had the honour of acting as referee for your games, which bring back many happy memories of when I was privileged to control such worthy exponents of our grand old game as those who today, are to take their well-merited recognition by your Club.
"May it be a 'bumper,' and prove not only a benefit to the players concerned, but be the means of further cementing – if that is possible – the bonds of friendship which, through all these years have so happily existed between Barrow and Oldham.
"Wishing you all a prosperous New Year, and looking forward to being with you today."
Welcome
A grand compliment to the "Big Five." We extend a welcome today to Mr. W.H. Hughes. Chairman of the Rugby League Council. Such was his desire to pay personal tribute to the five players that he has expressed his intention of coming to watch the game, though he landed in England from Marseilles only on Thursday. He was at the France-Wales International on Sunday.
A Message from the Secretary of the Rugby League
"It gives me the greatest of pleasure to write a few words in praise of the contributions made to the Barrow Club, and to the Rugby League in general, by those grand players, Billy Little, Dan McKeating, John Higgin, Bob Ayres and Val Cumberbatch," says Mr. W. Fallowfield, Secretary of the Rugby League.
And Another from the Chairman
"I gladly avail myself of an opportunity to pay a personal tribute to the beneficiaries, all of whom I have known throughout their long and honourable careers in the Rugby League game." Writes Mr. W. H. Hughes, Chairman, R.L. Council.
"The Barrow Club is indeed fortunate to have been able to command the services of such loyal and enthusiastic servants, who by their skill and manly bearing on the field have made a substantial contribution to the progress of our game, not only in their own district, but throughout the League.
"I feel sure the supporting public of Barrow and district will support enthusiastically the efforts being made to pay a well-earned tribute to these fine sportsmen who have 'played the game so well."
Good Wishes
Good wishes for this benefit game have come from others than those actively associated with the code. Instance a letter from a local business house: "We do hope it will be a 'record' day for the benefit." To all these well-wishers the "Big Five" Benefit Committee say "Thank you."
Family
Val Cumberbatch was born Valentine Cumberbatch on 14 February 1911 at 25 Boundary Place, Liverpool, England. He was the son of Theodore Theophilus Cumberbatch, a ship's steward, originally from Barbados and Mary Ellen née Kewin originally from Ramsey in the Isle of Man. Val married Mary née Lightfoot in 1937 and he died on 23 January 1973. Val Cumberbatch won one England cap scoring one try for three points.