The story of John Edward Cumberbatch a mulatto slave in Barbados told by one of his descendants.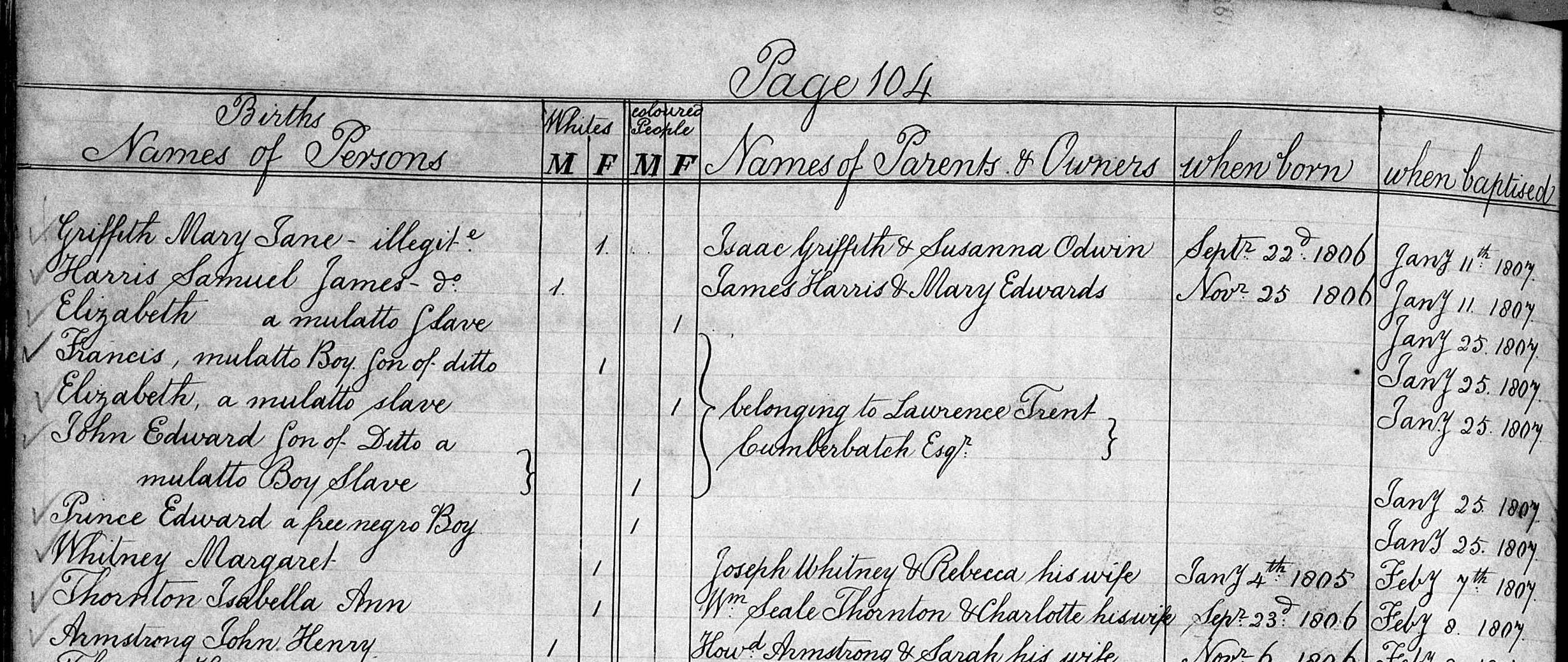 St Peter parish church, Barbados: baptism entry for John Edward a mulatto slave boy the son of Elizabeth a mulatto slave both baptised 25 Jan 1807 along with Francis a mulatto slave boy the son of Elizabeth (possibly later Elizabeth Lavine) a mulatto slave both also baptised 25 Jan 1807 and they are all 'belonging to Laurence Trent Cumberbatch Esqr'.
We get the majority of useful information on John from the will of Lawrence Trent Cumberbatch. Laurence was actually keen to do well by his natural offspring, he left them very well provided for. He left to the 'free coloured persons the house in Speights Town which they [John E and Richard] now reside in with the land whereon the same stands and thereto belonging to them and their heirs. I also give and bequeath to. ..[them] the sum of one hundred pounds current money of this island ………and a proportion of my wearing apparel.
He added to their bequests in three codicils. In his first codicil of the year in which he died, he added extra bequests to his two 'natural' families, the Lavines and the Cumberbatch brothers. He left them an extra one hundred pounds each in addition to the hundred already left to them.
In the second codicil that year he added yet more generous gifts to them, obviously anxious to do well by his natural children. This was particularly beneficial to Lizzie (Elizabeth) Lavine. He added:

'To give unto Lizzie Lavine the house in Speights Town belonging to me………… the same to be repaired lighted and tenantable at the expense of my Estate and a sum of £20 currency to be paid to her quarterly in addition to my legacies in my former Will and Former codicil. [He wished] the remaining tenements and slaves in Speights Town , with the exception of my own dwelling house……………to be sold and the amount equally divided between the surviving sons of Elizabeth Lavine, Elizabeth Cumberbatch deceased, share and share alike. This document to express my additional wishes however imperfect and informal and written under great debility, hurry and agitation.

Will of Laurence Trent Cumberbatch
This is the entry from which I infer that Lawrence had two mistresses called Elizabeth, both with his children. This last codicil in particular, shows his acknowledgement of and concern for the financial wellbeing of his surviving mistress and natural children, even in the last painful weeks when he was near death. There is no record of what John did for a living, but he prospered with Lawrence`s help and encouragement. Lawrence's will freed John from the obligation to repay loans he had made to him, so he had obviously helped John to set up in business of some kind.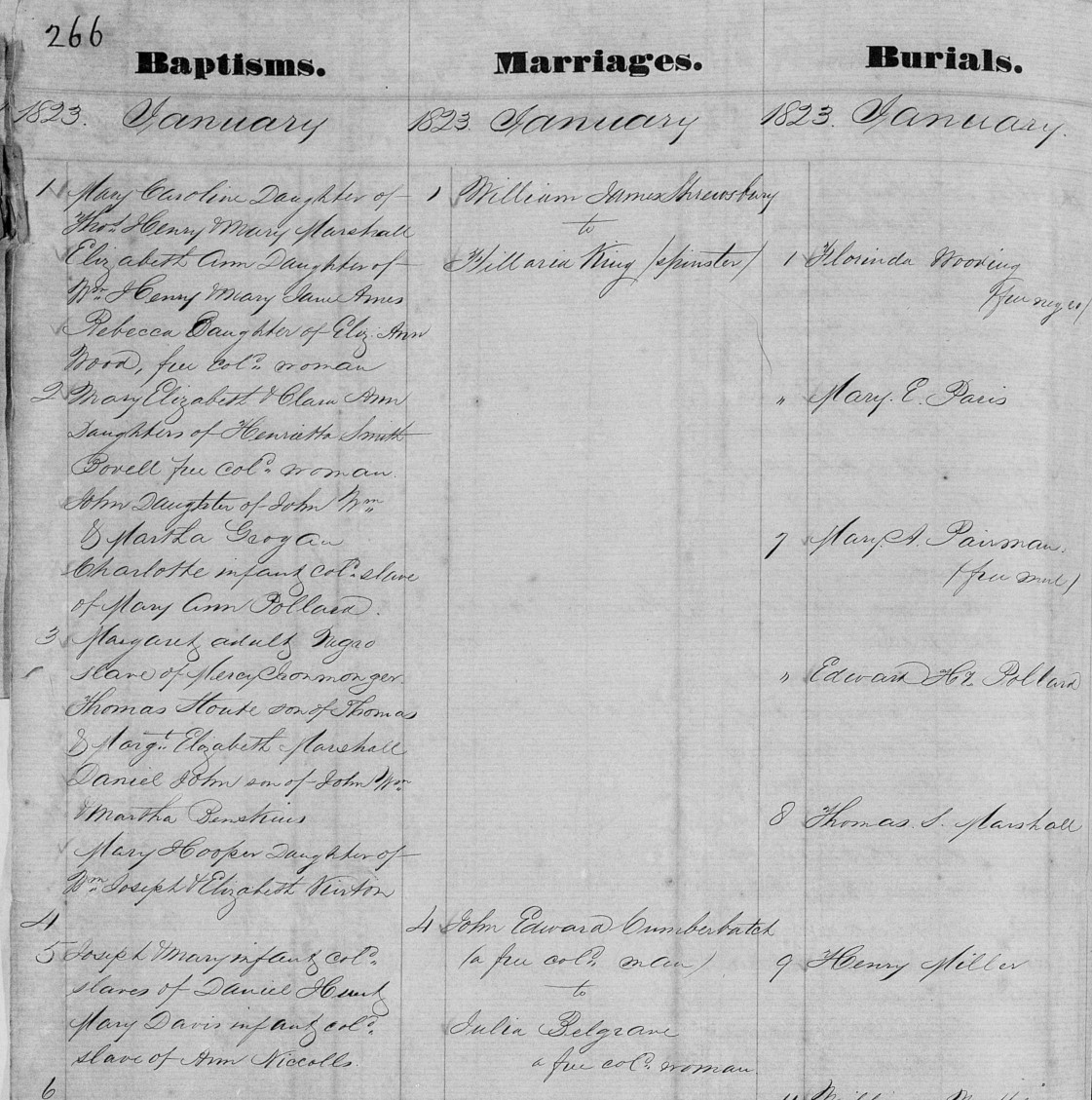 Marriage St Michael's Church Barbados 4 January 1823 John Edward Cumberbatch (a free coloured man) to Julia Belgrave a free coloured woman.
In Jan 24, 1823 John married Julia Belgrave. Julia's coloured Belgrave family were, very unusually, particularly wealthy so one imagines she brought more prosperity to the marriage. This seems to be the foundation on which later generations of Cumberbatches rose up the social ranks to the English upper middle classes and lived on private unearned income. I believe that the source of this modest wealth was not known in the family, it was kept secret.
In 1807 although trade in slaves had become illegal, ownership of slaves continued. Any increase in slave numbers now was through births of children to enslaved women. To prevent illegal importation of more slaves, owners had to register their 'legitimately enslaved' property from about 1819 onwards, with re-registration every two or three years until the abolition of slave ownership in 1834. In spite of John and his mother having been born into slavery themselves, it seems neither felt any scruples about owning slaves. Compared with plantation owners who might have hundreds of slaves, those like John and his brother Richard Cumberbatch who probably had businesses in the town of Bridgetown and small areas of land would be likely to own just a few, as in these examples below. They might be kept for domestic work, or shop work or were sometimes hired out to others.
Records had to be kept of all slaves owned by any person, for tax purposes. They show that in 1832 John registered an increase of 1 from his previous registered ownership of 6 slaves. He had bought Harriet, 32, and James, 5, from the estate of Richard Skinner; Lawrence, 2, was an increase by birth, presumably by one of his existing 6 slaves. That made a total of 9. But in this same period Harriet went elsewhere as did Sally (we don't know where to) leaving John to register possession of 7 slaves in total.
At the final registration of 1834 he owned 3 male and 4 female plus a baby of 4 months. This was the year in which the ownership of slaves was finally abolished. Owners were compensated by the British government for the loss of their 'property', meticulous records of these claims exist. John Edward filed a claim on November 19 1834 estimating their value as follows: Head Domestic Servant, £100, Inferior Domestic Servants, 4 male, 3 female 7 in total, £200. As 5 were children he had no doubt over estimated their monetary value, he was awarded less than his claim, namely £116.10s 4d, on May 23, 1836.
Registers of ownership by coloured people or negroes were kept separate from registers of whites. The following are the slaves numbers owned by listed coloured Cumberbatches at the final 1834 count and included children:
John Edward Cumberbatch of St Peter's, 8; Richard Cumberbatch, 27; Elizabeth, 1; Elizabeth Cumberbatch, 1; Mary Laurentia, 2.
These are only small owners. It was common for small shopkeepers, businesses and householders to own a few slaves. The owners of larger plantations and estates operated on a different scale. For example Lawrence Trent Cumberbatch, recently deceased, owned 361 slaves. His nephew Abraham Parry Cumberbatch, owned 279, the coloured Belgraves had some hundreds of slaves; all received large amounts of compensation from the British government.
To return to John E and Julia, (GGGs) both of whom died young. They had five children, the oldest being John Belgrave Cumberbatch, my GG Grandfather. Julia was the daughter of John Thomas Belgrave, owner of the Adventure Plantation. Their marriage entry records them both as 'free coloured'.
Like many Barbadians, John Edward Cumberbatch did not reach old age, but died in 1838, aged only about thirty eight. He made a will on August 11 1838, obviously ill, signed with his mark, and died 5 days later. His brother Richard Cumberbatch, wife Julia and Francis Cumberbatch, who is probably the Francis also baptised on 25 Jan 1807) were his executors. Presumably he built up his inheritance from Lawrence through hard work and enterprise, as he left 'a considerable fortune' (Handler) to his wife Julia. (RB/4 p270).
This extract from John's will gives an idea of his character and priorities regarding his children:
'In the name of God Amen. I John Edward Cumberbatch of the parish of St. Peter in the island of Barbados, being weak in body but sound in mind do make this my last Will and Testament and do hereby give and bequeath to my beloved wife Julia the whole of my personal property and Estate together with all sums of money that has, or may become due to me at the time of my decease (after the defrayment of my funeral expenses) upon the conditions hereafter mentioned viz:
That the said property be inherited by my beloved wife during the period that she might survive me and that at the time of her decease the said property shall fall to the possession of my four children…………………or to as many of them as shall then live each to share alike in the said property.
That in the case my beloved wife shall again enter into the married state, the said property shall immediately fall into the possession of my four children……..
Should my beloved wife be disposed to remove from her present residence, she is at liberty to sell the house in which I now reside, providing another be purchased with the said money which my Executors may deem an equivalent to the one sold so that my children be under no disadvantage from the exchange.'

John Edward Cumberbatch's Will
He was obviously anxious to maintain the social position his family had striven for. Of his four children, John, George, Thomas and Eliza Caroline, I have been able to trace only John and George surviving into adulthood. His widow Julia died aged 37 in 1841, only three years after her husband. I hope to find a copy of her will. John Edward's determination that his children will not lose out socially in any way was justified, his two grandsons Alphonso Elkin Cumberbatch and Elkin Percy Cumberbatch were to successfully join the medical profession in England, and were solidly members of the British middle classes.
John Edward Cumberbatch's descendants gave us the Cumberbatch Trophy commissioned by Alice Beatrice Martha Cumberbatch and made by Omar Ramsden: https://cumberbatch.org/cumberbatch-trophy-for-outstanding-flight-safety-improvement/ and The Cumberbatch Building, Oxford – https://cumberbatch.org/hugh-charles-cumberbatch-left-300000-to-oxford-university/ which was knocked down in 2019.
---
Epilogue
John's brother Richard Cumberbatch (1812-1882) became a schoolmaster in All Saints School House, St Peter Barbados and he married Annetta Moore (1812-1892) on 25 Nov 1835 at St Peters' Parish Church in Barbados and had at least seven children one of whom was called Richard Lavine Cumberbatch. He has living descendants called Cumberbatch. Richard Cumberbatch is one of the Executors of John Edward Cumberbatch's will.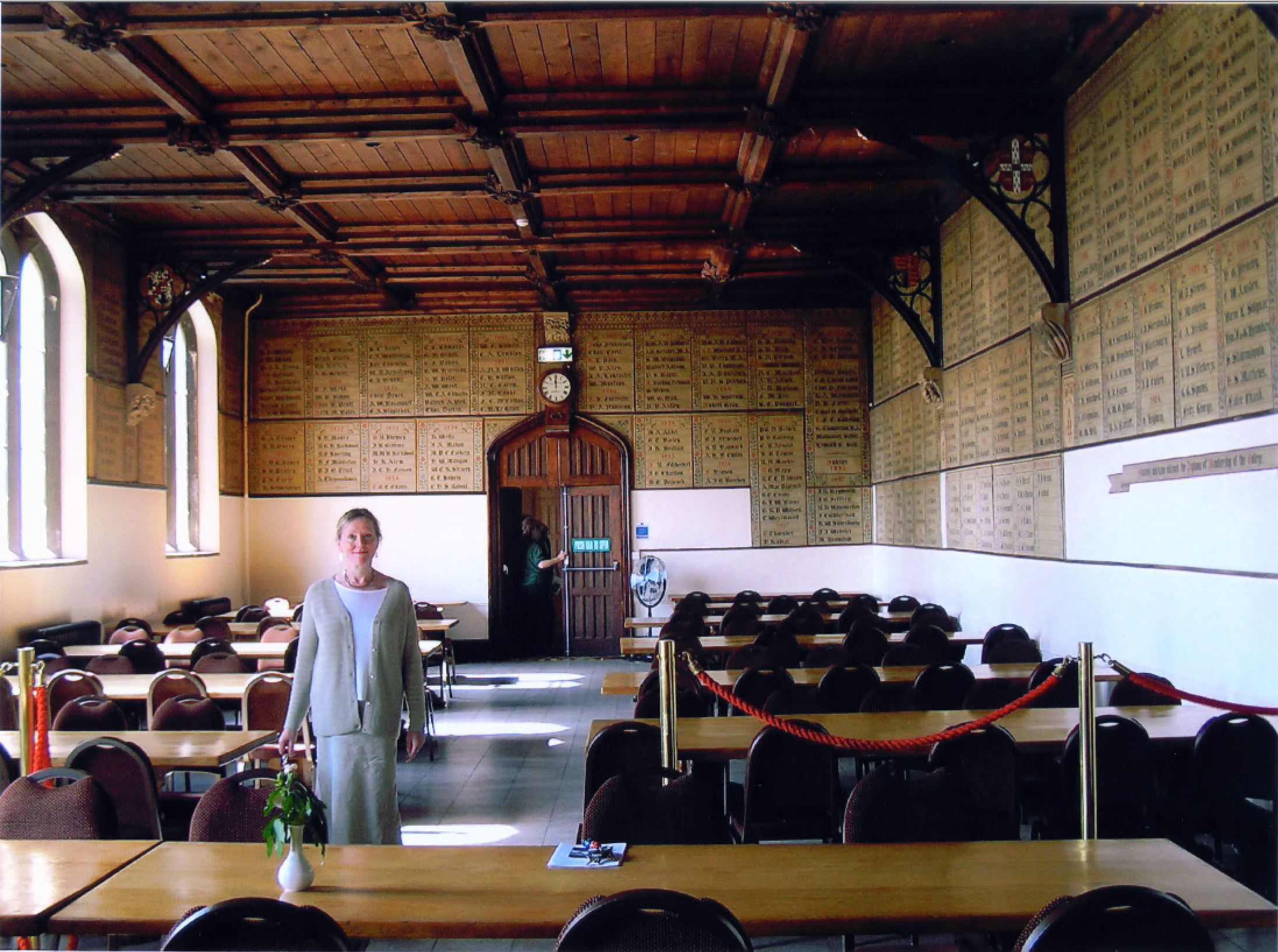 Helen Ashford in the Dining Room of the Royal Agricultural College, Cirencester visiting the memorial to Carlton Parry Cumberbatch who studied there in 1881.
Book by Helen Ashton
In Search of Ramsden and Carr Published by Unicorn 9 Feb 2018 ISBN: 9781911604150
Helen Ashton spent her early childhood in the Welsh hills and Hay on Wye, before her family moved north to the green suburbs of Newcastle upon Tyne. While raising her family she taught school for several years, then had a successful career writing best-selling school text books on food and nutrition. She then studied art history with the Open University, obtaining a First Class Honours Degree, with a particular interest in early Italian painting. While looking into her genealogy, particularly the Cumberbatches from Barbados, she discovered the silversmith Omar Ramsden's connection to her family. Discovering his reputation for superb workmanship and his involvement in the world of Arts and Crafts, she delved deeper into his history. There was almost no published information about his life, in spite of the renown which his work had achieved. Her interest became a fascinating obsession, resulting in three years of research, finding out about his family background in Sheffield, his long partnership with Alwyn Carr.
https://www.unicornpublishing.org/page/detail/In-Search-of-Ramsden-and-Carr/?K=9781911604150