Cumberlege Coats of Arms
The coats of arms, bookplate and heraldry of people with the surname Cumberlege.
By Bob Cumberbatch www.cumberbatch.org
Here I should remark that one of my reasons for considering the names Comberbach and Cumberlege identical is the similarity of the arms. John Cumberlege, was a subscriber to Plot's Natural history of Staffordshire, and his arms figure on the folding title to that work, viz. Barry of six ermine and sable, on a canton or a fleur-de-lis gules. The Rev. S. F. Cumberlege, who claims to be of the same family, now bears this coat, and for his crest, a fleur-de-lis between two feathers, with a motto, Vouloir ce que Dieu veut.
George William Marshall, "Collections for a Genealogical Account of the Family of Comberbach" 1866
John Cumberlege MB
John Cumberlege MB
Arms: Barry of six ermine and sable on a canton or a fleur-de-lis gules
Authority: A subscriber to Plot's Natural History of Staffordshire, published 1686, and his arms figure on the folding title to that work
Reverend Samuel Francis Cumberlege 1801 – 1899, MA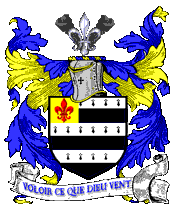 Reverend Samuel Francis Cumberlege MA, 1801 –

died Friday 10 Feb 1899 aged 87

Parish Priest of St Mary, Woburn, Bedfordshire 16 Jun 1856 – 14 Jan 1874; of Christ's College, Cambridge, 1835; ordained 1835; curate of Leighton Buzzard; Vicar of Astwood [Buckinghamshire], 1839-1856; died Friday 10 Feb 1899 aged 87
Arms: Barry of six ermine and sable on a canton or a fleur-de-lis gules
Crest: A fleur-de-lis between two feathers
Motto: VOLOIR CE QUE DIEU VENT
Authority: A subscriber to Plot's Natural History of Staffordshire, and his arms figure on the folding title to that work
Unknown Cumberledge, County Staffordshire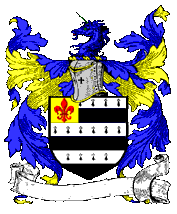 Unknown Cumberledge, County Staffordshire
Arms: Barry of six ermine and sable on a canton or a fleur-de-lis gules
Crest: A unicorn's head erased azure
Authority: Burke's General Armory – 1884 Edition p.251
Cecil Francis Cumberlege, of Balliol House, Putney, London, granted 1955
Cecil Francis, of Balliol House, Putney, London, granted 1955
Arms: Barry of six Ermine and Sable on a Canton Or a Fleur de Lys Gules gules
Crest: On a Wreath Argent and Sable A Fleur de Lys Gules between two Ostrich Feathers Argent quilled Sable
Authority: The College of Arms, London, England