George William Marshall 1839-1905 genealogist and lawyer published "Collections for a Genealogical Account of the Family of Comberbach" in 1866.
George William Marshall LL.D, FSA 1839-1905
George William Marshall 1839-1905 genealogist and lawyer published "Collections for a Genealogical Account of the Family of Comberbach" in 1866.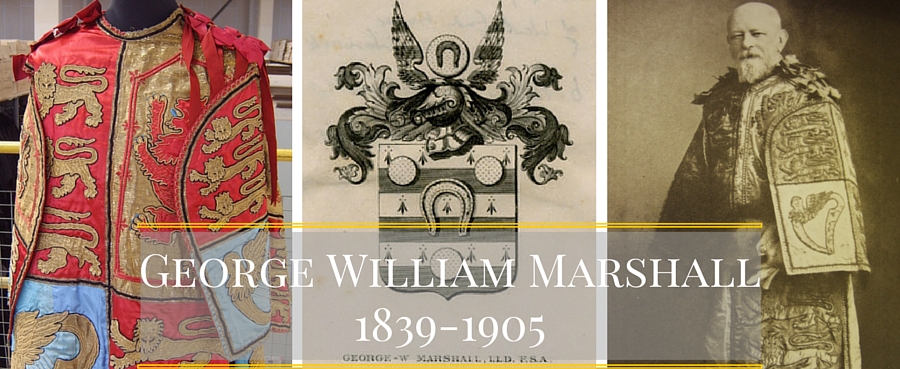 Biography of George William Marshall
MARSHALL, George William 1839 – 1905, genealogist, born at Ward End House, near Birmingham, on 19 April 1839, and descended from a family settled for several generations at Perlethorpe, Nottinghamshire, was the only child of George Marshall, a Birmingham banker, by his second wife, Eliza Henshaw Comberbach.
Educated privately and at St. Peter's College, Radley, he entered Magdalen College, Cambridge, in 1857, but soon removed to Peterhouse, whence he graduated with the degree of LL.B. in 1861, and proceeded LL.M. in 1864, and LL.D. in 1874. In 1861 he entered the Middle Temple, was called to the bar on 9 June 1865, and for some time practised on the Oxford circuit.
Genealogy was Marshall's lifelong study from his Cambridge days. He collected manuscript materials and published much. His earliest publication was "Collections for a Genealogical Account of the Family of Comberbach" (his mother's family) in 1866. In 1877 he founded 'The Genealogist,' and edited the first seven volumes. For the Harleian Society he edited in 1871 'The Visitations of Nottinghamshire in 1569 and 1614,' and in 1873 'Le Neve's Pedigrees of Knights.' He also printed privately in 1878 'The Visitation of Northumberland in 1615,' and in 1882 'The Visitation of Wiltshire in 1623.' His chief work was ' The Genealogist's Guide,' an alphabetical list of all known printed pedigrees (1879; 2nd edition 1885; subsequent editions came out at Guildford in 1893 and 1903). Another valuable work is his 'Handbook to the Ancient Courts of Probate' (1889; 2nd edition 1895).
On the various families bearing the surname of Marshall he printed two volumes entitled 'Miscellanea Marescalliana' (1883-1888). He issued a list of printed parish registers in 1891 and 1893, and a revised list in 1900, with an appendix in 1904. Six Nottinghamshire registers were issued by him between 1887 and 1896, namely those of Perlethorpe, Carburton, Edwinstow, Worksop, Wellow and Ollerton. Other of his works were: 'A Pedigree of the Descendants of Isaac Marshall' (1868); 'Notes on the Surname of Hall' (Exeter, 1887); and 'Collections relating to the Surname of Feather' (Worksop, 1887).
On 30 May 1872 Marshall was elected a Fellow of the Society of Antiquaries; and he was one of the founders in 1896 of the Parish Register Society, to the publications of which he contributed.

In 1887 he was appointed Rouge Croix Pursuivant of Arms and in 1904 was promoted to be York Herald. Several valuable and novel suggestions by him in regard to the entering of pedigrees and additions thereto in the books of the College of Arms were adopted by the chapter. For the college he collected a unique collection of manuscript and printed parish registers. He also presented, either in his lifetime or by bequest on his death, many volumes of manuscripts, abstracts of wills, marriage licences and pedigrees. As a herald he had a great liking for allusive or canting coats-of-arms and crests. A keen truth-seeking antiquary, with an intuitive power of research, he had a lawyer's love of conciseness and accuracy.
In 1891 Marshall purchased the Sarnesfield Court estate in Herefordshire, formerly the seat of the Monington family, and was made J.P. In 1902 he served the office of High Sheriff, and was appointed D.L. [Deputy Lieutenant]. He was also a freemason. At Sarnesfield Court he formed a rich library of genealogical and heraldic works and an extensive collection of armorial china.
He died at his London residence, Holmbush, Barnes, on 12 September 1905, and was buried as St. Mary's, Sarnesfield, his tabard as York Herald, with the collar of SS, sword and cap, being placed on his coffin.
Marshall was twice married:
(1) at Walton-on-the-Hill, Surrey, on 26 September 1867, to Alice Ruth, younger daughter of Ambrose William Hall, sometime rector of Debden, Essex
(2) to Caroline Emily, elder sister of his first wife. He left issue six sons and two daughters. There are two portraits of him at Sarnesfield, one as a boy by Poole of Birmingham, and the other by Levine in 1884.
Sources: Dictionary of National Biography, Oxford University Press CD 1995; Its sources: Memoir by J.P.R. (John Paul Rylands) in Genealogist, new ser. xxii. 198-202, with a good portrait of Marshall in his tabard; The Times, 15 and 18 September 1905; Miscellanea Genealogica et Heraldica, original series, ii. 62-69; Men and Women of the Time, 1899; private information. Contributor: W.G.D.F. published 1912.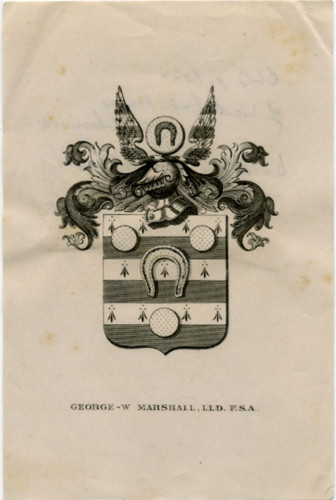 Marshall's Grant of Arms was dated 2nd April 1867 to both his descendants and those of his uncle, William Marshall.
The blazon:
Arms: Barry of six Ermine and Azure a horseshoe Or between three bezants
Crest: A bezant charged with a horseshoe Azure between two wings barry of six ermine and azure
Motto: "Vi Martiali"
Incidentally, the engraving of the bookplate seems identical to that in various editions of Fox-Davies' Armorial Families. His children and grandchildren are listed in 1929 as:
1. George Marshall b.1869 m.1898 Constance Marion Baldwin
1.1. George Humphrey Marshall b.1900
1.2. Malcolm Thomas Marshall b.1906
1.3. Christopher Marshall b.1907
1.4. Contance Alice Marshall
2. Rev William Marshall b.1875 m.1912 Margaret Anne Burlton
2.1. Richard Ambrose Marshall b.1920
2.2. Ethel Margaret Marshall
2.3. Joan Elizabeth Marshall
2.4. Physllis Ruth Marshall
2.5. Josephine Penelope Anne Marshall
3. Philip Twells Marshall b.1880 m.1911 Dorothy Jean Lawrie
3.1. Kenneth Philip Marshall b.1912
3.2. Philippa Marshall
4. Thomas Marshall b.1882 m.1921 Margery Leacroft
[Source: Heraldry Online Blog by Stephen J F Plowman TD FSA Scot Visited: 30 Sep 2011]
Memoir to George William Marshall by John Paul Rylands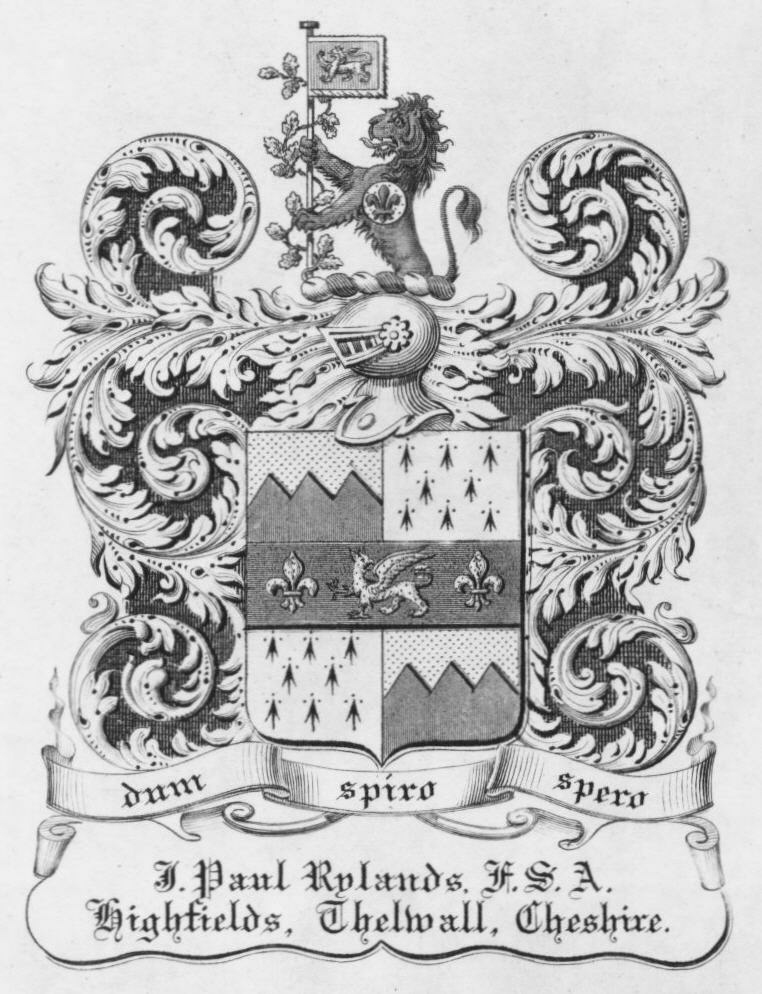 GEORGE WILLIAM MARSHALL
YORK HERALD.
George William Marshall was the only child of George Marshall, of Ward End House, in the parish of Aston-juxta-Birmingham, Warwickshire, and Eliza Henshaw, his wife, daughter of John Comberbach, of Langley Hall, Salop; and he was born at Ward End House on the 19th April 1839.
His father and grandfather were both partners in the Birmingham banking house of Spooner and Attwood. The former will be remembered by some numismatists as the author of A View of the Silver Coin and Coinage of Great Britain from the year 1662 to 1837 . . . and Silver Coins struck in Scotland from 1662 to 1707 (London, 1837, 8vo, pp. 152). He formed a considerable collection of coins which were sold at Sotheby's in 1852.
Having been educated privately and at St. Peter's College, Radley, Marshall entered Magdalen College, Cambridge, in 1858, but migrated to Peter House in the following year. He graduated as a Bachelor of Laws in 1861, subsequently took the degree of LL.M. and became LL.D. in the University of Cambridge in 1874. In 1862 He entered as a student at the Middle Temple, was called to the bar on the 9th June 1865, and practised for a short time on the Oxford Circuit.
On the 30th May 1872 he was elected a Fellow of the Society of Antiquaries. He was also a Corresponding Member of the New England Historic Genealogical Society of Boston, U.S.A., a Member of the Council of the Harleian Society since its foundation, and one of the founders of the Parish Register Society.
In the year 1887 he was appointed Rouge Croix Pursuivant of Arms, and became York Herald in 1904. He was present officially at the celebration of the Diamond Jubilee of Queen Victoria, at the Queen's funeral, at the Coronation of the King, at the marriage of the Princess Maud, now Queen of Norway, and at the funeral of Mr. Gladstone.
In 1891 he was placed in the Commission of the Peace for the County of Hereford, and served as High Sheriff of the same County in 1902, when he was appointed a Deputy Lieutenant.
Marshall was for a number of years much interested in Free­masonry. He was initiated in the Isaac Newton University Lodge, Cambridge, and raised to the degree of a Master Mason in the same lodge in 1862; joined the Euclid Chapter, Cambridge, in 1866 ; was subsequently Master of St. Michael's Lodge, Tenbury, Worcester­shire; became a member of the lodge of St. Ambrose, London, in 1891 ; and was Principal of the Bard of Avon Chapter, London, in 1887, as well as a Provincial Officer for Middlesex.
His interest in genealogy, it is believed, was very early developed; but it was as an undergraduate at Cambridge, with the advantages of the University Library, that he first seriously commenced those genealogical investigations which were, during the rest of his life, to form his chief working interest and hobby. Like most other genealogists, he began by elucidating the history of his own family, and his Miscellanea Marescalliana, which fills 744 closely printed pages, is a record of the most elaborate and exhaustive research ever made and published by one person in regard to the history of any name of average occurrence. Of this work fifty copies were printed for private distribution, but much of the more generally interesting matter which it contains had already been contributed by the author to various genealogical serials.
The collection of manuscripts formed by Marshall was of con­siderable extent and, besides many volumes of abstracts of wills, pedigrees and miscellaneous genealogical extracts and notes, chiefly in his own clear handwriting, contains a complete series of the Nottingham Marriage Licenses during a great number of years. All these manuscripts were either given by him to the College of Arms during his lifetime or passed to that corporation under his will. It is fortunate that such important collections will be preserved in so appropriate a resting place; more especially as it is understood that a copious index to them is now being made under the supervision of the Officers of Arms. His extraordinary industry in collecting genealogical materials from a multitude of sources enabled him to communicate to his friends and correspondents many unpublished facts of value, which were most willingly given and always highly appreciated on account of his well known accuracy and the wide extent of his experience. In his work thoroughness and accuracy were almost intuitive and he held laziness and carelessness in contempt. Spare time of even a few minutes duration was generally occupied by him in writing up his manuscript collections, in annotating the Genealogist's Guide, in making some index, or the like, so that a large quantity of purely clerical work was accomplished almost imperceptibly.
A list of the printed works of York Herald will be found at the end of this memoir, and it is believed that this list is practically a complete one. He was formerly, however, a frequent contributor to The Genealogist, Miscellanea Genealogica et Heraldica, The Reliquary, Notes and Queries, and The East Anglian ; some of his early articles may also be found in the journal of The Anthropological Society and The St. James's Magazine.
The work by which his name is best known to antiquaries is his Genealogist's Guide, a monument of laborious effort which could only have been performed by a man of indomitable perseverance and industry. In every part of the world where the history of English families excites any interest this book is well known and highly appreciated. It serves the purpose of a ready means of reference to printed pedigrees of three or more generations in all the well known genealogical and topographical works and also in a multitude of out-of-the-way or forgotten books, many of them seemingly not suggestive of genealogical information.
His extensive experience in examining old wills and his practical knowledge of the places where particular records might be found, enabled him to print his Handbook to the Ancient Courts of Probate, a work which few, if any other among living genealogists could have made so complete, and in which his thoughtfulness and accuracy are apparent.
In 1877 he founded The Genealogist, wishing to supply a means for the publication of more lengthy genealogical papers than those for which the Miscellanea Genealogica et Heraldica was intended, and to print from time to time readable communications such as had previously appeared in the Herald and Genealogist. Seven annual volumes of The Genealogist were issued under his editorship and found much favour among students of history.
He resided at various country houses in different counties before he finally, in the year 1891, bought the Sarnesfield Court estate in Herefordshire, formerly the seat of the, Moningtons and previously that of a family bearing the local name one of whom, Sir Nicholas de Sarnesfield, was a Knight of the Garter and Standard Bearer to King Richard II. His London houses in Onslow Gardens and at Barnes will be agreeably remembered by many of his genealogical friends, who will also recall the pleasure they derived from an examination of his extensive collection of armorial china, his specimens of mediæval armorial glass and, above all, his rich heraldic and genealogical library, all now preserved at Sarnesfield Court.
In the country, outside his genealogical pursuits, his real interest lay in the, improvement of his property and the welfare of those around him with the result that he left his estate in every way in a greatly improved condition as compared with that in which he found it. He was fond of shooting as an amusement for himself and his friends, and until late years, being a good walker, he found much of the pleasure of his out door life in this pursuit. Those who visited him in the country sometimes joined in excursions to the old churches, for the most part unspoiled by restoration, in which Herefordshire abounds ; excursions usually productive of something in the way of monumental inscriptions and heraldry which could be added to his manuscript collections.
In politics, Marshall never took a very active interest, but he was a consistent Conservative.
He died at Holmbush, Barnes, on the 12th September and was buried at Sarnesfield on the 16th September, 1905. The coffin, covered with his family pall, on which was placed the tabard of York Herald, with the collar of SS., sword and cap, being borne by the tenantry and workmen among whom he had lived to its resting place in the family vault. To the little Early English Church of Sarnesfield he was much attached, and one of the improvements, which his regard for it and antiquities in general had long made him determine to perform, was the removal of the objectionable work, inserted during a so-called restoration in 1870, and the true restoration of this interesting building, as nearly as possible, to its original state. This was actually occupying his attention almost up to the time of his death, and it may be hoped that his wishes in this respect will not, long remain unfulfilled.
He was twice married and leaves issue six sons and two daughters.
A few words as to the personal characteristics of Marshall, as one of his most intimate friends knew him, may not be out of place.
Beneath a quiet, somewhat reserved demeanour there was much real character and power of observation, the existence of which might well remain unsuspected by a casual acquaintance. Strong convictions guided his conduct and he was not readily influence by contrary opinions, though always willing to discuss questions fairly. Anything like acrimonious argument, however, he was at pains to avoid. Very pronounced likes and dislikes regulated his communications with his fellow men. For genealogists he had an especial liking, and he derived real pleasure from affording help to bonâ-fide workers. His interest in heraldry and genealogy was to obtain unequivocal facts, to record and make them available for the use of others, and so to arrive, when possible, at the plain truth. He had no "axe to grind." A diligent, worker after truth, he had scant patience with shams, ostentation, carelessness, inaccuracy and laziness, and he could speak quite plainly in condemning these faults; but his really kindly disposition, largely concealed under a quite undemonstrative exterior, led him to perform many friendly acts, and these were usually done with a quiet, rather quaint, diffidence of manner. He greatly appreciated little kindnesses from others and remembered them.
A cheerful and genial host, blessed with a keen sense of humour, there ran through his conversation a vein of sarcastic jocularity, never unkindly aggressive, and invariably attractive, which lent savour to his remarks. Oftentimes his way of relating stories of some of his heraldic and genealogical experiences would afford amusement that created a lasting impression.
He regarded heraldry as a serious science and one in which there was hidden interest as well as instruction. "I believe most of the old coats cant," he said, "and if we only knew how and why, they would be a good deal more interesting than they are. We can get at some of the cants, and though they may seem rather farfetched to the average man, we must remember that the power of language is limited in heraldry, and that many words and allusions have been quite obsolete and forgotten for a very long time."
His loss to the Heralds' College, in which he felt the warmest interest, is undoubtedly great. He was a keen antiquary and yet wishful to move with the times, eminently businesslike-and true in his dealings, endowed with an intuitive power of research and a genius for taking pains, possessing a lawyer's carefulness for accuracy and conciseness, and a gentleman's aversion to whatever seemed to him extravagant or inappropriate. He was, moreover, a courteous acquaintance and a true friend.
J. P. R. [John Paul Rylands]
List of Printed Works
Collections for a Genealogical Account of the family of Comberbach, 1866
A Pedigree of the Descendants of Isaac and Rebecca Marshall, of Perlethorpe, co. Nottingham, 1868 (20 copies only)
Miscellanea Marescalliana, being Genealogical Notes of the Surname of Marshall, 2 vols., 1883, 1888 (50 copies only)
Notes on the Surname of Hall, 1887
Collections relating to the Surname of Feather, 1887
Index to the Pedigrees contained in the printed Heralds' Visitations, etc., 1866
Catalogue of Pedigrees hitherto un-indexed. 1867 (250 copies)
The Genealogists Guide, 4 editions; 1879, 1885, 1893, 1903
Handbook to the Ancient Courts of Probate, 2 editions; 1889, 1895
Parish Registers: a list of those printed, and of which manuscript copies exist in public collections. Printed by the Parish Register Society, 1900; first privately printed 1891, next as a supplement to the third edition of the Genealogists' Guide
Appendix to the List of Parish Registers. (Parish Register Society, 1904 vol. 50)
The Visitations of Nottinghamshire, 1569 and 1614; printed by the Harleian Society, 1871
Le Neve's Pedigrees of Knights; printed by the Harleian Society, 1873
The Visitation of Wiltshire, 1623: privately printed 1882
The Visitation of Northumberland, 1615: privately printed 1878
The Register of Perlethorpe, Notts, 1887
The Register of Carburton, Notts, 1888
The Register of Edwinstow, Notts, 1891
The Register of Worksop, Notts, 1894
The Register of Wellow, Notts, 1896
The Register of Ollerton, Notts, 1896
The Marriage Register of Peak Forest Chapel, Notts, 1901
The Register of Sarnesfield, Herefordshire, printed by the Parish Register Society, 1898
The Register of Walesby, Notts, printed by the Parish Register Society, 1898
[Source: Genealogist, New Series xxii pp. 198-202]
His will was abstracted in The Times, 1 Dec 1905 Wills and Bequests: MARSHALL, Dr. G.W. p.12 col.b.