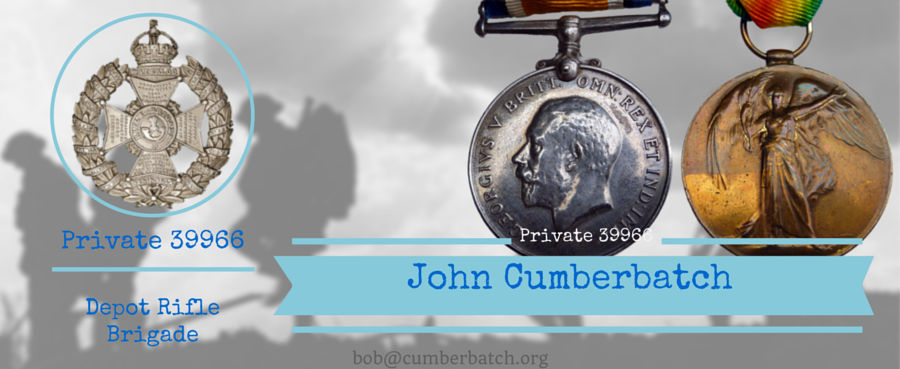 John Cumberbatch
Private 30866 3rd Canadian Division Motor Transport Company, Canadian Army Service Corps
John was born 9th August 1880 in Brownlow, Astbury, Cheshire, England. Perhaps John was frail and not expected to live as he was privately baptised the next day at Astbury Parish Church by his mother Hannah Cumberbatch.
The family had moved to Bradley Green, Biddulph, Staffordshire when their mother Hannah Cumberbatch married Thomas Turner at St Lawrence's Church, Biddulph in 1889. John became a coal miner in the north Staffordshire coal mines.
John migrated to Canada on 24th January 1914 aboard the Scotian which sailed from Liverpool to Halifax, Nova Scotia, Canada.
John had previously served in the 5th Volunteer Battalion of the Staffordshire Regiment and so at the onset of World War One John immediately enlisted in the Canadian Army on 23rd September 1914 at Valcartier, Province of Quebec, Canada. He became Private 30866 of the Canadian Expeditionary Force (CEF) in the 14th Canadian Army Service Corps (CASC). He joined the Railway Supply Detachment of the CASC. He enlisted for one year or for the duration of the war.
John was described on enlistment as:
Height: 5ft 7½ inches
Chest: 37 inches expanded with 4 inches of expansion
Complexion: dark
Eyes: brown
Hair: black
Religion: Church of England
Distinctive marks: 1 Vaccination mark on left arm, 5 irregular black lines on point of left shoulder, 1 scar 1½ inches on the superior angle of the left scapula
Passed fit for the Canadian Overseas Expeditionary Force on 30th August 1914 at Valcartier
John arrived at Le Havre, France on 7 Feb 1915 and therefore qualified for the British War Medal, the Victory Medal and the 1914-15 Star.
He contracted influenza and was admitted to the Canadian Field Ambulance on 17th February 1916. He was transferred to Mont des Chats a week later and then to the North Midlands Division Casualty Clearing Station a few days later. He returned to his unit the Prov. Canadian Corps Troops Supply Column Reports on 3rd March 1916.
John again contracted influenza with broncho-pneumonia on 18th February 1919 and was admitted to the 7th General Hospital at Etaples, France on 25 February 1919. He was transferred to the 1st Birmingham War Hospital at Rednal on 3rd March 1919 and remained there for 17 days.
20 Mar 1919 Patient has only been out of bed one day. Still feels sick and weak. Pulse 120. General Condition: fair. No duty. To be kept in sick lines.
John was admitted to the Military Convalescent Hospital at Woodcote Park, Epsom, Surrey, England on 19 March 1919 and remained there for 49 days.
2 Apr 1919 Transferred from sick lines much improved. Pulse 90 gaining strength daily, appetite good. Heart & Lung & other systems normal. Cat. A. W Munro, Capt.
He was discharged 5th May 1919 to the CASC at Blandford.
He returned to Canada on 26th June 1919 and travelled aboard the Baltic arriving in July. He was discharged in Canada due to demobilization 10th July 1919.
He briefly returned to England between 13 October 1922 and 18th July 1923 to visit a sick relation. His brother Joseph Cumberbatch would die in 1924. John married Florence 'Flossie' Edith McKinley in 1923 at Stoke on Trent during this visit to England and they both returned to Canada.
John lived to 84 years of age and died of broncho-pneumonia, pulmonary emphysema and aortic stenosis with congestive heart failure on 7th April 1965 at The Veteran's Hospital, Victoria, British Columbia, Canada. After being privately baptised the day after his birth he survived WW1 and lived through two doses of influenza. The 1918-1919 Spanish flu epidemic killed an estimated 50 million people worldwide but John lived through it. He was cremated at the Royal Oak Crematorium, Saanich, Vancouver Island, Canada on 10th April 1965. John's wife Florence nee McKinley, was born in Sussex, England in approximately 1883 and died of a cerebral vascular accident at the Royal Jubilee Hospital, Victoria, British Columbia, Canada on 16th January 1976 and she too was cremated 20th January at the Royal Oak Crematorium, Vancouver Island, Canada.
WW1 Service Record Extracts
CANADIAN EXPEDITIONARY FORCE

DISCHARGE CERTIFICATE

THIS IS TO CERTIFY that No. 30866 (Rank) Private Name (in full) Cumberbatch John enlisted in the C.A.S.C. CANADIAN EXPEDITIONARY FORCE at Valcartier on the 23rd day of September 1914.

HE served in France with the C.A.S.C. and is now discharged from the service by reason of Demobilization.

THE DESCRIPTION OF THIS SOLDIER on the Date below is as follows:

Age: 33 years 8 months
Height: 5' 7½"
Complexion: Dark
Eyes: Brown
Hair: Black
Marks or Scars: Five irregular black lines on point of left shoulder. One scar 1½" on the superior angle of scapula.

Signature of soldier: J Cumberbatch

Date of discharge: JUL 10 1919
MEDICAL EXAMINATION UPON LEAVING THE SERVICE OF OFFICERS AND OTHER RANKS WHO HAVE NO DISABILITY
1 GENERAL DESCRIPTION
Physique: Good
Weight: 160 lbs
Height: 5ft 9½ inches
Colour of eyes: Brown
Nutrition: Good
Pulse: Good
Condition of arteries: Good
Vision: Right 6/6, Left 6/6
Hearing Right 21 ft, Left 21ft
Identification marks: Five (5) irregular black lines on left shoulder, one scar 1½" on superior angle scapula right, scar left upper lip, vaccination scars two left
Opinion as to general health and physical condition: Good
2 Has Officer or Other Rank ever suffered from, or has he now…
Nervous System: No
Genito Urinary System: No
Cardio Vascular System: No
Special Senses: No
Integumentary System: No
Respiratory System:: Yes
Disturbance of mentality: No
Muscular System: No
Digestive System: No
Osseous and Joint System: No
Any other general condition: No
3 If any answer is Yes give particulars
3 Mar 1919 Influenza
5 Mar 1919 Broncho-pneumonia
Now recovered, heart, lungs & other systems normal. Cat. A.
WAR SERVICE GRATUITY
Christian name: John
Surname: Cumberbatch
Rank: Private
Unit: 14th Company CASC
Reg No. 30866
Payment to: Union Bank Calgary Alberta
Date of Enlistment: 12 August 1914
Dependants: Not Applicable
Give total length of time served on active service:
Aug 1914 until 20 Aug 1914 CASC
30 Aug 1914 until Feb 1915 1st RSD Canada & England
Feb 1915 until Jun 1915 RSD France.
Jun 1915 until Aug 1915 RSD
Aug 1915 until Mar 1916 CSC France. Then 3rd CSC
Signature of Applicant: John Cumberbatch
Place of residence: GPO Calgary
Declared before me at: Winnipeg
28th May 1919
PROCEEDINGS ON DISCHARGE
(Demobilization)
No. 30866
Rank: Private
Name: Cumberbatch John
Unit: 3rd M T Company
Date of Discharge: JUL 10 1919
Place: Calgary
Reason for discharge; Demobilization
Residence after discharge: P.O. Calgary, Alberta
Report

Date

From whom received

Record

Place

Date

Remarks

Feb 1915

O/C D S Det

Embarked

France

Nominal Roll

31 Jul 1915

O/C Railway Supply Detachment

Surplus personnel of Railway Supply Detachment

Can Sec 3 Ech

31 Jul 1915

Nominal Roll

21 Aug 1915

Ditto

Transferred to Base Horse Transport Depot (Can Sec K3-16-5 12 Aug 1915 Authority

Ditto

11 Aug 1915

Part II Order No. 26

2 Oct 1915

Ditto

Transferred to Canadian Corps Troops Supply Column

Ditto

4 Sep 1915

Pt II Order 31

7 Jul 1916

3 CDSC

Provisional CCTSC now known as 3DSC

Field

1 Feb 1916

21

1 Mar 1916

CASC

Admitted No.1 Canadian Field Ambulance

In the field

17 Feb 1916

CLA173 Influenza

11 Mar 1916

CASC L of C

Admitted to North Midland Divisional Casualty Clearing Station

27 Feb 1916

CLA182 Influenza

14 Mar 1916

Ditto

Transferred to Mont-des-Cats

24 Feb 1916

CLA184 Influenza

15 Mar 1916

Ditto

Rejoined Unit from FP

3 Mar 1916

CLA185 Influenza

1 May 1918

3 Divisional Motor Transport Company (3CDMTCoy)

TOS from 3 DSC

Private Field

15 Apr 1918

PII 1 & 3 DSC 26 date: 1 May 1918

18 Mar 1919

3 Divisional Motor Transport Company

SOS to Pool

Private Field

1 Mar 1919

PII 28

22 Mar 1919

Can Pool

TOS of Pool from 3CDMT Company

Private Field

2 Mar 1919

CASC CD PII O 62

24 Mar 1919

CASC Pool

SOS to CASC CD Witley

Private Field

3 Mar 1919

Ditto 48

26 Mar 1919

CASCD

SOS to "R" Wing Witley

Witley

23 May 1919

Ditto 125

24 May 1919

R Wing

ToS from CASC CD

Witley

23 May 1919

Ditto 38

To Canada

26 June 1919

81-R-30

26 Jun 1919

R Wing

SOS to Canada

Witley

26 Jun 1919

PII 66
Service & Casualty Form
Report

Date

From whom received

Record

Place

Date

Remarks

Arrived in France

7 Feb 1915

12 Aug 1915

OC Base Horse transport Depot

Joined Base Horse Transport Depot

Havre

11 Aug 1915

Casualty Returns (arrivals) date: 12 Aug 1915 3-16-5 date: 12 Aug 1915

14 Sep 1915

OC Base Horse transport Depot

Rejoined Unit

13 Sep 1915

Cas. Return (Depart) 14 Sep 1915 Authority Telephone DAAG 12 Sep 1915

TranCanCorpsTroos

Supply Column (now Provisional CCTSC)

14 Sep 1915

K 11-8-29

20 Feb 1916

1 Canadian Field Ambulance

Influenza

Admitted 1 Canadian Field Ambulance

17 Feb 1916

A36 DCS 163 27 Feb 1916

26 Feb 1916

NM Div CCS

Influenza

Admitted NMDCCS

27 Feb 1916

A36 46940 DCS 165

8 Mar 1916

27 Feb 1916

1 Canadian Field Ambulance

Influenza

Admitted 1 Canadian Field Ambulance

Transferred to Mt de Cats

17 Feb 1916

24 Feb 1916

A36 DCS 166 10 Mar 1917

4 Mar 1916

Provisional CCTS Col

Rejoined from Hospital

Field

3 Mar 1916

B213

4 Mar 1916

N Mid DCCS

Influenza

Discharged to duty

3 Mar 1916

A36+7249 DCS 168

8 Mar 1917

5 Mar 1917

OC No. 2 CDS Col

Sentenced to 7 days FP No. 1 30 Mar 1917 for B2069 Part 2 Orders While on Active Service, Disobedience No. 14 dated April 10 1917

Redesignation of Prov. CCTSC Changed to No. 3 C D Supply Column 1 Feb 1916 Part II Orders 21 Jul 1916

AAG

SOS 3 rd Canadian Division Suppply Colum to No 3 Canadian Division M.T. Company

Field

14 Apr 1918

Do II 26 date: 1 May 1918 AG Cdn AG 7-1-191 date: 8 Apr 1918 QMG GHQ as 19908 file 290/292

TOS No 3 Canadian Division MT Company from 3rd Canadian Divisional Supply Column

15 Apr 1918

Do II date: 1 May 1918

4 Jan 1919

Unit

Granted Leave 28 Dev 1918 to 11 Jan 1919

B213a PtII Orders date: 16 Jan 1919

1 Feb 1919

Unit

Rejoined from Leave

Field

18 Jan 191

B213

18 Feb 1919

51 CCS

NYD

18 Feb 1919

25 Feb 1919

7 Canadian General

Influenza

Admitted

25 Feb 1919

N8086 N9657

22 Feb 1919

OC Unit

To Hospital (51 CCS)

18 Feb 1919

B213

24 Feb 1919

51 CCS

PVO To AT/1

24 Feb 1919

P126 A6794

AAG

SOS of 3 rd CD MT Company and Posted to CASC Pool

1 Mar 1919

K38-1 PtII O 28/1919

AAG

SOS of CASC Pool from 3rd CDMT Company

3 Mar 1919

K38-1 PtII O47 d: 1919

3 Mar 1919

7 Can Gen

Invalided sick per AT Jan Breydel & posted to Can Depot Witley

3 Mar 1919

Pt O 48/1919