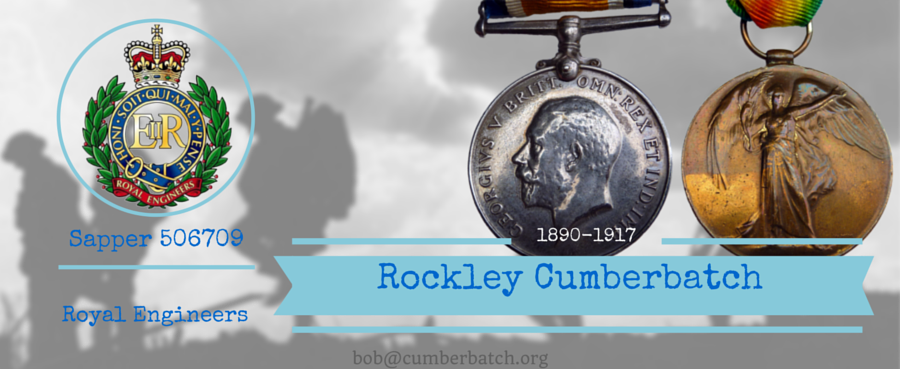 Rockley Cumberbatch
Sapper 500709 225th Field Company Royal Engineers
Rockley Cumberbatch was born at Peel Street, Batley, Yorkshire, England on 7 January 1890. He was baptised at Batley Parish Church on 16 Feb 1890. He was the son of Thomas Cumberbatch and his wife Mary nee Dyson. He was a plumber by trade.
Rockley married Emily Helen Smith on 27 April 1912 at the Primitive Methodist Chapel, Wellington Street, Batley, Yorkshire, England. They had two children together:
Mary Cumberbatch born 1912
James Cumberbatch born 14 Nov 1914
Rockley joined the Royal Engineers having a number of regimental service numbers:
Royal Engineers, Sapper 202856,
Royal Engineers (T) 2354,
Royal Engineers, Sapper 506709.
Rockley was killed during World War 1 at te Battle of Passchendale in Belgium. His death was presumed to have occurred on or after 25 Sept 1917. This was during the Battle of Passchendaele also known as the third Battle of Ypres. He is commemorated at the Tyne Cot Memorial Panel 8 and 162 in Belgium and on the Batley War Memorial in Batley, Yorkshire.
His personal effects went to his widow Mary Helen:
Soldiers' Effects Records, 1901-60
Record No: 732275
Registry No.: E/560420/1
Soldier's Name: Cumberbatch Rockley A.F.W. 5070 Sent Date: 17 Jul 1919
Regiment, Rank, No.: Royal Engineers 225 Field Company Sapper 506709
Date and Place of Death: 25 Sept 1917 (on or since) Death presumed
Credits: Chatham Aug 1918 £4 9s 3d
Charges: Mo Oct 1918 £4 9s 3d
Date of Authority: 5 October 1918/1
To whom authorised: Widow Emily H
Amount authorised: £4 9s 3d

[Credit] War Gratuity £3 0s 0d
Date of Authority: 5 November 1919/2
To whom authorised: Widow Emily H
Amount authorised: £3 0s 0d
National Army Museum; Chelsea, London, England; Soldiers' Effects Records, 1901-60 [Ancestry]

Medal Roll
ROYAL ENGINEERS
S.B.11264 54900
ROLL of INDIVIDUALS entitled to the Victory Medal and British War Medal under Army Orders 301 and 266 of 1919 8255B
| | | | | |
| --- | --- | --- | --- | --- |
| Regimental No. | Rank | Name | Unit | Remarks |
| 506709 | Sapper | Cumberbatch, Rockley | Royal Engineers, 202856, R.E. (T) 2354, Royal Engineers, 506709, Sapper | |
Chatham
Medal Card
Name.

Corps.

Rank.

Regtl No.

CUMBERBATCH

Royal Engineers

Sapper

506709

Ditto

202856

Ditto

(T) 2354

Rockley

Medal.

Roll.

Page.

Remarks.

VICTORY

RE/101 B222

54900

BRITISH

d[itt]o

d[itt]o

15 STAR

Theatre of War first served in

Date of entry therein

K1380

Correspondence

Address