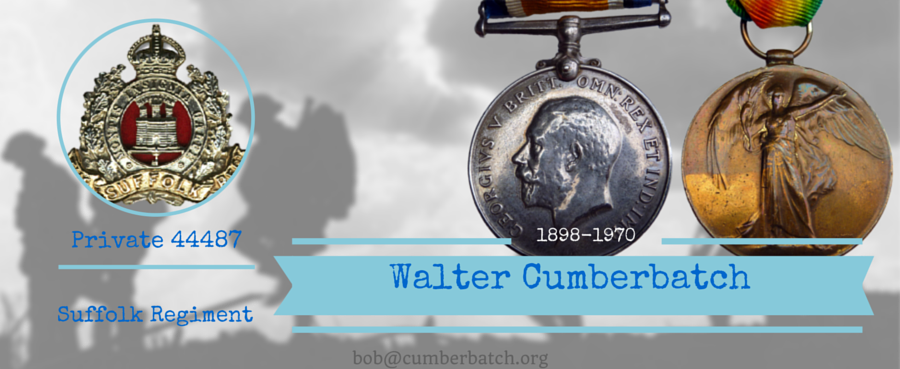 Walter Cumberbatch
Private 44487 Suffolk Regiment
Walter Cumberbatch was born at Talk of the Hill, Talke, Staffordshire, England on 24 November 1898. He was the second son of James Cumberbatch and his wife Frances nee Bossons.
Walter enlisted in the 2nd Battalion Suffolk Regiment and became Private 44487 on 20 October 1916. He was discharged under Kings Regulations 392 (xvi) on 7 February 1919 aged 20 due to wounds he suffered whilst serving overseas.
Walter married Roseannah Chadwick in the Methodist Church, Butt Lane, Newcastle-under-Lyme, Staffordshire in 1921. Together they had:
Harold Cumberbatch born 1924 and died a year later
Olive Cumberbatch born 1927
Kenneth Cumberbatch born 1932
Ann Cumberbatch born 1935
Walter died in 1970 in Stoke on Trent, Staffordshire, England. His wife died in 1996.
Silver War Badge
K/988/1 19 Feb 1919 War Office
ROLL OF INDIVIDUALS ENTITLED TO THE WAR BADGE
No

Rank

Name

Unit

No of Badge

Date of Enlistment

Date of Discharge

Cause of Discharge

Whether served Overseas Age

44487

Private

Cumberbatch W [Walter]

Depot Suffolk

B122053

20 Oct 1916

7 Feb 1919

Wounds 392(xvi)

Yes 20
Warley 3 Mar 1919
Medal Roll
SUFFOLK REGIMENT
3663 B
ROLL of INDIVIDUALS entitled to the Victory Medal and British War Medal under Army Orders 301 and 266 of 1919
| | | | | |
| --- | --- | --- | --- | --- |
| Regimental No. | Rank | Name | Unit | Remarks |
| 44487 | Private | Cumberbatch, Walter | 2nd Suffolk Regiment 44487 Private | |
Warley, March 1921
Medal Card
Name.

Corps.

Rank.

Regtl No.

CUMBERBATCH

Suffolk Regiment

Private

44487

Ditto

Walter

Medal.

Roll.

Page.

Remarks.

VICTORY

K/1/103B19

3663

BRITISH

d[itt]o

d[itt]o

15 STAR

Silver War Badge List K/988/1

Theatre of War first served in

Date of entry therein

K1380

Correspondence

Address