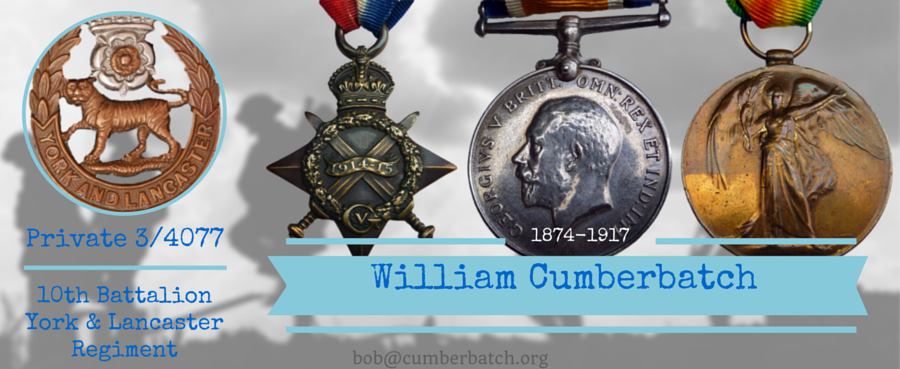 William Cumberbatch
Private 10997 8th Battalion British West Indies Regiment
William Burnham Nutall Cumberbatch was born at Hope, St Lucy, Barbados on 18 March 1895. He was baptised at Bethesda Wesleyan Church, St Lucy, Barbados on 28 April 1895. He was the son of William Howard Cumberbatch and his wife Rosina nee Alleyne.
During World War 1 he became Private 10997 in the 8th Battalion of the British West Indies Regiment.
William Cumberbatch's British War and Victory medals were unclaimed in 1924. They were claimed in 1934 from General Penitentiary, Kingston, Post Office, Jamaica, British West Indies. Migrated from Kingston, Jamaica to London, England between 1940 & 1960.
Medal Roll
164 (b)
British West Indies Regiment
ROLL of INDIVIDUALS entitled to the Victory Medal and British War Medal under Army Orders 301 and 266 of 1919
| | | | | |
| --- | --- | --- | --- | --- |
| Regimental No. | Rank | Name | Unit | Remarks |
| 10997 | Private | Cumberbatch, William | 8/British West Indies Regiment | British War & Victory Medals returned (unclaimed) CRV/49B d/ 14 Jul 1924 8590/Adt IV B/1020 d/ 16 Nov 1928 AS/Col/657 |
Jamaica, 1 Feb 1922
Medal Card
Name.

Corps.

Rank.

Regtl No.

CUMBERBATCH

British West Indies Regiment

Private

10997

William

Medal.

Roll.

Page.

Remarks.

VICTORY

Col/112B5

164

Returned (Unclaimed) CRV 49/B d/ 14 Jul 1924 8590/Adt

AS/Col/657

BRITISH

d[itt]o

d[itt]o

15 STAR

Theatre of War first served in

Date of entry therein

K1380

Correspondence

Application for medals at 24 September 1928

Address

General Penitentiary, Kingston, Post Office, Jamaica, British West Indies